NingXia Zyng!
Hydrating Healthy Energy Drink Spritzer
with Organic Cane Juice & Wolfberry Puree

NingXia Zyng hydrating natural energy drink with lime essential oil and white tea benefits is a low calorie carbonated beverage that tastes great! At only 35 calories per can, this essential oil infused wolfberry puree spritzer should be added to your vitamin and natural energy drinks list!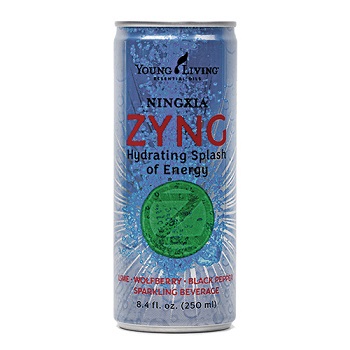 Most vitamin or natural energy drinks contain preservatives, artificial sugars, caffeine and other additives that do not support your body systems to create energy*. Zyng provides a healthy alternative to caffeine that tastes refreshingly delicious!
Try the whole young living line of natural energy drinks and supplements and wholesale beverages by becoming a member of Young Living Essential Oils; or by purchasing on the oil shop.
Some of the other NingXia Wolfberry Infused Products are: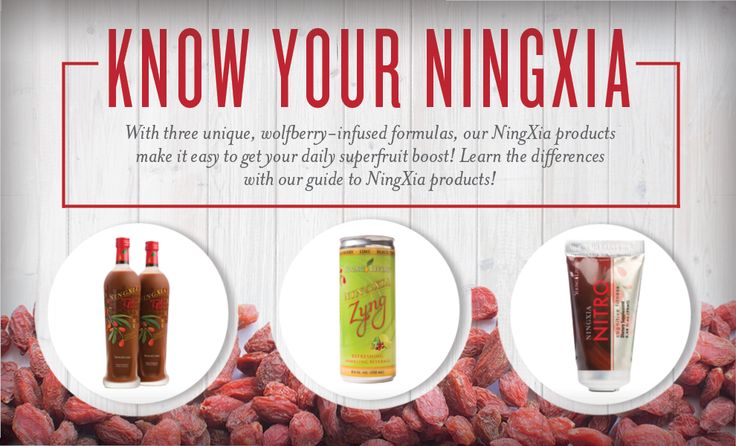 **Note - New Packaging for Zyng Shown Above - Same Great Product-Same Great Energy Zyng!

What are the Benefits of Wofberries?
The wolfberry benefits are definitely worth investigating. They provide a natural source of calcium and magnesium, Vitamin B, antioxidants and more. For a complete list, click here!
What are the Benefits of Zyng Healthy Beverage?
Fantastic taste with no "junk-juice" (e.g., apple, white grape, etc.) or added artificial sweeteners.

Contains a whole food source minerals and vitamins particularly Vitamin B6, B5 and B3*.
Contains therapeutic grade essential oils of black pepper and lime which naturally support energy in healthy body systems*.

Contains natural antioxidants (wolfberries or goji-berries)

Natural low calorie sparkling carbonated soda containing only 35 calories per one can! 0 grams of Fat; 9 grams of Total Carbohydrates and 8 grams of sugar.

Can be taken anytime for a healthy and natural energy boost*!
Want to Purchase NingXia Zyng?
Then go to The EEO Oil Shop. Or considering becoming a member of Young Living to enjoy wholesale beverages and essential oils.

---
NingXia Zyng Wolfberry Infused EO Beverage

What is in NingXia Zyng Essential Oil Beverage?
Zyng combines natural ingredients as well as essential oils to provide a healthy energizing drink.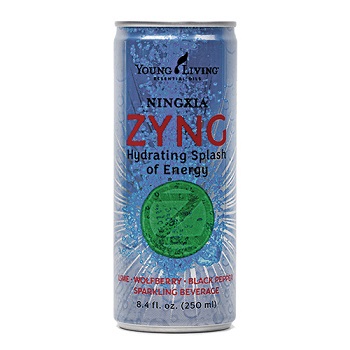 Carbonated water

Organic evaporated cane juice
 Pear juice concentrate

Citric acid

Blackberry juice concentrate

Natural flavor

White tea leaf extract

Stevia rebaudiana leaf extract

D-calcium pantothenate (B5)
 Niacinamide (B3)

 Black pepper essential oil (Piper nigrum)

 Lime essential oil from peel (Citrus latifolia) 

D-alpha-tocopherol acetate (Vitamin E)

Pyridoxine hydrochloride (B6)

Retinyl palmitate (Vitamin A)
Essential Oils include:
Lime Essential Oil (Citrus latifolia) is best known throughout the world as a way to help support a healthy immune system*. When taken internally, lime may provide antioxidant support and aid in weight management*. When applied to the skin, lime oil may also support healthy skin*.
Black Pepper Essential Oil (Piper nigrum) It is supportive of the digestive system and is useful topically for soothing muscle discomfort following exercise*.
Do you want more information about the individual oil? Just click on the name of the oil to find out other interesting information such as:
What Part of the Plant is Used?
What is an ORAC Value?
What is the ORAC of the Oil?
What are the Plant Properties and Uses?
Where is the Name derived from?
The Most Interesting Historical Reference?
And more!
How do I use NingXia Zyng?
Drink one can anytime in lieu of soda, vitamin water, or other herbal drinks. Place with NingXia Red or Nitro for a refreshing and unique drink that combines with anything easily. My favorite oils to add are orange or tangerine essential oil!

Can this oil be used for Animals?
Not recommended for animals due to ingredients and natural occurring caffeine.
Note about animals: Certain oils can be very toxic to cats especially if the quality of the oil is not pure. Citrus products and oils in particular when not therapeutic grade. Please consult your vet if you are not sure about applying any essential oil to your pet or giving an essential oil supplement to your pet.
What are the Safety Precautions? No contraindications.
Want to Purchase NingXia Zyng?
Then go to The EEO Oil Shop. Or considering becoming a member of Young Living to enjoy wholesale beverages and essential oils.
Return from NingXia Zyng Sparkling Energy Drink to Essential Oil Supplements