Nan's Experience Essential Oils Membership provides Exclusive EO Training and Coaching on Transformation, Functional Wellness, Animal Topics and More!

FREE ACCESS to E-Merald Level with THREE Training Bundles!

 Click HERE to LEARN MORE and Get INSTANT ACCESS to E-merald Level Trainings!
Animal Scents Essential Oil Dental Pet Chews
Essential Oils for Dogs & Cats

Animal Scents Essential Oil Dental Pet Chews for dogs, cats and other animals are created with the power of Spearmint, Peppermint, and ParaGize™ essential oils to create a tasty treat that supports oral and digestive health.

Healthy chemical and synthetic free support to maintain for your pet's well being. Throw away the dental dog bones and add these dental treats today!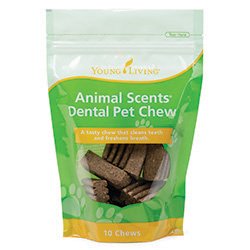 Oral care is very important for our animals but dog and cat dental cleaning teeth often gets neglected; and natural dental cat and dog food and treats are hard to find. Now maintaining a happy and clean mouth is as simple as tossing your pet an Animal Scents pet chew!
Natural cat dental treats that you can feel comfortable feeding can be difficult to locate. But these snacks are free of artificial colors, flavors, and preservatives, so you know you're giving your pet the best.
Plus, Animals Scents Essential Oil Dental Pet Chews are made with grooves that work with animals' instinctive chewing style and include naturally derived ingredients, so they're easy to eat and digest. To ensure you get the very best in animal care and dog health, we also formulated these treats to meet the nutritional levels established by the AAFCO dog food nutrient profiles for adult dog maintenance.
A portion of all proceeds from Animal Scents products goes to support Vital Ground, a nonprofit organization dedicated to protecting the habitat of grizzly bears and other wide-roaming wildlife.
This is an easy reference guide for Animal Scents Essential Oil Dental Pet Chews. It will tell you how to use your oil blend and what to use it for. It will also provide you with some fun tips and testimonials!
Oh, and don't forget to check out Animal Scents Ointment and Animal Scents Shampoo! And all the Animal Scents Oils!

Want to Purchase Therapeutic Animal Scents Essential Oil Dental Pet Chews?
Go to the Oil Shop! Buy Animal Scents Dental Pet Chews Here!
---
Experience Animal Scents Essential Oil Pet Chews ™
What is in Animal Scents Essential Oil Dental Pet Chews?
Here is the listing of ingredients:
Potato Starch
Pork gelatin
Dried beet pulp
Rice syrup

Pea fiber
Coconut Oil (Caprylic/capric triglyceride)
Calcium carbonate

Salt
Natural poultry flavor

Sunflower lecithin

Glycerin

Dried kelp

Dill

Parsley

Mixed tocopherols (vitamin E preservative)

Green tea extract

Blueberry juice
Gum arabic
Peppermint Vitality Essential Oil (Mentha piperita) is one of the most highly regarded herbs for supporting normal digestion, including promoting healthy intestinal function and gastrointestinal system comforts*.

Rosemary Vitality Extract (Rosmarinus officinalis CT cineol) was one of the most broadly used plants throughout the ages. Rosemary includes the naturally occurring constituents eucalyptol and alpha-pinene.
Spearmint Vitality Essential Oil (Mentha spicata) Rich in carvone and d-limonene.

Want More Information About the Individual Oil? Just click on the name of the oil to find out other interesting information such as:
What Part of the Plant is Used?
What is an ORAC Value?
What is the ORAC of the Oil?
What are the Plant Properties and Uses?
Where is the Name derived from?
The Most Interesting Historical Reference?
And more!
What are the Documented Uses for Animal Scents Essential Oil Pet Chews? Promotes oral health and combats bad breath; remove buildup on pet's teeth.
What is the Aromatic Affect on the Mind? Happy and tail wagging!

What is the Nan's Mental (Mindset), Emotional and Spiritual Interpretation of this Oil?  See the individual oils.

How Do I Use Them?
Use Animal Scents Dental Pet Chews 2 times a week or as needed. Give per weight below:

For Pets 5–19 pounds: ½ chew
For Pets 20+ pounds: 1 chew
This product is intended for intermittent or supplemental feeding only. Consult a veterinarian for pets that are pregnant or under 5 pounds before use.
Note About Animals:
Certain oils can be very toxic to cats. Citrus products and oils in particular that are not of therapeutic grade! Please consult your vet if you are not sure about applying any essential oil to your pet.
What are the Safety Precautions?
Always offer sufficient water when giving your pet treats or food. Make sure your pet chews the treat completely, as gulping any item can be harmful to your pet. This product is not recommended for pets with a history of gulping, choking, or poor chewing capability. Always consult with your veterinarian about the proper nutrition for your pet.
Want to Purchase Therapeutic Animal Scents Essential Oil Dental Pet Chews?
Go to the Oil Shop! Buy Animal Scents Dental Pet Chews Here!
Tips and Testimonials from an Essential Oil User
I like to break them up into small pieces and give my girl a little everyday!

Return from Animal Scents Essential Oil Pet Chews to Animal Scents Essential Oil Care Collection