Nan's Experience Essential Oils Membership provides Exclusive EO Training and Coaching on Transformation, Functional Wellness, Animal Topics and More!

FREE ACCESS to E-Merald Level with THREE Training Bundles!

 Click HERE to LEARN MORE and Get INSTANT ACCESS to E-merald Level Trainings!
Home Remedies for Sunburn (Minor) 
Young Living Afer Sun Spray

Home remedies for sunburn. Essential Oils may be able to provide relief for minor sunburn but that depends on the product itself. However, use oils to moisturize skin before and after sun exposure.

Can Essential Oils work to Soothe Minor Sunburn and Itching?
Certain ingredients when approved by the FDA such as Menthol naturally found in Peppermint have been shown to temporarily relieve minor aches and pains due to sunburns, burns, minor cuts, skin irritations and exercise/aging which are considered acute.
However, any sunburn or sunscreen product must be approved by the FDA for that application. Young Living's Lavaderm After-Sun Spray IS approved by the FDA. When approved by the FDA they are called Over the Counter Products or OTC.

---
Experience Home Remedies for Sunburn (Minor): OTC Lavaderm After-Sun Spray is the Solution!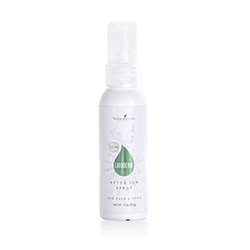 What Products do I use for Minor Sunburn?
The product I use to address temporary conditions and is approved by the FDA for the uses listed below is:
Remember, the better solution is Young Living's mineral natural sunscreen to start!

What Will LavaDerm After-Sun Spray Support?
Lavaderm will temporarily relieve the following:

Minor Sunburn

Minor Burns

Minor Cuts

Minor Irritations

Sunburn Itch

Please see the LavaDerm After-Sun Spray page for safety information and directions.
What Types of Sun Burns can be Remedied with Lavaderm After Sun Spray?
Only MINOR burns will benefit. Sunburn is considered a first degree burn or a minor burn where only the outer skin in damaged.
For second and third degree burns, please seek medical attention immediately!!! Even sunburn can be more than minor....

What Products Will Complement LavaDerm Sunburn Relief Spray?
These are the best products that may complement this product as they soothe and moisturize skin.

Essential oils include:
LavaDerm Spray contains lavender, aloe vera and trace minerals; and is very effective for cooling and hydrating the skin.
Therapeutic grade helichrysum and lavender are very safe and can be used on dogs, cats and horses as well. And children of course.
Are there Products with Essential Oils that Prevent Sunburn?
Yes, Young Living has created a wonderful natural sunscreen with minerals and essential oils that is an OTC roduct. Read more about YL Natural sunscreen here. 
Want to Purchase Natural Hypoallergenic Mineral Sunscreen?
Go to the Oil Shop! Buy Natural Hypoallergenic Mineral Sunscreen Here!
Return from Home Remedies for Sunburn to Experience Essential Oils