Nan's Experience Essential Oils Membership provides Exclusive EO Training and Coaching on Transformation, Functional Wellness, Animal Topics and More!

FREE ACCESS to E-Merald Level with THREE Training Bundles!

 Click HERE to LEARN MORE and Get INSTANT ACCESS to E-merald Level Trainings!
LavaDerm Cooling Mist with
Lavender Cools Sun Exposed Skin Fast!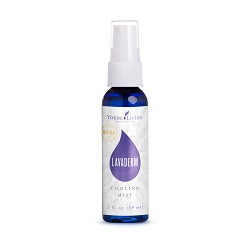 LavaDerm Cooling Mist is a wonderful cooling spray made with therapeutic grade lavender oil and aloe vera. Lavender is known for having amazing skin supporting properties; and as such has been used to for moisturizing for sun exposed, chapped and dry skin for thousands of years.
This product also makes use of purified aloe vera. Aloe vera has been studied and used expansively in soothing irritated skin and more. Like lavender it also has skin supporting abilities.
Did you know that Sun Exposure May create Skin Dehydration?
Yes that is why is not only important to drink plenty of liquids but to also hydrate the skin. LavaDerm contains trace minerals as well that helps to re-hydrate the skin and replenish the minerals that are loss.
All in all you can't lose having LavaDerm in your beach bag! Or check out Lavaderm After Sun Spray for minor sunburn and cuts! I have both in my barn and beach bag!

This is an easy reference guide for LavaDerm Cooling Mist. It will tell you how to use your ointment and what to use it for. It will also provide you with some fun tips!
Want to Purchase Therapeutic Citronella Oil?
Go to the Oil Shop! Buy Lavaderm Cooling Mist Here!
---
Experience LavaDerm Cooling Mist ™
What is in LavaDerm Essential Oil Cooling Mist?
There are several different ingredients as well as lavender essential oil in LavaDerm.
The natural ingredients include:
Deionized Water

Aloe Vera Gel (Aloe barbadensis) – has skin supporting properties. Cooling to the skin.

Ionic Trace Minerals – help to keep skin moist and hydrated.
The essential oils are listed below along with a brief description of the oil.
Want More Information About the Individual Oil? Just click on the name of the oil to find out other interesting information such as:
What Part of the Plant is Used?

What is an ORAC Value?

What is the ORAC of the Oil?

What are the Plant Properties and Uses?

Where is the Name derived from?

The Most Interesting Historical Reference?

And more!
What are the Documented Uses for Lavaderm Cooling Mist? Skin (keeping cool and hydrated or moist) and sun exposure.

How do I Use It?
Spray directly on the skin as needed.
Can this oil be used for Animals? Yes
Note about animals: Certain oils can be very toxic to cats. Citrus products and oils in particular which are not of therapeutic grade! Please consult your vet if you are not sure about applying any essential oil to your pet.
What are the Safety Precautions? No contraindications
Tips for Using this Product
Keep in your beach bag for people and pets!

Want to Purchase Lavaderm Essential Oil Cooling Mist?
Go to the Oil Shop! Buy Lavaderm Mist Here!