Nan's Experience Essential Oils Membership provides Exclusive EO Training and Coaching on Transformation, Functional Wellness, Animal Topics and More!

FREE ACCESS to E-Merald Level with THREE Training Bundles!

 Click HERE to LEARN MORE and Get INSTANT ACCESS to E-merald Level Trainings!
Essential Oils for Children
KidScents Essential Oils for Kids

Essential Oils for children are safe and effective and can be used to support them physically, emotionally, spiritually and mentally. The KidScents Essential Oil Collection was designed specifically for kids and come pre-diluted so you can have peace of mind when applying and diffusing oils.


Why Use Essential Oils for Children?
More and more Moms are looking for safe, gentle and effective alternatives to support their children in growing up and and having the best lives they can. Essential oils for children in part fill that role!
Helps Children learn Healthy Wellness Habits;
Supports Children's Emotional Wellbeing (and Mom's);
Help Kids wind down before Bedtime after a long Hectic day;

Smell Yummy so Kids Enjoy them and LIKE to use them;
Aid in focus during projects, reading or schoolwork; and

Support them in becoming their absolute BEST!

Of course these are just some of the benefits of using essential oils for children!
What are the Safety Precautions?
Good Question! Here are a few considerations:
What is the Quality of the Oil you are Using? I only recommend therapeutic grade oils. And then you still have to do your research as so many companies are jumping on the oil bandwagon that the amount of plants that would need to be sourced don't add up to what is being produced. That means one thing-synthetically produced oils or fraud.

Does the Manufacturer Stand behind Using Oils for Children (and Animals)? I say animals because they are particularly sensitive especially cats. So if the company has an essential oil animal line sometimes that can be a good indicator. Not sprays, shampoos, etc. those typically contain "anything". Young Living stands behind essential oils for children and animals.
Do I need to Dilute Essential Oils? Some will need dilution and depends on the oils. The KidScents Collection Oils are pre-diluted. Dilution slows down the absorption rate. Use 1-2 drops of therapeutic grade essential oil with 1/2-1 tsp. of vegetable oil or V-6. Rule of thumb is to start slow. Or place 1-2 drops in the diffuser - no dilution required!

Read the Safety Considerations - On each page, considerations are written, please read them. When you do and use oils correctly, we win, kids win and we all win!

Essential Oils for Children

What Essential Oils Can I use for Children? 
These oils are specifically designed for children (and the diffuser to the right!):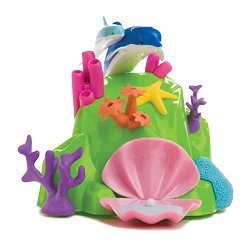 Dolphin Reef Children's Diffuser
Consider These Top Essential Oil Singles for Children:

Generally kids love citrus oils!

Consider These Top Essential Oil Singles for Children In Addition to KidScents Oils:
Where Do I Start?
What is the KidScents Essential Oil Collection for Children?
The KidScents Collection Oils contains SIX therapeutic grade essential oils of 5 ml each designed to support the needs of children. These oils are gentle and are pre-diluted for easy and convenient use!
What are the Other KidScents Essential Oil Products for Children?
There is a whole line of products just for Kids! FYI some links go the The EEO Oil Shop and some go to informational page. :)

And of course, much more! Young Living has your family and animals in mind and promotes peace of mind and a toxic free environment everywhere you go and are whether it's at home, the barn or the office!

Return from Essential Oils for Children to Experience Essential Oils