Nan's Experience Essential Oils Membership provides Exclusive EO Training and Coaching on Transformation, Functional Wellness, Animal Topics and More!

FREE ACCESS to E-Merald Level with THREE Training Bundles!

 Click HERE to LEARN MORE and Get INSTANT ACCESS to E-merald Level Trainings!
MightyVites Chewable Childrens Vitamins with Benefits of Wolfberry and Antioxidant Support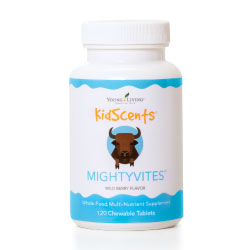 MightyVites Chewable Childrens Vitamins with the benefits of wolfberry is a whole food source supplement. It contains all the nutritional requirements needed for growing children and is easily digestible.

This all natural vegetarian product has a mixed berry flavor that kids love. Use to fill in dietary gaps due to diet or to supplement the diet to support proper nutrients in growing and developing children's bodies.
Proper nutrition along with enzyme supplements support healthy digestive system for children also. Check out MightyZymes Childrens Enzymes!

NingXia Wolfberries contain vital natural minerals, vitamins and antioxidant support for growing children.
This is an easy reference guide for MightyVites Vitamins. It will tell you how to use it and what to use it for!
Want to Purchase MightyVites Chewable Childrens Vitamins?
To purchase this product go to The Oil Shop!
---
Experience KidScents MightyVites™ Children's Vitamins

What is in KidScents MightyVites Vitamins?
Here is the nutritional label for the updated product (October 2017):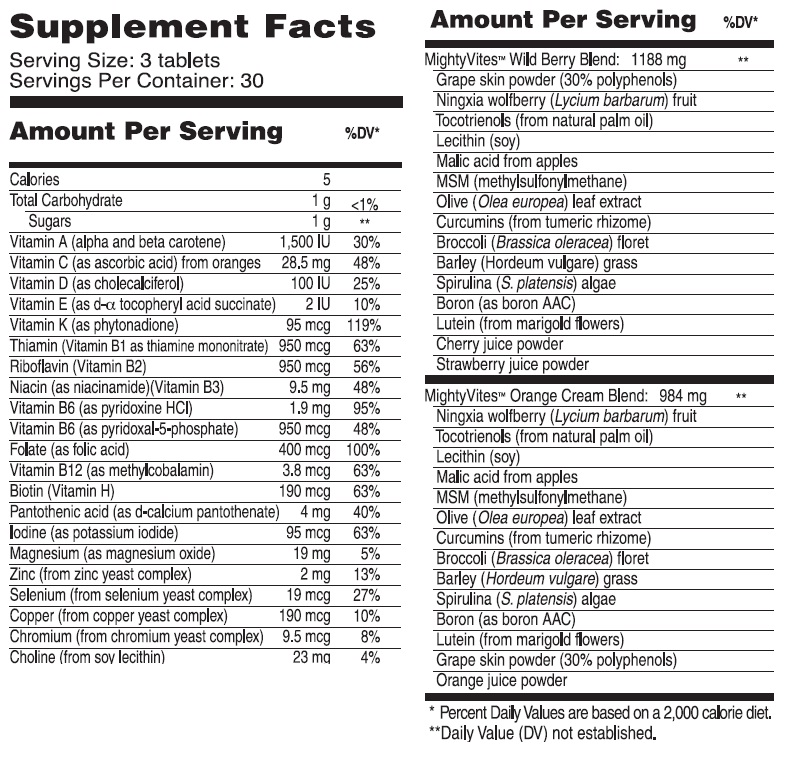 Want More Information About the Individual Oil?
Click on the name of the oil to find out other interesting information such as:
What Part of the Plant is Used?
What is an ORAC Value?
What is the ORAC of the Oil?
What are the Plant Properties and Uses?
Where is the Name derived from?
The Most Interesting Historical Reference?
And more!
What are the Documented Uses for MightyVites? Absorption of nutrients, amino acids, minerals, antioxidants, babies/children, nutritional support, and vitamins.
What Healthy Body Systems are Supported?  Supports whole body.
How Do I Use MightyVites Chewable Childrens Vitamins?
For children ages 4 through 12, chew 4 tablets daily. Can be taken separately or in a single daily dose.
Can this Product be Used for Animals?  Yes, animals can ingest these! Some animals may just eat it right up without putting it in food. Birds up to 1/4 to 1/2 tablet per day. Cats and small dogs 1/2 tablet per day. Medium and large dogs use about 1 tablet per 30 pounds of body weight per day.
Note About Animals: Certain oils can be very toxic to cats especially when poor quality oils are used. Citrus products and oils in particular that are not of therapeutic grade.  Please consult your vet if you are not sure about applying any essential oil to your pet.
What are the Safety Precautions? Do not exceed recommended dosage. Keep in a cool place away from excessive heat or direct sunlight.
If pregnant, nursing, taking medication, or have a medical condition, consult a healthcare practitioner prior to use.
Want to Purchase MightyVites Childrens Vitamins?
To purchase this product go to The Oil Shop!
Return from MightyVites Chewable Childrens Vitamins to Essential Oil Supplements