Nan's Experience Essential Oils Membership provides Exclusive EO Training and Coaching on Transformation, Functional Wellness, Animal Topics and More!

FREE ACCESS to E-Merald Level with THREE Training Bundles!

 Click HERE to LEARN MORE and Get INSTANT ACCESS to E-merald Level Trainings!
SniffleEase Essential Oil
Essential Oils for Children
SniffleEase Essential Oil for Children is a rejuvenating and refreshing blend that can be used topically or diffused. Place on the chest and breathe deep. Or diffuse during sleep to keep the air fresh and clean.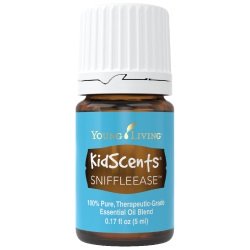 It is a wonderful blend of eight different essential oils that is part of the KidScents Collection Kit. Essential oils for children that are pre-diluted.

This is an easy reference guide for SniffleEase Essential Oil Blend. It will tell you how to use your oil blend and what to use it for. It will also provide you with some fun tips and testimonials!
As I receive new tips and testimonials they will be added to the page, so check back frequently!
Want to Purchase Therapeutic SniffleEase Essential Oil?
Go to the Oil Shop! Buy SniffleEase Oil Here!
Experience SniffleEase Essential Oil Blend™
What is in SniffleEase Essential Oil?
There are eight different essential oils in SniffleEase. They are listed below along with a brief description of each oil.
Eucalyptus Blue Essential Oil (Eucalyptus bicostata) is a unique eucalyptus essential oil that is grown in Ecuador. It contains high amounts of alpha-pinene.
Palo Santo Essential Oil (Bursera graveolens) is a very spiritual essential oil. In the frankincense fmaily, palo santo is known as a spiritual oil and is called holy wood. Used by the Incas to purify and cleanse the spirit from negative energies.
Lavender Essential Oil (Lavandula angustifolia) can help you relax, wind down before bed and even ease stress due. Its balancing properties create a harmonizing atmosphere when diffused.
Dorado Azul Essential Oil (Hyptis suaveolens) or Bush Mint comes from Ecuador and it is in the mint family. Has a fresh and herbaceous aroma.  Contains 1,8 cineol or eucalyptol.
Ravensara Essential Oil or Ravintsara (Cinnamomum camphora) is a cross between the nutmeg and clove plant. It has purifying properties and is highly regarded by the people of Madagascar.
Myrtle Essential Oil (Myrtus communis) is also helpful for meditation and lifting the spirit.
Eucalyptus globulus Essential Oil or Blue Gum Oil is one of many eucalyptus essential oils.

Marjoram Essential Oil (Origanum majorana) is a key oil in the Raindrop Technique!
Pine Essential Oil (Pinus sylvestris) first investigated by Hippocrates, the father of Western medicine. Eucalyptus globulus shares some of the same properties, and the action of both oils is enhanced when they are blended.
Eucalyptus citriodora Essential Oil (Lemon Eucalyptus) contains

40-80% citronellal

and has several chemotypes. Although originally from Australia, the trees grow in Guatemala, Colombia, Egypt South Africa, India and China. The trees of Madagascar are high in phenols.
Cypress Essential Oil (Cupresus sepmervirens) Cypress is also beneficial for oily or troubled skin. Grounding and gets things moving!
Eucalyptus radiata Essential Oil (

Black Peppermint Oil

) or

Black Peppermint Oil

is one of many eucalyptus essential oils.  It is primarily used to for cleansing and purifying.
Peppermint Essential Oil (Mentha piperita) is one of the most highly regarded herbs. It is also a key oil in the Raindrop Technique.
Black Spruce Essential Oil (Picea mariana) has grounding and releasing properties.
Carrier Oil - Coconut Oil and Glycerin (Caprylic/capric triglyceride)

Want More Information About the Individual Oil? Just click on the name of the oil to find out other interesting information such as:
What Part of the Plant is Used?
What is an ORAC Value?
What is the ORAC of the Oil?
What are the Plant Properties and Uses?
Where is the Name derived from?
The Most Interesting Historical Reference?
And more!
What are the Documented Uses for SniffleEase Oil? Place on the bottom of feet or over chest for a refreshing and opening feeling. Make a hot compress  on chest or spine to provide comfort during the winter months.
What is the Aromatic Affect on the Mind? Uplifting and refreshing.
What is the Nan's Mental (Mindset), Emotional and Spiritual Interpretation of this Oil?
SniffleEase oil helps to open up the chest and heart by uplifting emotionally and mentally. Use this oil for children that are taking on the heavy burdens of the world and/or holding their breath in fear.
This will help them let go and not take on so much responsibility that is not theirs to take on; and understand their place in the world.

Although these oils are for kids, I have found them extremely helpful in releasing negative childhood emotions and belief systems as I have worked with clients. And animals love them too!

What Chakra is Affected? Solar plexus, heart and throat chakras.

Kidscents Oils!
How do I Use it?
Use NEAT. Then,
Apply several drops (2-4) on ears, chest, neck, or feet
Apply to chakras

Directly inhale
Diffuse

Can this Oil be Used for Animals? Yes! Definitely use it for dogs and horses. The animals love the kids oils since they are so gentle!

Note About Animals: Certain oils can be very toxic to cats. Citrus products and oils in particular that are not of therapeutic grade! Please consult your vet if you are not sure about applying any essential oil to your pet.
What are the Safety Precautions? If pregnant or under a doctor's care, consult your physician. Dilution not required; suitable for all but the most sensitive skin. Generally safe for children.
Want to Purchase Therapeutic SniffleEase Essential Oil?
Go to the Oil Shop! Buy SniffleEase Oil Here!
Tips and Testimonials from an Essential Oil User
Place SniffleEase in the Dino Land Diffuser or Dolphin Reef Diffuser before bedtime to support wellness.

Return from SniffleEase Essential Oil to KidScents Essential Oil Collection