Nan's Experience Essential Oils Membership provides Exclusive EO Training and Coaching on Transformation, Functional Wellness, Animal Topics and More!

FREE ACCESS to E-Merald Level with THREE Training Bundles!

 Click HERE to LEARN MORE and Get INSTANT ACCESS to E-merald Level Trainings!
GeneYus Essential Oil
Essential Oils for Children
GeneYus Essential Oil for Children supports young minds focus on their projects and schoolwork. Diffuse during reading, schoolwork or classes to facilitate open mindedness, encourage positive thought and unlimited potentiality. Open your child's inner genius!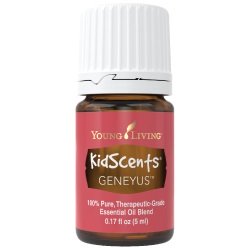 It is a wonderful blend of over eight different essential oils that is part of the KidScents Collection Kit. Essential oils for children that are pre-diluted.

This is an easy reference guide for GeneYus Essential Oil Blend. It will tell you how to use your oil blend and what to use it for. It will also provide you with some fun tips and testimonials!
As I receive new tips and testimonials they will be added to the page, so check back frequently!
Want to Purchase Therapeutic GeneYus Essential Oil?
Go to the Oil Shop! Buy GeneYus Oil Here!
Experience GeneYus Essential Oil Blend™
What is in GeneYus Essential Oil?
There are over eight different essential oils in GeneYus. They are listed below along with a brief description of each oil.
Sacred Frankincense Essential Oil (Boswellia sacraa) is high in sesquiterpenes which helps to uplift spirits and promotes relaxation (overcome stress). This is thought to be the original oil given to baby Jesus.
Blue Cypress Essential Oil (Callitris intratropica) is indigenous to Australia. It has traditionally been used for incense, perfume and embalming.

Cedarwood Essential Oil (Cedras atlantica) has an earthy aroma that gives you a sense of security. It is calming, purifying and grounding.
Melissa or Lemon Balm Essential Oil (Melissa officinalis) it is strengthening and revitalizing, yet soothing and calming making it good to ease stress. Several studies report that Melissa may benefit the skin.
Idaho Blue Spruce Essential Oil (Picea Pungens) has a high content of alpha-pinene. Add it to your bath to relax both mind and body. This oil is harvested from Young Livings Highland Flats Tree Farm in Naples, Idaho and distilled at their St. Maries Farm. It has a high percentage of d-limonene as well.
Palo Santo Essential Oil (Bursera graveolens) is a very spiritual essential oil. In the frankincense fmaily, palo santo is known as a spiritual oil and is called holy wood. Used by the Incas to purify and cleanse the spirit from negative energies.
Galbanum Essential Oil (Ferual galbaniflua) Opens up communication to the creator. Holy incense along with Frankincense. It is a spiritual oil that has been used for mediation and to increase awareness.
Sweet Almond Oil (Prunus amygdalus dulcis)
Bergamot Essential Oil (Citrus bergamia) This essential oil has a calming aroma which relaxes the mind and body.

Myrrh Essential Oil (Commiphora myrrha) it fosters acceptance of self and our true spiritual nature.

Royal Hawaiian Sandalwood Essential Oil (Santalum paniculatum) is  emotionally balancing and grounding. It is valued for its skin moisturizing properties.
Rosewood Essential Oil (Aniba rosaeodora)  Soothing to the skin it is emotionally stabilizing and is used for relaxation.
Geranium Essential Oil (Pelargonium graveolens) very soft and supportive, this oil brings balance to your female, creative, emotional side vs the masculine action side.
Ylang Ylang Essential Oil (Cananga odorata) restores confidence and equilibrium.
Hyssop Essential Oil (hyssopus officinalis) is noted for its purifying properties.

Spruce Essential Oil (Picea mariana) has grounding and releasing properties.
Rose Otto Essential Oil (Rosa damascena) has an intoxicating aroma that eases stress! It's sweet fragrance that is intoxicating and highly romantic. Very high vibrational oil.
Carrier Oils - Coconut Oil and Glycerin (Caprylic/capric triglyceride) and Sweet Almond Oil

Please note in November 2016, Galbanum and Rosewood oils were removed from this formulation. The following oils were added to the formulation to provide a synergistic blend:
Want More Information About the Individual Oil? Just click on the name of the oil to find out other interesting information such as:
What Part of the Plant is Used?
What is an ORAC Value?
What is the ORAC of the Oil?
What are the Plant Properties and Uses?
Where is the Name derived from?
The Most Interesting Historical Reference?
And more!
What are the Documented Uses for GeneYus Oil? Supports healthy focus during school work, reading, projects or anything you need to put your "mind" and brain on.

What is the Aromatic Affect on the Mind? Focusing and centering.
What is Nan's Mental (Mindset), Emotional and Spiritual Interpretation of this Oil?
This oil will help children and animals center and focus their mind, their thoughts into opportunity and potentiality. It will foster positive thought and mindset through opening the heart and mind.

Sometimes even when children are tired the mind races from over stimulation. This will teach children how to wind down and create healthy bedtime habits without so much resistance.
Will also help children keep focused during school, tests and homework by releasing distractions and insecurities.

What Chakra is Affected? Opens solar plexus, heart, throat, third eye and crown chakras.

KidScents Oils
How Do I Use It?
Use NEAT. Then,
Apply several drops (2-4) on ears, wrists, neck, or feet
Apply to chakras

Directly inhale
Diffuse

Can this Oil be Used for Animals? Yes! Definitely use it for dogs and horses. The animals love the kids oils and I like to use this oil in lieu of Clarity or Brain Power oil to facilitate focus and encouragement during training especially when horses and dogs are experiencing something new.

Note About Animals: Certain oils can be very toxic to cats. Citrus products and oils in particular that are not of therapeutic grade! Please consult your vet if you are not sure about applying any essential oil to your pet.
What are the Safety Precautions? If pregnant or under a doctor's care, consult your physician. Dilution not required; suitable for all but the most sensitive skin. Generally safe for children.
Want to Purchase Therapeutic GeneYus Essential Oil?
Go to the Oil Shop! Buy GeneYus Oil Here!
Tips and Testimonials from an Essential Oil User
Place in the diffuser before school to start the day with an open mind and heart!

Return from GeneYus Essential Oil to KidScents Essential Oil Collection