Nan's Experience Essential Oils Membership provides Exclusive EO Training and Coaching on Transformation, Functional Wellness, Animal Topics and More!

FREE ACCESS to E-Merald Level with THREE Training Bundles!

 Click HERE to LEARN MORE and Get INSTANT ACCESS to E-merald Level Trainings!
Geranium Essential Oil is Calming
and Supports Healthy  Hair and Skin!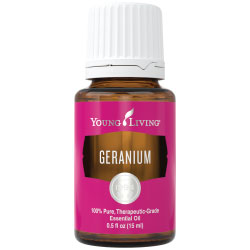 Geranium Essential Oil has a sweet, floral fragrance that calms and relaxes the body and mind. It has been used back to the times of the Egyptians for promoting and supporting beautiful healthy skin and hair.
With naturally occurring citronellol and geraniol, geranium is definitely one to have around for hot summer days while doing outside activities. Combines well with lavender.

Did you know that the untrained nose usually identifies Geranium Essential Oil for Rose Essential Oil?
Yes, because Geranium oil has a rose like scent. In fact Geranium oil is used to adulterate Rose essential oil for this reason. Also, pure Rose essential oil is about five to six times the cost of Geranium essential oil!
That is why...
I like to wear Geranium oil as a natural perfume especially if I am going to a stressful meeting. The aroma is wonderful, it keeps me relaxed, and the issues always get resolved quickly and peacefully!
My favorite blends that contain Geranium are Envision and White Angelica , The Oil of Angels!
This section is a fun and easy reference guide for Geranium Essential Oil. It will tell you how to use it and what to use it for. It will also provide you with some fun suggestions, safety precautions for you and your pet!
As I receive new tips and testimonials for Geranium oil they will be added to the page, so check back frequently!
Want to Purchase Therapeutic Geranium Oil?

Buy Geranium Essential Oil Here!
---
Experience Geranium Essential Oil
What is the Genus Species? Pelargonium graveolens
Why is this Information Important? There are over 200 different species of Geranium. The graveolens species is known to produce one of the highest quality oils available and grows in the Reunion Islands.
Remember, some companies may try to substitute a species within the family and try to sell it for purposes other than frangrance. So make sure you know your source and you are purchasing the right species!
Where is the name derived from? Pelargonium is a Greek word derived from Palargos meaning "stork".
Why is this information so important? Its not, it's just a fun fact!
What is the Origin of the Plant Name? Flowers and leaves
What is the ORAC Value? 1,010,011 (TE/L). TE/L is expressed as micromole Trolox equivalent per liter.

What Does this Number Mean? ORAC stands for Oxygen Radical Absorbance Capacity. It tells you the antioxidant capacity of a food item. This was developed by the USDA researchers. For instance: Oranges = 750; Clove = 1,078,700. Wow! The number for clove is NOT a typo!
Most Interesting Historical Reference?
Did you know that the French Chemist Recluz was the first to distill the leaves of geranium in 1819?
What are the Plant Properties? Calming and relaxing.

What are the Documented Uses for Geranium?  Supports healthy skin and hair; may help cleanse the skin, maintain the appearance of healthy, youthful-looking skin. Gentle supports mind body and spirit emotionally.

What is the Aromatic Affect on the Mind? Lifts the spirit and eases occasional nervous tension. May release negative emotions and memories.
What is Nan's Mental (Mindset), Emotional and Spiritual Interpretation of this Oil?
Geranium oil can help diminish fears of abandonment, love and commitment. It asks that one be more accepting and thus more loving of self. As we love ourselves more, than we can fully commit to loving others.
What Chakra is Affected? The heart and throat chakras expand using this oil. Also may be used to balance the solar plexus and root chakras.
What are the Corresponding Chakra Colors? Green and pink.
How Do I Use It?
Dilute 50:50, and then,
Apply several drops (2-4) on location, abdomen and temples
Apply to chakras
Directly inhale
Diffuse

Can this Oil be Used for Pets? Yes, have your animals smell it directly from the bottle or place a drop or two in your palm, then smell. Or place a drop in your palm and pet head to tail.
Because Geranium helps balance and calm, it has been suggested that mares benefit greatly from use of this oil.

Note About Animal Use: Certain oils can be very toxic to cats. Pine and citrus products and oils in particular that are not of therapeutic grade. Please consult your vet if you are not sure about applying any essential oil to your pet.
I only recommend using Young Living Oils on animals at this time.

What are the Safety Precautions? First, only use therapeutic grade essential oils for best results! Geranium essential oil has no known contraindications. It is Generally Regarded as Safe (GRAS). It is approved by the FDA for use as a Food Additive (FA).
Children younger than 6 years of age should not use Geranium oil as a dietary supplement.
If pregnant, nursing, taking medication, or have a medical condition, consult a healthcare professional prior to use.
Essential Oil Trivia?
Did you know that European gardeners in the 1600s planted geraniums to protect themselves from evil spirits?
Did you know that the fruit of the Geranium looks like a stork's bill?
Want to Purchase Therapeutic Geranium Essential Oil?
Go to the Oil Shop! Buy Geranium Oil Here!
Tips and Testimonials from an Essential Oil User
Did you know that in the December 2007 issue of Domino Magazine, Joshua Onysko, founder and alchemist of an organic body-care company, mentioned that Young Living's geranium essential oil as "one of the top eco-centric ways to look and feel fabulous in 2008!"?
When used as a calming scrub, Onysko says, "The best essential oil by far is geranium. The scent, sweet and pungent, relieves stress."
Domino was a "guide to living with style" magazine centered on the home that closed in 2009.
Have a Great Experience to Share About this Essential Oil?
Do you have a personal story to share about this Essential Oil? Please share it here!
Return from Geranium Essential Oil to Oils for Hair