Nan's Experience Essential Oils Membership provides Exclusive EO Training and Coaching on Transformation, Functional Wellness, Animal Topics and More!

FREE ACCESS to E-Merald Level with THREE Training Bundles!

 Click HERE to LEARN MORE and Get INSTANT ACCESS to E-merald Level Trainings!
White Angelica Essential Oil
Provides Spiritual Strength and Protection 
White Angelica Essential Oil is a very spiritual oil blend that has ten therapeutic grade oils. When I think of White Angelica, I think of the power and protection of Angels. It increases the aura around the body and creates a feeling of "wholeness".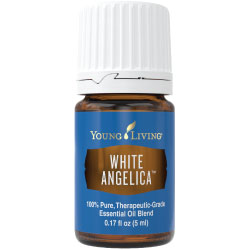 For those who need protection from negative situations or do not feel emotionally safe, White Angelica can offer a feeling of comfort and security. This oil may also be applied to our animal friends as well.
While SARA, Inner Child and Forgiveness can help release emotional hurt from negative circumstances or situations--White Angelica is the comfort after the storm.
White Angelica essential oil protects from negative energies and bombardment as well. So this is angel sent for massage therapists, Reiki and Raindrop practitioners. I always place some on my shoulders before I start any session with a client.
This is an easy reference guide for White Angelica Oil Blend. It will tell you how to use your oil blend and what to use it for. It will also provide you with some fun tips and testimonials!
As I receive new tips and testimonials they will be added to the page, so check back frequently!
Want to Purchase Therapeutic White Angelica Essential Oil?
Go to the Oil Shop! Buy White Angelica Oil Here!
---
Experience White Angelica Essential Oil Blend™
What is in White Angelica Essential Oil?
Please Note that White Angelica Oil was revised in 2013 see below

There are eleven therapeutic grade essential oils in White Angelica! They are listed below along with a brief description of each oil.
In the revised formulation 2015, Sandalwood has been replaced with:
In the revised 2016 formulation, Rosewood has been replaced with the following oils:
Coriander Essential Oil (Coriandrum sativum) has been used since Ancient Egypt. It may support healthy assimilation of thoughts. This is important when making choices and moving forward with plans.
In the revised 2016 formulation, Spruce has been deleted and Northern Black Spruce has been added:
The revised formula 2018, Royal Hawaiian Sandalwood has been replaced with Sacred Sandalwood:
Carrier Oil: Sweet Almond Oil
Wwant More Information About the Individual Oil? Just click on the name of the oil to find out other interesting information such as:
What Part of the Plant is Used?
What is an ORAC Value?
What is the ORAC of the Oil?
What are the Plant Properties and Uses?
Where is the Name derived from?
The Most Interesting Historical Reference?
And more!
What are the Documented Uses for White Angelica Essential Oil?  anger, apathy, aura, awareness, emotional balance, energetic protection, clearing, fear, forgiveness, grief and sorrow, guilt, heart, jealousy, mood elevation, potential, protection from negative emotions and energy, resentment, spiritual (awareness, meditation, and prayer), hurt (emo) and wholeness.
What is the Aromatic Affect on the Mind? This beautiful aroma brings strength and protection.
What is the Nan's Mental (Mindset), Emotional and Spiritual Interpretation of this Oil?
White Angelica essential oil releases negative emotions of greed, loneliness, rejection, shame and weakness. And it will allow protection and strength to reach to the spirit and continue with your transformational work.
This oil has a lot of angelic energy. Angels bring compassion, protection and messages when they are asked for assistance. Remember that angels need to be asked to help but when they do, they go to work! This oil inspires them to be at your side encouraging you to walk through all of what life offers.

This oil is used frequently in emotional release work not only because it facilitates emotional clearing but also because it protects the wearer from negative energies and emotions of those around us.
This is important when doing release work; if we are picking up other energies then we are not facilitating transformation of others or ourselves. So it is important to stay centered and protected.
What Chakra is Affected? Opens the root and sacral chakra (physically). Opens the third eye and crown chakra (spiritually).
How Do I Use It?
Use NEAT (undiluted) then,
Apply several drops (2-4) on shoulders, ears, throat, spine, wrists, neck or feet
Apply to chakras

Directly inhale or
Diffuse

Can this Oil be Used for Animals? Yes. It will increase strength and protection in their energetic field.
It has helped with horses that have come from negative situations, especially if they came from poor handling. It will help them feel protected and safe again; however, they may need to release the issues of victimization and emotional hurts first.
If so then use SARA, Acceptance, Forgiveness and/or Trauma Life first and then follow up with White Angelica essential oil afterwards.
Note About Animals: Certain oils can be very toxic to cats. Citrus products and oils in particular when not of therapeutic grade quality! Please consult your vet if you are not sure about applying any essential oil to your pet.
What are the Safety Precautions? Possible skin sensitivity. This oil is photosensitive; therefore, direct exposure to sunlight may cause severe contact dermatitis. Avoid sunlight for 12 hours after application.
If pregnant or under a doctor's care, consult your physician.
Generally safe for children over 2 years of age.

Want to Purchase Therapeutic White Angelica Essential Oil?
Go to the Oil Shop! Buy White Angelica Oil Here!
Tips and Testimonials from an Essential Oil User
Balance the body first with Valor. Then apply White Angelica to shoulders to protect against negative emotions and energy.
Have a Great Experience to Share About this Essential Oil?
Do you have a personal story to share about this Essential Oil? Please share it here!
Return from White Angelica Essential Oil to Rose Essential Oil