Nan's Experience Essential Oils Membership provides Exclusive EO Training and Coaching on Transformation, Functional Wellness, Animal Topics and More!

FREE ACCESS to E-Merald Level with THREE Training Bundles!

 Click HERE to LEARN MORE and Get INSTANT ACCESS to E-merald Level Trainings!
Acceptance Essential Oil Helps Us
Learn the New and the Old!
Acceptance Essential Oil is an excellent blend for so many things in the emotional category that I use it every single day whether it is at the barn or on me!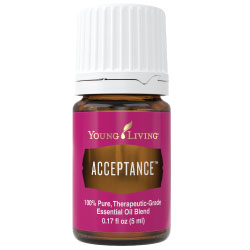 Are you going through a transition, trying to adapt to new changes or taking on a lot of new ideas? Use this essential oil to help you with those changes. Moving, divorce and taking on a new job are amongst the top of the list of the most stressful changes we go through!
You will love the smell of this oil, so diffuse it in your office or work space!
I use it every day at the farm for any type of horse (or rider). The young horses accept new things easier, and the older ones accept old things easier. Either way, it works!
Those of us who ride will understand what I mean when trying to teach a horse to have his mane pulled or his muzzle clipped when it should have been taught to them as a baby! I guess this could go for dog training as well!
Use Acceptance and Peace & Calming together for those tasks!
We went from having a horse twitched and rearing and spinning around to standing politely for his day at the salon (mane pulling and clipping for non-horse owners)!
It helps riders who have gotten into a lot of bad habits and need to re-train their minds and bodies how to adjust to the changes. This is a tough one, because I help so many people (and horses) in this category!
This is a fun and easy reference guide for Acceptance Oil Blend. It will tell you how to use your oil blend and what to use it for. It will also provide you with some fun tips and testimonials!
As I receive new tips and testimonials they will be added to the page, so check back frequently!
Buy Acceptance Essential Oil Here!
Experience Acceptance Essential Oil Blend™
iWhat is in Acceptance Essential Oil Blend? There are nineteen different oils in Acceptance oil blend.
Please Note that Acceptance oil was revised in summer of 2012 because of the deforestation and limited availability of Rosewood Essential Oil. See below for revised formula.
They are listed below along with a brief description of each oil.
Blue Tansy Essential Oil (Tanacetum annuum) has a slightly sweet and herbaceous aroma. Tansy plants have several species and this one is also called Moroccan Chamomile or Annual Tansy. Emotionally, it combats anger and negative emotions.

Rosewood Essential Oil (Aniba rosaeodora) is soothing to the skin it is emotionally stabilizing and is used for relaxation.

Geranium Essential Oil (Pelargonium graveolens) helps you relax and beatify your skin!

Frankincense Essential Oil (Boswellia carteri) is high in sesquiterpenes which helps to uplift spirits and promotes relaxation (overcome stress). 
Sandalwood Essential Oil (Santalum album) is calming and emotionally balancing and is used for stress and unwinding. Also called Aloes.
Neroli or Orange Blossom Oil (Citrus aurantium amara) Known for its effects on the mind, body and spirit it is a highly regarded oil used in Ancient Egypt.
In the revised formulation, Rosewood has been replaced with the following oils:
Ylang Ylang Essential Oil (Cananga odorata) has a long history in skin and hair care products, particularly in Asia, where it is used to promote healthy, shiny hair. It also restores confidence and equilibrium.

Bergamot Essential Oil (Citrus bergamia) has a long history of use for troubled and oily skin. The essential oil has a calming aroma which relaxes the mind and body.
Coriander Essential Oil (Coriandrum sativum) has been used since Ancient Egypt.

In the revised formulation 2014, Sandalwood has been replaced with:
Additionally, these oils have been added:

Carrier Oil: Almond Oil
Want More Information About the Individual oil? Click on the name of the oil to find out other interesting information such as:
What Part of the Plant is Used?

What is an ORAC Value?

What is the ORAC of the Oil?

What are the Plant Properties and Uses?

Where is the Name derived from?

The Most Interesting Historical Reference?

And more!
What are the Documented Uses for Acceptance Essential Oil? Acceptance of all or any situation, abandonment, addictions, alcoholism, argumentative, ashamed, self awareness, balance, betrayed, bitterness, blame, defeated, denial, despair, forgiveness, forgetfulness, frustration, hate,  obsessiveness, overwhelmed, self pity, positive feelings, purification, rejection, restlessness, sadness, self-esteem, security (creating), spacing out, spiritual awareness and transitions.
What is the Aromatic Affect on the Mind? Calming and balancing.
What is Nan's Mental (Mindset), Emotional and Spiritual  Interpretation of this Oil?
Accepting situations whether physical or emotional is something we all deal with on a daily situation. Usually when we resist or we try to control the situation, things often times become worst or blow up in our face!
Acceptance gently helps us to accept challenges so we can move forward rather than meeting them with resistance, anger or resentment.
It asks us to be more open as well and attract new things in our life whether it be people, relationships or animals. Those who are prone to procrastinate or are in denial will benefit from this oil as well.
What Chakra is Affected? Opens the heart and solar plexus chakras.
How Do I Use it?
Use NEAT (undiluted) then,
Apply several drops (2-4) to wrists, edge of ears, neck and feet

Add several drops (2-4) to bath water

Directly inhale, diffuse

Dilute 1:15 with vegetable oil for body massage, or

Combine with Lavender essential oil for restlessness.
Can this Oil be Used for Animals? Yes, I have had great results with this oil!
I use it on a daily basis out at the barn. Horses and riders love this oil. Use it for pulling and braiding manes, training or just taking the edge off! I do!
Note about Animals: Certain oils can be very toxic to cats. Citrus products and oils in particular which are not of therapeutic grade quality. Please consult your vet if you are not sure about applying any essential oil to your pet.
What are the Safety Precautions? This essential oil does not have any known contraindications. Non-irritating and non-toxic.
Want to Purchase Therapeutic Acceptance Essential Oil?
Go to the Oil Shop! Buy This Oil Here!
Tips and Testimonials from an Essential Oil User
Everyone loves the scent of this oil! Wear it as a perfume and notice how you and the people around you feel. The smell is wonderful!
Have a Great Experience to Share About this Essential Oil?
Do you have a personal story to share about this Essential Oil? Please share it here!
Return from Acceptance Essential Oil to Horse Emergencies