Nan's Experience Essential Oils Membership provides Exclusive EO Training and Coaching on Transformation, Functional Wellness, Animal Topics and More!

FREE ACCESS to E-Merald Level with THREE Training Bundles!

 Click HERE to LEARN MORE and Get INSTANT ACCESS to E-merald Level Trainings!
Jasmine Oil Absolute
Relaxing and Supporting

Jasmine oil is an absolute extraction from the flower of the plant. To be technically correct, jasmine is an "essence" not an essential oil, but it is labeled sometimes as jasmine essential oil.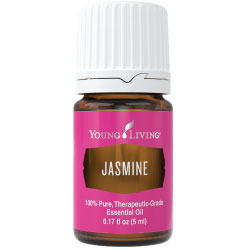 Did you know to maximize Jasmines fragrance it must be picked during the evening? Yes, after sunrise the fragrance greatly diminishes! This is why in part it was given the name "Queen of the Night".
Because of its popularity and its cost, Jasmine oil is often adulterated! Just to give you an idea of the cost and volume of flowers required to produce jasmine absolute I will provide some figures below:
One pound of jasmine oil = 1,000 pounds of jasmine = 3.6 million unpacked blossoms!
One pound of PURE jasmine oil = therapeutic quality = up to $4,500 per pound!
One pound of SYNTHETIC jasmine oil = perfume quality = $3.50 per pound!
Seeing things in terms of dollars and cents always brings the point home.
Jasmine oil is included in many professionally made blends because of its diversity. From alleviating stress to balancing our emotional wellbeing, jasmine supports us unconditionally.
My favorite professionally made blends that contain jasmine are Clarity, Into the Future and Live with Passion essential oil blends.
I designed the next section so you could use it as a fun and easy reference guide. It will tell you how to use your oil and what to use it for. It will also provide you with some fun tips, testimonials and oil trivia!
As I receive new tips and testimonials they will be added to the page, so check back often!
Want to Purchase Therapeutic Jasmine Essential Oil?
Buy Jasmine Essential Oil Here!
---
Jasmine Oil Absolute
What is the Genus Species? Jasminum officinale
It is always a good idea to know your source and the genus species of your essential oil or absolute, so you know what you are getting!
As I mentioned in the introduction, jasmine oil is often times adulterated or is being sold as therapeutic grade when it really is not. So always purchase your oil by the common name and the genus species name, and know your supplier!
Where is the Name Derived From? Jasmine comes from a Persian word "Yasmin" which is a common name for a girl.
Why is this Information so Important? Its not, it's just a fun fact!
What Part of the Plant is Used? Flower
Most Interesting Historical Reference?
Did you know that the jasmine is referred to as "moonlight of the grove" or "queen of the night" because of its strong scent during the evening hours? Its scent is known for its seductive qualities!
What are the Plant Properties? Calming and centering

What are the Documented Uses and Benefits of Jasmine Oil?  May support healthy skin.

What is the Aromatic Affect on the Mind? Its sweet and floral aroma is uplifting and relaxing.
What is Nan's Mental (Mindset), Emotional and Spiritual Interpretation of this Oil?
This oil has been used for emotional balance for hundreds of years. Its primary use has been to ease stress and  and to bring on euphoria and happiness.
Using jasmine even in small amounts can help those to understand sexuality and release fears associated with it such as intimacy, feeling of unworthiness and being used. It will also attune us to the divine nature of sexuality and embrace the energy exchange that happens between souls during intercourse.
What Chakra is Affected? The root, sacral and solar plexus chakras are united. The heart chakra expands.
What is the Corresponding Chakra Color? Red and pink.
How Do I Use It?
Use NEAT (undiluted). Then,
Apply several drops (2-4) on location
Apply to chakra
Directly inhale
Diffuse
Can this Oil be Used for Animals? Yes, but I have to tell you with the high price tag, I tend to use professionally made blends with jasmine as an ingredient. Most of the blends I use are for emotional work, so using jasmine in a blend helps to creates a synergistic effect anyway!
Have your animals smell it directly from the bottle or place a drop or two in your palm, then smell. Or place a drop in your palm and pet head to toe.

My favorite blends that contain jasmine that I use for the horses are Clarity, Live with Passion and Into the Future essential oil blends.
Note About Animal Use: Certain oils can be very toxic to cats. Pine and citrus products and oils in particular that are not of therapeutic grade! Please consult your vet if you are not sure about applying any essential oil to your pet.
I only recommend using Young Living Oils on animals at this time.
What are the Safety Precautions? First, only use therapeutic grade essential oils when wanting healing results! Jasmine has no known contraindications. It is Generally Regarded as Safe (GRAS).
Although it may be used as a dietary supplement, it is advised not to use it in this manner for children under 6 years of age.
If pregnant, nursing, taking medication, or have a medical condition, consult a healthcare professional prior to use.
Essential Oil Trivia?
Did you know that jasmine was known as to attract sexual energy and was worn to attract mates?
Want to Purchase Therapeutic Jasmine Essential Oil?
Go to the Oil Shop! Buy Jasmine Oil Here! 
Tips and Testimonials from an Essential Oil User
Place jasmine oil on your wrist and use as a perfume and uplift everyone's mood!
Have a Great Experience to Share About this Essential Oil?
Do you have a personal story to share about this Essential Oil? Please share it here!
Return from Jasmine Oil to Essential Oils for Stress