Nan's Experience Essential Oils Membership provides Exclusive EO Training and Coaching on Transformation, Functional Wellness, Animal Topics and More!

FREE ACCESS to E-Merald Level with THREE Training Bundles!

 Click HERE to LEARN MORE and Get INSTANT ACCESS to E-merald Level Trainings!
Live with Passion Essential Oil
Encourages and Empowers
Live with Passion Essential Oil is a wonderful blend of essential oils that helps us have a more passionate and fulfilling life.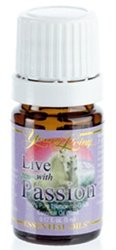 Negative emotions such as hopelessness and hurt can tear us down and keep us from living a better life. But our first step forward, is to release these negative emotions so we can be emotionally strengthened and balanced.
Live with Passion essential oil can help us bring back enthusiasm and passion for what we do and who we are. Use it to leave the past behind, boost your confidence and accomplish your goals!
I have used this many times during difficult transitions in my career or personal life. In this situation I used it with Transformation and it definitely enabled me to take the higher road through the circumstances.
I have also used it with horses that seemed to dread their job or needed a boost of confidence. I had an older horse in my barn that seemed as though he was just giving up on life.
I used Believe and Live with Passion and noticed that attitude took a huge step forward within a week or so. He went on to be sold and is back showing on circuit today!
This is an easy reference guide for Live with Passion Oil Blend. It will tell you how to use your oil blend and what to use it for. It will also provide you with some fun tips and testimonials!
As I receive new tips and testimonials they will be added to the page, so check back frequently!
Want to Purchase Therapeutic Live with Passion Essential Oil?
Go to the Oil Shop! Buy Live with Passion Oil Here!
---
Experience Live with Passion Essential Oil Blend™
What is in Live with Passion Essential Oil?
There are ten therapeutic grade essential oils in Live with Passion. They are listed below along with a brief description of each oil.
In the revised formulation 2014, Sandalwood has been replaced with:
Want More Information about the Individual Oil? Just click on the name of the oil to find out other interesting information such as:
What Part of the Plant is Used?
What is an ORAC Value?
What is the ORAC of the Oil?
What are the Plant Properties and Uses?
Where is the Name derived from?
The Most Interesting Historical Reference?
And more!
What are the Documented Uses for Live with Passion Essential Oil?  Confidence, courage, despair,  emotions, hopelessness, hurt, stress, motivation, positive feelings, uplifting and zest for life.
What is the Aromatic Affect on the Mind? Its aroma is uplifting and energizing.
What is the Nan's Mental (Mindset), Emotional and Spiritual Interpretation of this Oil? 
Live with Passion will help those release emotions of hurt, dread or fear embracing life. It will also help those who tend to always be pushing to make something happen or are "pushy", rather than allowing the universe to support and dictate the flow.

It will help us let go of hurts of the past and integrate positive emotions so that we may choose a fuller and more passionate life.
What Chakra is Affected? Opens the solar plexus and heart chakras.
How Do I Use It?
Use NEAT (undiluted). Then,
Apply several drops (2-4) on ears, wrists, neck, forehead, temples or feet
Apply to chakras
Directly inhale, or
Diffuse.
Can this Oil be Used for Animals? Yes!
Note About Animals: Certain oils can be very toxic to cats. Citrus products and oils in particular that are not of therapeutic grade! Please consult your vet if you are not sure about applying any essential oil to your pet.
What are the Safety Precautions? Possible skin sensitivity. Dilution recommended for both topical and internal use. Dilute before using on sensitive areas such as the face, neck, genital area, etc. Keep out of reach of children. Avoid using on infants and very small children.
If pregnant or under a doctor's care, consult your physician.
Want to Purchase Therapeutic Live with Passion Essential Oil?
Go to the Oil Shop! Buy Live with Passion Oil Here!
Tips and Testimonials from an Essential Oil User
Add 2-4 drops to bath water or wear as a perfume or cologne.
Have a Great Experience to Share About this Essential Oil?
Do you have a personal story to share about this Essential Oil? Please share it here!
Return from Live with Passion Essential Oil to Oil Blends I-M