Nan's Experience Essential Oils Membership provides Exclusive EO Training and Coaching on Transformation, Functional Wellness, Animal Topics and More!

FREE ACCESS to E-Merald Level with THREE Training Bundles!

 Click HERE to LEARN MORE and Get INSTANT ACCESS to E-merald Level Trainings!
Believe Essential Oil -
Own Your Infinite Potential!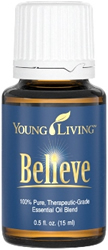 Believe Essential Oil is a calming blend that opens our inner awareness to our potential so we can live a more fulfilling life. It will support us in knowing that we can change our situations, but first we must believe that we can!
It will release emotions of despair and inadequacy that are typically stored in the lungs of the body according to Traditional Chinese Medicine; and it will bring stability to the emotions by restoring hope and desire. Once we are empowered, we will move towards achieving our goals and ambitions.
This is an easy reference guide for Believe Oil Blend. It will tell you how to use your oil blend and what to use it for. It will also provide you with some fun tips and testimonials!
As I receive new tips and testimonials they will be added to the page, so check back frequently!
Want to Purchase Therapeutic Believe Essential Oil?
Go to the Oil Shop! Buy Believe Essential Oil Here!
---
Experience Believe Essential Oil Blend™
What is in Believe Essential Oil?
Please Note that Belief oil was revised in summer of 2012 because of the deforestation and limited availability of Rosewood Essential Oil. See below for revised formula.
There are three therapeutic grade essential oils in Believe. They are listed below along with a brief description of each oil.
Frankincense Essential Oil (Boswellia carteri) is high in sesquiterpenes which helps to uplift spirits and promotes relaxation (overcome stress).
In the revised formulation, Rosewood has been replaced with the following oils:
In June 2013, Young Living launched another revision to the Believe oil: Idaho Blue Spruce was added.
Idaho Blue Spruce Essential Oil (Picea Pungens) has a high content of alpha-pinene. This oil is harvested from Young Livings Highland Flats Tree Farm in Naples, Idaho and distilled at their St. Maries Farm. It has a high percentage of d-limonene as well.
Want More Information About the Individual Oil? Just click on the name of the oil to find out other interesting information such as:
What Part of the Plant is Used?
What is an ORAC Value?
What is the ORAC of the Oil?
What are the Plant Properties and Uses?
Where is the Name derived from?
The Most Interesting Historical Reference?
And more!
What are the Documented Uses for Believe Essential Oil? Awareness of ones greater potential, boredom, confidence, despair, focus, mind, potential, open mind, stress, self and inner awareness, relaxation, spiritual awareness (increase), stress, subconscious and vision of goals.
What is the Aromatic Affect on the Mind? This wonderful aroma is stabilizing and calming.
What is Nan's Mental (Mindset), Emotional and Spiritual Interpretation of this Oil?
Believe essential oil helps us release emotions of dishonesty, despair and inadequate; and instills positive emotions of hope and inspiration. It helps us realize and believe in the infinite potential in ourselves so we can become empowered.
What Chakra is Affected? Opens the solar plexus and heart chakras.
How Do I Use It?
Use diluted - 50:50 dilution (one part essential oil: one part of vegetable oil). Then,
Apply several drops (2-4) on heart, ears, wrists, neck or feet
Add several drops (2-4) to bath water
Apply to chakras

Directly inhale

Diffuse
Can this Oil be Used for Animals? Yes. I have used it for horses that had confidence problems or seemed like they were giving up. I had an older horse in my barn that kept hurting himself and seemed as though he was just didn't want to be here anymore. I used Believe and Live with Passion and noticed that his attitude and accident prone nature took a huge step forward within a week or so. He went on to be sold and is back showing on the hunter jumper circuit!
Note About Animals: Certain oils can be very toxic to cats. Citrus products and oils in particular that are not of therapeutic grade quality! Please consult your vet if you are not sure about applying any essential oil to your pet.
I only recommend using Young Living Oils on animals, as that is what I have used.

What are the Safety Precautions? No contraindications.
Want to Purchase Therapeutic Believe Essential Oil?
Go to the Oil Shop! Buy Believe Oil Here!
Tips and Testimonials from an Essential Oil User
Diffuse this oil to help foster a belief that we are infinite beings with limitless potential!
Have a Great Experience to Share About this Essential Oil?
Do you have a personal story to share about this Essential Oil? Please share it here!
Return from Believe Essential Oil to Rosewood Essential Oil