Nan's Experience Essential Oils Membership provides Exclusive EO Training and Coaching on Transformation, Functional Wellness, Animal Topics and More!

FREE ACCESS to E-Merald Level with THREE Training Bundles!

 Click HERE to LEARN MORE and Get INSTANT ACCESS to E-merald Level Trainings!
Balsam Fir Oil  (Idaho) is NOW
Idaho Grand Fir!
Balsam Fir Oil was traditionally used to soothe muscle discomfort following exercise or work out; and is known for supporting healthy respiratory function*.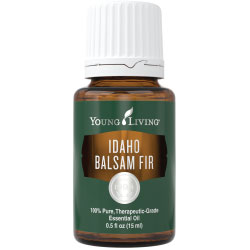 Its in the Christmas tree line of oils (my term). I love the smell of all the Christmas tree oils including Balsam Fir, White Fir, Pine, and Evergreen Essence. They are uplifing to the mind, yet comforting to the body which reminds me of the holidays.
I diffuse Balsam Fir during the holidays along with Evergreen Essence to fill the house with holiday aroma and ease stress and promote relaxation. Do it year round!

Balsam For oil is also very soothing to muscles associated with exercise.

Did you know that the best time to harvest balsam fir is in the winter months? Gary Young, who harvests Balsam Fir Essential Oil in Idaho a few miles south of the Canadian Border, has found that the fir needles contain the highest amount of essential oil during this time of the year!
Balsam fir is in some of my favorite oil blends including Deep Relief and Transformation (changing beliefs and emotional patterns).
As I do receive new information and testimonials for Balsam Fir Oil, they will be added to this page. So check back frequently or subscribe to the Oil Blog so you don't miss a thing!
Please read below for more information on Balsam Fir Oil. It will tell you how to use it and what to use it for. It will also provide you with some suggestions, safety precautions for you and your pet!
Want to Purchase Therapeutic Balsam Fir Essential Oil?
Go to the Oil Shop! Available in 5 and 15 ml bottle. Buy Grand Fir Oil at the Oil Shop!
---
Experience Balsam Fir Essential Oil (Idaho) or Idaho Grand Fir!

What is the Genus Species? Abies grandis

Young Living first launched this oil as Abies balsamea as that was the closest scientific name available at the time. In 2019-2020, the Personal Care Products Council approved the request to use the genus and species Abies grandis or Idaho Grand Fir. This is a more accurate reflection of where the trees are grown and thus, the oil that is produced.

Why is this Information Important? It is always important to know the genus species and what part of the plant the oil is distilled from.
Remember, many companies may use a substitute species or a combination of species that may not support the body and mind in the same capacity. 
What is the Origin of the Plant Name? The name White Fir comes from its Latin scientific name "abies" meaning "fir trees" and "balsamea" meaning "balsam like".
Why is this Information Important? Its not, it's just a fun fact!
What Part of the Plant is Used? Leaves and branches
What is the ORAC Value? 20,500 µTE/100g
What Does this Number Mean? ORAC stands for Oxygen Radical Absorbance Capacity. It tells you the antioxidant capacity of a food item.  This was developed by the USDA researchers. For instance: Oranges = 750; Clove = 1,078,700. Wow! The number for clove is NOT a typo!
Most Interesting Historical Reference?
Did you know that the oleoresin of Balsam Fir has been used for ritual and spiritual purposes?
What are the Plant Properties? Relaxing, soothing and warming.

What are the Documented Balsam Fir Benefits and Uses? Use for soothing muscles after exercise or sports.
What is the Aromatic Affect on the Mind? It is physically grounding and relaxing. Its sweet and clean scent has balsamic and woody overtones.

What is Nan's Mental (Mindset), Emotional and Spiritual Interpretation of this Oil?
Balsam fir oil will ground the body and empower the mind. It will bring emotional balance to the mind and body by aligning the sacral and heart chakras. It is good for those who get out of balance emotionally very easily and then go "out of body". It also brings a nurturing, warm energy to your heart which allows you to feel safe to follow your heart vs allowing your head to dictate your every move.

By the way, any of the oils that are from trees (Western Red Cedar, Palo Santo, Cedarwood, Frankincense, etc) will provide stabilization, grounding and security to our being.
What Chakra is Affected? The heart and sacral chakras.
What is the Corresponding Chakra Color? Orange and green.
How Do I Use It?
Use diluted - 50:50 dilution (one part essential oil: one part of vegetable oil). Then,
Apply several drops (2-4) on location
Apply to chakras
Directly inhale
Diffuse

Can this Oil be Used for Animals? Yes. Have your animals smell it directly from the bottle or place a drop or two in your palm, then smell. Or place a drop in your palm and pet head to toe.
As mentioned during the introduction I use many professionally made blends that contain Balsam Fir. Transformation and Believe are very good for emotional release for animals (and people!). It is also in an the only ointment that I will use at the barn often called Animal Scents Ointment.
Note About Animal Use: Certain oils can be very toxic to cats. Citrus and pine products and oils in particular. Please consult your vet if you are not sure about applying any essential oil to your pet.
I only recommend using Young Living Oils on animals at this time.
What are the Safety Precautions? First, only use therapeutic grade essential oils when wanting results! Because it is approved as a Food Additive (FA) and Flavoring Agent (FL) by the FDA, Balsam Fir Oil is readily available on the market in many different qualities.
Could result in skin irritation (dilution is recommended). Avoid sunlight for 3 to 6 hours after use.
Although it may be used as a dietary supplement, it is advised not to use it in this manner for children under 6 years of age.
If pregnant or under a doctor's care, consult your physician.
This oil is EarthKosher Certified!
Essential Oil Trivia?
Did you know that the Bible mentions fir 21 times? Thirteen times as a tree and eight times as lumber! Sorry, the Bible didn't mention which fir tree!
Did you know that the Balsam Fir Tree is also called Canada Balsam?
Did you know that the Balsam Fir Tree resin is used in glass slides and optical lenses as an adhesive? 
Tips and Testimonials from an Essential Oil User
Diffuse all year long for a pleasant holiday scent! 
Have a Great Experience to Share About this Essential Oil?
Do you have a personal story to share about this Essential Oil? Please share it here!
Return from Balsam Fir Essential Oil to Essential Oils for Muscle Discomfort after Exercise