Nan's Experience Essential Oils Membership provides Exclusive EO Training and Coaching on Transformation, Functional Wellness, Animal Topics and More!

FREE ACCESS to E-Merald Level with THREE Training Bundles!

 Click HERE to LEARN MORE and Get INSTANT ACCESS to E-merald Level Trainings!
Transformation Essential Oil Blend
New Formulation for Release
Transformation Essential Oil Blend releases resistance to changing negative emotions and belief systems held in the limbic system of the brain. It supports us in times of spiritual, emotional or physical transition or change. It will also help our animals walk through transition as well.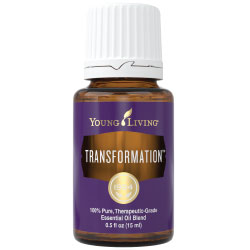 This oil helps us release emotional patterning or negative experiences that are stored on a cellular level. It will help us release beliefs that no longer serve us and anchor new ones.

This is a fun and easy reference guide for Transformation Essential Oil Blend. It will tell you how to use your oil blend and what to use it for. It will also provide you with some fun tips and testimonials!
Please note that this is the new formulation as of summer 2012 - for the blend prior to this, click here.
Want to Purchase the New Transformation Oil Blend?
Then go to The Oil Shop!
---
Experience Transformation Essential Oil Blend™
What is in Transformation Essential Oil Blend? There are nine different essential oils in Transformation oil blend. They are listed below along with a brief description of each oil.
Please Note that Transformation was revised in summer of 2012 because of the deforestation and limited availability of Rosewood oil. For the old formulation, click here.
Frankincense Essential Oil (Boswellia carteri) is high in sesquiterpenes which helps to uplift spirits and promotes relaxation (overcome stress).

Clary Sage Essential Oil (Salvia sclarea)  has been used for centuries to help support the female body and mind. It contains sclareol which is very rare when distilling essential oils.

Lemon Essential Oil (Citrus limon) consists of 68 percent d-limonene. It has cleansing and purifying properties
Ocotea Essential Oil (Ocotea quixos) is a unique therapeutic grade oil that helps aid the body's natural response to irritation. From the cinnamon family. Ocotea also has natural cleansing and purifying properties.
Palo Santo Essential Oil (Bursera graveolens) is a very spiritual essential oil. In the frankincense fmaily, palo santo is known as a spiritual oil and is called holy wood. Used by the Incas to purify and cleanse the spirit from negative energies.

Cardamon Essential Oil (Elettaria coardomomum)  has been traditionally used through inhalation to invigorate the mind.
Idaho Blue Spruce Essential Oil (Picea Pungens) has a high content of alpha-pinene. Add it to your bath to relax both mind and body. This oil is harvested from Young Livings Highland Flats Tree Farm in Naples, Idaho and distilled at their St. Maries Farm. It has a high percentage of d-limonene as well.
In the revised formulation 2014, Sandalwood has been replaced with:
Want More Information About the Individual Oil? Just click on the name of the oil to find out other interesting information such as:
What Part of the Plant is Used? 
What is an ORAC Value?
What is the ORAC of the Oil?
What are the Plant Properties and Uses?
Where is the Name derived from? 
The Most Interesting Historical Reference?
And more!
What are the Documented Uses for Transformation Essential Oil? ? Acceptance, agitation, anger (release locked up and frustration), apathy, argumentative, betrayed, burdens, change (personal), clarity of thoughts, confusion, consciousness, denial, dreaming (influences), drowning in own negativity, dying, broken heart, emotional stress, exhaustion, forgive and forget, grief and sorrow, inferiority, loss of loved one, negativity, opening to receive, open mind, overcome and release difficult issues in life, past, personal growth, potential, sadness, self expression and esteem, spiritual (increase connection and uplifting), stimulating, subconscious, stress, transformation, transition in life, uplifting and well being and women's life changes (emotional).
What is the Aromatic Affect on the Mind? This spicy and citrusy aroma is uplifting to the mind and spirit . 
What is the Nan's Mental (Mindset), Emotional and Spiritual Interpretation of this Oil?
Transformation essential oil releases the emotions of can't do it, resistance and limitation so we can release the negative emotions and emotional blocks that are holding us back from our spiritual self-discovery and evolution.
This oil will help us release frustration so we can see transformation as a positive action in our life. Remember, we are here to transform and have a transformative experience. Avoiding problems is not the way to personal growth, and will actually keep us more stuck then if we choose to experience our spiritual path. Embrace positive growth despite its challenging nature.

What Chakra is Affected? Opens the root, solar plexus, throat and third eye chakras. 
How Do I Use It? 
Use NEAT (undiluted) then, 
Apply several drops (2-4) to wrists, behind the ears, neck and feet
Apply to chakras

Directly inhale, or
Diffuse
Can this Oil be Used for Animals? Yes, helps animals overcome difficult changes in their lives and aids in transitions especially when moving home to home.

Note About Animals: Certain oils can be very toxic to cats especially when not using therapeutic grade oils. Citrus products and oils in particular when using poor grade oils. Please consult your vet if you are not sure about applying any essential oil to your pet.
What are the Safety Precautions? Transformation essential oil does not have any known contraindications. Non-irritating and non-toxic.
If pregnant or under a doctor's care, consult your physician.
Want to Purchase Transformation Essential Oil?

To purchase at The Oil Shop, click on the link!
Tips and Testimonials from an Essential Oil User

Diffuse or wear as a perfume to stimulate the mind when going through transitions, difficult decisions or changing belief systems.
Have a Great Experience to Share About this Essential Oil?
Do you have a personal story to share about this Essential Oil? Please share it here!
Return from Transformation Essential Oil Blend to Essential Oils Blends N-W