Nan's Experience Essential Oils Membership provides Exclusive EO Training and Coaching on Transformation, Functional Wellness, Animal Topics and More!

FREE ACCESS to E-Merald Level with THREE Training Bundles!

 Click HERE to LEARN MORE and Get INSTANT ACCESS to E-merald Level Trainings!
Clarity Essential Oil
Gives you that Mental Edge!
Clarity Essential Oil is an excellent blend of essential oils that is specifically designed to provide greater mental concentration and alertness. Use it before a test, meeting or competition to give you that mental edge. Or, use it to give you a boost when you are mentally fatigued!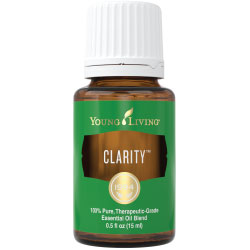 It contains stimulating oils including peppermint and rosemary, which have been used for many years to promote mental sharpness. 
Clarity essential oil is definitely one of my favorite essential oil blends and I use it every single day at the farm for training horses and bringing greater focus. Sometimes I add another drop of Peppermint oil to increase the effects of clarity oil. Especially with the horses, as they love Peppermint oil anyway!
Not loving this one? Try Brain Power blend! Great complementary oil!

This is an easy reference guide for Clarity Oil Blend. It will tell you how to use your oil blend and what to use it for. It will also provide you with some fun tips and testimonials!
As I receive new tips and testimonials they will be added to the page, so check back frequently!
Want to Purchase Therapeutic Clarity Essential Oil?
Buy Clarity Essential Oil Here!
Experience Clarity Essential Oil Blend™
What is in Clarity?
Please Note that Clarity Oil was revised in summer of 2012 because of the deforestation and limited availability of Rosewood Essential Oil. See below for revised formula.
There are twelve different essential oils in Clarity. They are listed below along with a brief description of each oil.
Cardamon Essential Oil (Elettaria coardomomum) has been traditionally used through inhalation to invigorate the mind. It has also been used traditionally to alleviate mental fatigue.

In the revised formulation, Rosewood has been replaced with the following oil:
Want More Information About the Individual Oil? Just click on the name of the oil to find out other interesting information such as:
What Part of the Plant is Used?
What is an ORAC Value?
What is the ORAC of the Oil?
What are the Plant Properties and Uses?
Where is the Name derived from?
The Most Interesting Historical Reference?
And more!
What are the Documented Uses for Clarity Essential Oil? Greater mental focus and clarity, improving concentration, alertness, mental and nervous fatigue, sports competition and emotional balance.
What Healthy Body Systems are Supported? Nervous System
What is the Aromatic Affect on the Mind? Greater mental alertness and is emotionally balancing.
What is Nan's Mental (Mindset), Emotional and Spiritual Interpretation of this Oil? 
Clarity essential oil will help those who are resistive to learning new things or changing habitual patterns. Gives the mental clarity and laser focus needed to overcome change and embrace learning on a new level. Use for challenging mental tasks or when needing clarity on direction and/or creative action.
This is a must have oil for intuitive and transformational work.

This is fantastic oil for training animals when providing them with new information on any level. Especially those who have fears or lack concentration because they get easily distracted. It will definitely help them process the information and maintain focus on what is important to them.
How Do I Use It?
Use diluted - 50:50 dilution (one part essential oil: one part of vegetable oil). Then,
Apply several drops (2-4) on ears, wrists, neck, forehead, temples or feet
Apply to chakras
Directly inhale

Diffuse.
Can this Oil be Used for Animals? Yes! One of my top ten animal oils! Use it for horses and dogs.
Note About Animals: Certain oils can be very toxic to cats. Citrus products and oils in particular that are not of therapeutic quality! Please consult your vet if you are not sure about applying any essential oil to your pet.
What are the Safety Precautions? Children under 18 months of age should not use Clarity essential oil. Generally safe for children over 2 years of age. Women who are pregnant should use caution.

This oil is photosensitive therefore exposure to direct sunlight should be avoided for 12 hours.
If pregnant or under a doctor's care, consult your physician.
Want to Purchase Therapeutic Clarity Essential Oil?
Go to the Oil Shop! Buy Clarity Oil Here!
Tips and Testimonials from an Essential Oil User
Use with Palo Santo or Brain Power.
Want to be Calm and Alert? Use Peace & Calming with Clarity. This is a perfect combination when training animals!
Have a Great Experience to Share About this Essential Oil?
Do you have a personal story to share about this Essential Oil? Please share it here!
Return from Clarity Essential Oil to Natural Sleep Remedies