Nan's Experience Essential Oils Membership provides Exclusive EO Training and Coaching on Transformation, Functional Wellness, Animal Topics and More!

FREE ACCESS to E-Merald Level with THREE Training Bundles!

 Click HERE to LEARN MORE and Get INSTANT ACCESS to E-merald Level Trainings!
Palmarosa Essential Oil
Soothes Body and Mind

 Palmarosa Essential Oil also known as Turkish Geranium or Indian Geranium Oil. Soothing to the body and mind it also supports healthy skin.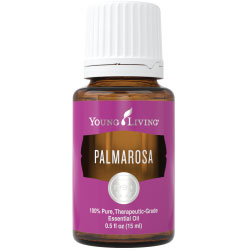 Because it is gentle it also can be used for animals.

My favorite oil blends that contain Palmarosa are Clarity and Joy essential oils. It is also may be found in Animal Scents Ointment and Rose Ointment. both these ointments are great to nourish paws and hooves.

As I receive new tips and testimonials for Palmarosa Essential Oil they will be added to the page, so check back frequently!
Want to Purchase Therapeutic Palmarosa Oil?
Purchase Palmarosa Oil Here!
---
Experience Palmarosa Essential Oil
What is the Genus Species? Cymbopogon martinii. Commonly referred to as Indian Geranium or Rosha.
Why is this Information Important? It's always important to know your genus species of your oil. Just the common name on the bottle doesn't really tell you exactly what you're getting.
What Part of the Plant is Used? Leaves
What is the ORAC Value? 127,800 µTE/100g
What Does this Number Mean? ORAC stands for Oxygen Radical Absorbance Capacity. It tells you the antioxidant capacity of a food item. This was developed by the USDA researchers. For instan
ce: Oranges = 750; Clove = 1,078,700. Wow! The number for clove is NOT a typo!
Most Interesting Historical Reference?
Did you know that the Turks used Palmarosa to adulterate the more expensive Rose Otto Oil? Yes, sometimes they even sold it as Rose Oil! And sometimes some companies, still try to do it today!
What are the Plant Properties? Emotionally balancing, and soothing to body and mind.

What are the Documented Uses and Benefits of Palmarosa Essential Oil? Support healthy skin.

What is the Aromatic Affect on the Mind? Its sweet and rose-like aroma is very calming yet refreshing.
What is Nan's Mental (Mindset), Emotional and Spiritual Interpretation of this Oil?
Palmarosa helps to open the heart chakra and connect with mother earth energy which in turn provides us with a sense of security and unconditional love. When we are in the state of fear our heart energy closes and we become shut down.
Palmarosa releases emotions of shut down, resentment and powerless that come from keeping a closed heart or from mother issues. When we embrace the energy of a mother or mother earth we feel protected and nourished from within.
To fulfill our spiritual journey and to become whole I am reminded that we must resolve both mother and father issues. It is the harmony between the masculine and feminine energies of the body which lead us into the new energies of 2012 and beyond.
What Chakra is Affected? Heart chakra.
What is the Corresponding Chakra Color? Yellow-green
How Do I Use It?
Use 50:50. Then,
Apply several drops (2-4) on location
Apply to chakras

Directly inhale
Diffuse or
Dietary Supplement.
Can this Oil be Used for Pets? Yes excellent for supporting healthy skin. Use  for calming and balancing dogs and horses.

Note About Animal Use: Certain oils can be very toxic to cats. Citrus and pine oils in particular when using non therapeutic grade oils. Please consult your vet if you are not sure about applying any essential oil to your pet.
What are the Safety Precautions? First, only use therapeutic grade essential oils for best results! Palmarosa essential oil is Generally Regarded as Safe (GRAS) for internal consumption by the FDA. Although it may be used as a dietary supplement, it is advised not to use it in this manner for children under 6 years of age.
Essential Oil Trivia?
Did you know that Palmarosa is often put in food in India? Yes they have been doing this for thousands of years!
Did you know that Palmarosa was used as incense by the Ancient Egyptians? Yes, often used in the temples of the initiates.
Want to Purchase Therapeutic Palmarosa Oil?
Go to the Oil Shop! Buy Palmarosa Essential Oil Here!
Tips and Testimonials from an Essential Oil User
Use over heart to open the heart and bring joy.

Have a Great Experience to Share About this Essential Oil?
Do you have a personal story to share about this Essential Oil? Please share it here!

Return from Palmarosa Essential Oil to Essential Oil Singles M-R