Nan's Experience Essential Oils Membership provides Exclusive EO Training and Coaching on Transformation, Functional Wellness, Animal Topics and More!

FREE ACCESS to E-Merald Level with THREE Training Bundles!

 Click HERE to LEARN MORE and Get INSTANT ACCESS to E-merald Level Trainings!
Joy Essential Oil  - Open
Your Heart to Joy and Happiness!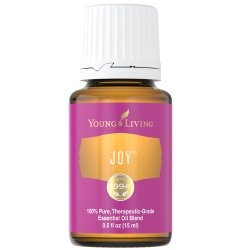 Joy Essential Oil is a beautiful blend of oils that brings love or joy to the heart. And inspire us to live through our passions and joy.

From the start, Joy has always been one of my favorite blends. The smell is alluring and people always ask me what perfume I am wearing! And it has so many emotional benefits why not wear it!
I also use it at the barn for horses that need an emotional lift! Especially if horses have not come from the most ideal situation, then this may help them embrace and enjoy their job again!
I had one horse that was always sort of a slug and never really wanted to go to work. He wasn't a bad horse; he did every thing just fine. But I had him inhale Joy and I placed a bit on his head and he was more enthusiastic about jumping then I had ever seen!
I actually had fun riding him because I rather ride a horse with a bit of energy, then one you have to push! Everyone was asking me...What has gotten into him today? I used it for about a week and then he never went back to being a slug again. So Joy relieved him of his apparent total boredom and he had a new enthusiasm for his work!
This is a fun and easy reference guide for Joy Essential Oil Blend. It will tell you how to use your oil blend and what to use it for. It will also provide you with some fun tips and testimonials!
As I receive new tips and testimonials they will be added to the page, so check back frequently!
---
Experience Joy Essential Oil™
What is in Joy Essential Oil Blend?
Please Note that Joy Oil was revised in summer of 2012 because of the deforestation and limited availability of Rosewood Essential Oil. See below for revised formula.
There are ten different oils in Joy. They are listed below along with a brief description of each oil.
In the revised formulation, Rosewood has been replaced with the following oil:
Coriander Essential Oil (Coriandrum sativum) has been used since Ancient Egypt. It may support healthy assimilation of thoughts. This is important when making choices and moving forward with plans.
Want More Information About the Individual Oil? Just click on the name of the oil to find out other interesting information such as:
What Part of the Plant is Used?
What is an ORAC Value?
What is the ORAC of the Oil?
What are the Plant Properties and Uses?
Where is the Name derived from?
The Most Interesting Historical Reference?
And more!
What are the Documented Uses for Joy Essential Oil? Acceptance, agitation, anger, argumentative, aura, clearing, deodorant, despondency, disappointment, discouragement, dying, energy, expression, frigidness (women), grief, grounding, happiness, heart (broken or heavy), hurts (emotional), jealousy, loss of loved one, love, obsessiveness, personal change, positive feelings, protection, resentment, restlessness, sadness, stress, transitions and emotional upheaval.

What is the Aromatic Affect on the Mind? Emotionally calming and balancing.
What is the Nan's Mental (Mindset), Emotional and Spiritual Interpretation of this Oil?
Joy promotes the emotions of love, happiness and confidence. It helps us release emotional blocks of love, self-love and sharing love. It also helps us release grief and sorrow.
Use this oil to get back the joy in your life and discover what patterns, memory or event has stolen your joy from you. When you learn that and you forgive, you will be able to experience more JOY again.

What Chakra is Affected? Opens the sacral, heart and solar plexus chakras.
How Do I Use It?
Use NEAT (undiluted) then,
Apply several drops (2-4) to wrists, edge of ears, neck and feet
Add several drops (2-4) to bath water
Apply to chakras

Directly inhale, diffuse, or
Dilute 1:15 with vegetable oil for body massage.
Can this Oil be Used for Animals? Yes, if you are dealing with an animal that is seems shut down emotionally or grieving I would definitely use this oil. This could be over loss of a companion, home or owner.
Note About Animals: Certain oils can be very toxic to cats. Citrus products and oils in particular when not of therapeutic grade! Please consult your vet if you are not sure about applying any essential oil to your pet.
What are the Safety Precautions? Joy essential oil does not have any known contraindications. Non-irritating and non-toxic. Photosensitivity – direct exposure to sunlight within 24 hours after use could cause dermatitis. 
If pregnant, nursing, taking medication, or have a medical condition, consult a healthcare professional prior to use.
Want to Purchase Therapeutic Joy Essential Oil?
Go to the Oil Shop! Buy Joy Oil Here!
Tips and Testimonials from an Essential Oil User
Everyone loves the scent of Joy Essential Oil. Wear it as a perfume or cologne over the heart to encourage emotional transformation and inspire love!
Place on a wet cloth and place in the dryer for a wonderful floral scent for your clothes!
Have a Great Experience to Share About this Essential Oil?
Do you have a personal story to share about this Essential Oil? Please share it here!
Return from Joy Essential Oil to Oils for Stress