Nan's Experience Essential Oils Membership provides Exclusive EO Training and Coaching on Transformation, Functional Wellness, Animal Topics and More!

FREE ACCESS to E-Merald Level with THREE Training Bundles!

 Click HERE to LEARN MORE and Get INSTANT ACCESS to E-merald Level Trainings!
Forgiveness Essential Oil
Allows us to Forgive, Forget and Move On!
Forgiveness Essential Oil is a very powerful spiritual oil blend that has fifteen therapeutic grade oils!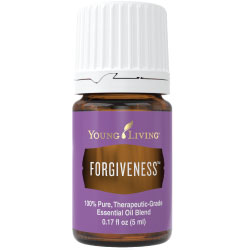 The frequency of Forgiveness oil is 192 MHz which is considered extremely high for an essential oil blend. To give you a comparison the human brain is 72-90 MHz and the body is 62-68 MHz.
Essential oils range from 52-320 MHz with the spiritual oils being over 90 MHz. Rose has the highest at 320 MHz. Anything over the frequency of the human brain is considered extremely high!
Why is Frequency Important?
Frequency is an indicator of the vibration and energy of food or even thoughts! For instance organic food has a higher vibration than conventional food. Processed food is 0 MHz; and studies have shown that just eating lower frequency foods can bring your overall frequency down! Essential Oils raise the vibrational level as soon as you smell them.
When the level of the essential oil is very high it helps us release things quicker by raising our spiritual awareness. Forgiveness essential oil has this effect.
Using it daily can raise your vibration and allow the soul to forgive, forget and release on so many levels. And as we know with most emotional and physical blocks (and disease), our first step starts when we can release denial and begin to forgive ourselves.
Sacred Mountain, Exodus II and Joy essential oils are some other blends with extremely high frequency. Rose Otto, Helichrysum and Melissa are single essential oils with frequencies over 100 MHz.
Forgiveness helps us let go of so many emotional issues from neglect, abondonment or negative situations. Use it to transform a broken heart or hurt feelings.

I have had fabulous results for myself and for my animals. I definitely use it often at the farm because so many horses I see today also have emotional issues that they are so willing to let go of but they just don't know how. Forgiveness essential oil may be the first step.
This is an easy reference guide for Forgiveness Essential Oil Blend. It will tell you how to use your oil blend and what to use it for. It will also provide you with some fun tips and testimonials!
As I receive new tips and testimonials they will be added to the page, so check back frequently!
Want to Purchase Therapeutic Forgiveness Essential Oil?
Go to the Oil Shop! Buy Forgiveness Oil Here!
---
Experience Forgiveness Essential Oil
What is in Forgiveness Essential Oil?
Please Note that Forgiveness oil was revised in summer of 2012 because of the deforestation and limited availability of Rosewood Essential Oil. See below for revised formula.
There are fifteen therapeutic grade essential oils in Forgiveness! They are listed below along with a brief description of each oil.
Frankincense Essential Oil (Boswellia carteri) is high in sesquiterpenes which helps to uplift spirits and promotes relaxation (overcome stress).
Sandalwood Essential Oil (Santalum album) is calming and emotionally balancing and is used to ease stress and unwind. Also called Aloes.
Melissa or Lemon Balm Essential Oil (Melissa officinalis) is strengthening and revitalizing, yet soothing and calming making it good to ease stress. S

Palmarosa Essential Oil (Cymbopogon martinii) also been known as Turkish Geranium or Indian Geranium Oil. Is soothing to the body and mind.

Angelica Essential Oil (Angelica archangelica) the "Oil of Angels" and helps to provide a feeling of safety and security. It is emotionally balancing.

In the revised formulation, Rosewood has been replaced with the following oils:
Coriander Essential Oil (Coriandrum sativum) has been used since Ancient Egypt. It may support healthy assimilation of thoughts. This is important when making choices and moving forward with plans.
Bergamot Essential Oil (Citrus bergamia) This essential oil has a calming aroma which relaxes the mind and body. It has a long history of use for oily and troubled skin.
Carrier Oil: Sesame Seed Oil
In the revised formulation 2014, Sandalwood has been replaced with:
Want More Information About the Individual Oil? Just click on the name of the oil to find out other interesting information such as:
What Part of the Plant is Used?
What is an ORAC Value?
What is the ORAC of the Oil?
What are the Plant Properties and Uses?
Where is the Name derived from?
The Most Interesting Historical Reference?
And more!
What are the Documented Uses for Forgiveness Essential Oil? Abandonment, acceptance, anger, ashamed, balance, harmonic balance, betrayed, bitterness, blame, feeling bugged, electrical energy, forgiveness, grief and sorrow, guilt, broken heart or heavy heart, jealousy, loss of loved one, love, neglect, release negative memories, obsessiveness, positive feelings, rejection (father or mother), resentment, self esteem, stress, weight loss (emotional side)
What is the Aromatic Affect on the Mind? This wonderful aroma is releasing for the body.
What is Nan's Mental (Mindset), Emotional and Spiritual Interpretation of this Oil?
Forgiveness essential oil will help you release the negative emotions of betrayal, distrust and revenge. It will help you move from self denial so you can forgive, forget and let go of the patterning of the past without harboring resentment.
Remember forgiveness is the first step in healing hurt and betrayal. Start with forgiving yourself even if its for the littlest thing. Allow forgiveness oil to support you in remembering that is what is most important to our spiritual eveolution.

What Chakra is Affected? Opens the root, sacral, solar plexus and heart chakras.
How Do I Use It?
Use NEAT (undiluted) then,
Apply several drops (2-4) on shoulders, ears, throat, spine, wrists, neck or feet
Add Several drops (2-4) to bath water
Apply to chakras

Directly inhale or
Diffuse.
Can this Oil be Used for Animals? Yes. I have used Forgiveness essential oil for so many things – abandonment, feelings of resentment and hurt; and more. Use for the same physical and spiritual issues as with humans.
Note About animals: Certain oils can be very toxic to cats. Citrus products and oils in particular that are not of therapeutic grade! Please consult your vet if you are not sure about applying any essential oil to your pet.
What are the Safety Precautions? If pregnant or under a doctor's care, consult your physician. Possible skin sensitivity.
Want to Purchase Therapeutic Forgiveness Essential Oil?
Go to the Oil Shop! Buy Forgiveness Oil Here!
Tips and Testimonials from an Essential Oil User
This oil is best when applied clockwise over the navel and the heart. Also place on the wrists and behind the ears.
Have a Great Experience to Share About this Essential Oil?
Do you have a personal story to share about this Essential Oil? Please share it here!
Return from Forgiveness Essential Oil to Rose Essential Oil