Nan's Experience Essential Oils Membership provides Exclusive EO Training and Coaching on Transformation, Functional Wellness, Animal Topics and More!

FREE ACCESS to E-Merald Level with THREE Training Bundles!

 Click HERE to LEARN MORE and Get INSTANT ACCESS to E-merald Level Trainings!
Exodus II Essential Oil
Inspired by Moses

Exodus II Essential Oil is a blend inspired by the oils used in ancient times including Moses.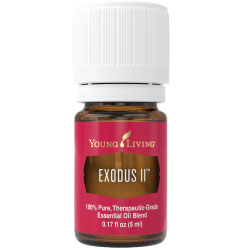 The oils in this blend were thought to be used by Moses and the Israelites to protect themselves and promote wellness. They are all mentioned many times throughout the Bible.
Diffuse Exodus II or ImmuPower (or both) essential oil blends in your work space or home to support bring strength.

Also keep them both on hand at home and at the farm. They are safe to use on humans and animals! And I definitely include at least one of them in any First Aid Kit for horse, human or dog.
This is an easy reference guide for Exodus II Oil Blend. It will tell you how to use your oil blend and what to use it for. It will also provide you with some fun tips and testimonials!
As I receive new tips and testimonials they will be added to the page, so check back frequently!
Want to Purchase Therapeutic Exodus II Essential Oil?
Go to the Oil Shop! Buy Exodus II Oil Here!
---
Experience Exodus II Essential Oil Blend™
What is in Exodus II Essential Oil?
There are nine therapeutic grade essential oils in Exodus II essential oil. They are listed below along with a brief description of each oil.
Frankincense Essential Oil (Boswellia carteri) is high in sesquiterpenes which helps to uplift spirits and promotes relaxation (overcome stress).
Hyssop Essential Oil (Hyssopus officinalis) Noted for its purifying properties it was cherished by ancient Greece for it's woody and centering aroma.

Cinnamon Essential Oil (Cinnamomum verum)  Hot, spicy and supportive, it will clear blocks related to poverty consciousness.

Spikenard Essential Oil (Nardostachys jatamansi) is known for its spiritual significance. It acts as a skin tonic and soothes the mind and body!

Myrhh Essential Oil (Commiphora myrrha) is a very powerful spiritual oil.

Galbanum Essential Oil (Ferual gummosa) opens up communication to the creator. Holy incense along with Frankincense. It is a spiritual oil that has been used for mediation and to increase awareness.

Cassia Essential Oil (Cinnamomum cassia) smells and tastes like cinnamon oil. Contained in the recipe for the Holy Anointing Oil given to Moses.

Calamus Essential Oil (Acorus calamus) gets to the root of things blocking you so you may feel more secure in yourself. Protects and provides at root level.

Carrier Oil: Olive Oil (Olea europaea)
Please note that this oil was reformulated in October 2016. Galbanum and Spikenard were removed and the following oils were added:
Want More Information About the Individual Oil? Just click on the name of the oil to find out other interesting information such as:
What Part of the Plant is Used?
What is an ORAC Value?
What is the ORAC of the Oil?
What are the Plant Properties and Uses?
Where is the Name derived from?
The Most Interesting Historical Reference?
And more!
What are the Documented Uses for Exodus II Essential Oil? Connection to spirit and meditation. Inspiration and creativity.

What is the Aromatic Affect on the Mind? Has a spicy, balsamic and warm aroma with incense-like overtones.
What is Nan's Mental (Mindset), Emotional and Spiritual Interpretation of this Oil?
This oil will help those who feel doomed or always that something bad is going to happen. It will also help with obsessive habits or thoughts.
It will help you feel more grateful for all your gifts and give more freely to others without sacraficing your own committments and needs.

Use this oil as a cleansing purgative for negative energy or negative spaces.

What Chakra is Affected? Opens the solar plexus chakra.
How Do I Use It?
Use diluted - 50:50 dilution (one part essential oil: one part of vegetable oil). Then,
Apply several drops (2-4) on ears, throat, spine, wrists, neck or feet
Apply to chakras

Directly inhale

Diffuse.
Can this Oil be Used for Animals? Yes. Horses love the smell.

Note About Animals: Certain oils can be very toxic to cats. Citrus products and oils in particular that are not of therapeutic grade! Please consult your vet if you are not sure about applying any essential oil to your pet.
What are the Safety Precautions? Keep out of reach of children. Avoid using on infants and very small children. Children under 5 years of age or women that are pregnant should not use this oil. Can cause irritation to the skin, therefore dilution is necessary. Repeated use many result in contact sensitization.
If pregnant or under a doctor's care, consult your physician. 
Want to Purchase Therapeutic Exodus II Essential Oil?
Go to the Oil Shop! Buy Exodus II Oil Here!
Tips and Testimonials from an Essential Oil User
Diffuse during the holidays to inspire devotion and divinity. 
Have a Great Experience to Share About this Essential Oil?
Do you have a personal story to share about this Essential Oil? Please share it here!
Return from Exodus II Essential Oil to Cinnamon Essential Oil