Nan's Experience Essential Oils Membership provides Exclusive EO Training and Coaching on Transformation, Functional Wellness, Animal Topics and More!

FREE ACCESS to E-Merald Level with THREE Training Bundles!

 Click HERE to LEARN MORE and Get INSTANT ACCESS to E-merald Level Trainings!
The Benefits of Myrrh 
Supports Healthy Skin

The benefits of myrrh - powerful antioxidant support. It supports healthy skin. The Arabian people believed it helped wrinkled, chapped, and cracked skin. Today, myrrh is widely used in oral hygiene products.
Contains a high content of sesquiterpenes, a class of compounds that have a direct effect on our emotions or limbic system. It is purifying, restorative, revitalizing, and uplifting.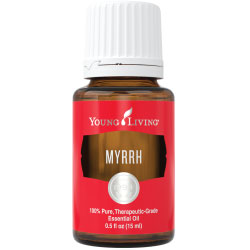 We also know that Myrrh was given to Baby Jesus along with Frankincense and Gold. So, Myrrh and Frankincense were considered luxury items used by the wealthy and highly regarded next to gold.
The benefits of myrrh include skin care. Since the Egyptians it has been used to maintain healthy skin and sooth chapped or cracked skin. Many of the skin care products and animal scents ointment  contain myrrh essential oil.
My favorite professionally made blends that contain Myrrh are Gratitude, Humility and Hope oils.
Want to learn more benefits of myrrh? Just keep reading below! The next section will tell you how to use Myrrh oil and what to use it for. It will also provide you with some fun tips, testimonials and oil trivia!
As I receive new tips and testimonials they will be added to the page, so check back often!
Want to Purchase Therapeutic Myrrh Oil?
Go to the Oil Shop! Buy Myrrh Essential Oil Here!
---
Experience Myrrh Essential Oil
What is the Genus Species? Commiphora myrrh
Why is this Information Important? There are many species of Myrrh that are grown in different parts of the Africa and Arabia. And many varieties of the resin which essential oil is made from.
The myrrha species from Somalia has wonderful transformational properties and it is the one that I am most familiar with.
Much of the myrrh like frankincense, Melaleuca and Eucalyptus species is being adulterated (changed) or synthetically made. And most companies are selling it under the generic name myrrh. So always purchase essential oil form a reputable source and by genus species, as well as, common name.
What Part of the Plant is Used? Gum/resin
What is the ORAC Value? 379,800 µTE/100g
What Does this Number Mean? ORAC stands for Oxygen Radical Absorbance Capacity. It tells you the antioxidant capacity of a food item.  This was developed by the USDA researchers. For instance: Oranges = 750; Clove = 1,078,700. Wow! The number for clove is NOT a typo!
Most Interesting Historical Reference?
Did you know that Myrrh is recorded in Ebers Papyrus, one of the oldest Egyptian texts on record? Ebers Papyrus dates to about 1550 BC and contains over 700 remedies for almost everything including embalming.
Where is the Name Derived From? Myrrh comes from an Arabic word "murr" meaning "bitter".
Why is this Information so Important? Its not, it's just a fun fact!
What are the Plant Properties? Antioxidant, supports healthy skin.

What are the Documented Uses and Benefits of Myrrh? Supports healthy skin.

What is the Aromatic Affect on the Mind? Its warm and woody aroma is uplifting.
What is Nan's Mental (Mindset), Emotional and Spiritual Interpretation of this Oil?
The benefits of Myrrh include the spiritual and emotional as well. Myrrh is very spiritual oil and has been used in religious ceremonies and rituals for over 5000 years!
Myrrh releases fears, difficult experiences as it relates to us or the world. It asks us to be more accepting, trusting and non-judgmental of ourselves.
When we can love and trust ourselves more, than we don't attract situations that are as painful and we learn to integrate our physical with our spiritual being.
Because this oil opens the heart chakra and is uplifting to the mind, it can relieve stress and relax the body. Place on the heart to release this patterning and embrace relationships (self and others).
What Chakra is Affected? Promotes opening of the solar plexus and heart chakras.
What is the Corresponding Chakra Color? Red and pink.
How Do I Use It?
Use NEAT (undiluted). Then,
Apply several drops (2-4) on location
Apply to chakras
Directly inhale
Diffuse

Can this Oil be Used for Animals? Yes, good for skin conditions, repelling ticks and teething pain (puppies). It is an ingredient in Animal Scents Ointment that I use at the farm all the time for supporting healthy skin and sealing.
What are the Safety Precautions? Only therapeutic grade essential oils should be used for best results. Because it is approved as a Food Additive (FA) and Flavoring Agent (FL) by the FDA, Myrrh Oil is readily available on the market in many different qualities. Please remember, these are not the same oils and are often adulterated (changed).
One of the benefits of myrrh oil is that it is generally regarded as safe (GRAS). However, it is recommended to use this oil with caution during pregnancy.
Although it may be used as a dietary supplement, it is advised not to use it in this manner for children under 6 years of age.
If pregnant, nursing, taking medication, or have a medical condition, consult a healthcare practitioner prior to use.
Essential Oil Trivia?
Did you know that Myrrh was referred to in the Bible 156 times? That is the most frequently mentioned oil in the Bible!
Did you know that pregnant moms anointed themselves with myrrh to uplift their feelings?
Want to Purchase Therapeutic Myrrh Oil?
Go to the Oil Shop! Buy Myrrh Essential Oil Here!
Tips and Testimonials from an Essential Oil User
More benefits of myrrh essential oil!
Diffuse myrrh to emotionally connect with source.

Have a Great Experience to Share About this Essential Oil?
Do you have a personal story to share about this Essential Oil? Please share it here!

Return from Benefits of Myrrh to Essential Oils for Muscles