Nan's Experience Essential Oils Membership provides Exclusive EO Training and Coaching on Transformation, Functional Wellness, Animal Topics and More!

FREE ACCESS to E-Merald Level with THREE Training Bundles!

 Click HERE to LEARN MORE and Get INSTANT ACCESS to E-merald Level Trainings!
Humility Essential Oil -
Allow Forgiveness Now!
Humility Essential Oil was blended to promote forgiveness, humbleness and humility. It is important to be able to forgive ourselves, others and god so we can transform emotionally and spiritually.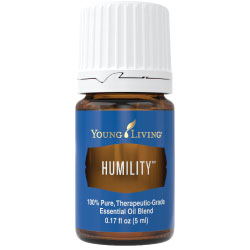 When we are resistive and not open to changing ourselves, then we stay stuck in our relationships and our situations.
If we stay open and release these negative emotions, we can move forward into a place of acceptance. And when we transform ourselves we are ultimately transforming those around us and our planet.
This is an easy reference guide for Humility Oil Blend. It will tell you how to use your oil blend and what to use it for. It will also provide you with some fun tips and testimonials!
As I receive new tips and testimonials they will be added to the page, so check back frequently!
Want to Purchase Therapeutic Humility Essential Oil?
Go to the Oil Shop! Buy Humility Oil Here!
---
Experience Humility Essential Oil Blend™
What is in Humility Essential Oil?
Please Note that Humility oil was revised in summer of 2012 because of the deforestation and limited availability of Rosewood Essential Oil. See below for revised formula.
There are nine therapeutic grade essential oils in Humility! They are listed below along with a brief description of each oil.
Neroli or Orange Blossom Oil (Citrus aurantium amara) Known for its transformational effects on the mind and spirit it is a highly regarded oil used in Ancient Egypt.
In the revised formulation, Rosewood has been replaced with the following oils:
Bergamot Essential Oil (Citrus bergamia) This essential oil has a calming aroma which relaxes the mind and body. It has a long history of use for oily and troubled skin.

Coriander Essential Oil (Coriandrum sativum) has been used since Ancient Egypt. It may support healthy assimilation of thoughts. This is important when making choices and moving forward with plans.
In the revised 2016 formulation, Spikenard has been replaced with the following oils:
Do you want more Information about the Individual oil?
Just click on the name of the oil to find out other interesting information such as:
What Part of the Plant is Used?
What is an ORAC Value?
What is the ORAC of the Oil?
What are the Plant Properties and Uses?
Where is the Name derived from?
The Most Interesting Historical Reference?
And more!
What are the Documented Uses for Humility Essential Oil? Agitation, anger, argumentative, frustration, irritability, jealousy, obsessiveness, resentment, spiritual, and stress.
What is the Aromatic Affect on the Mind? This wonderful aroma is calming and peaceful.
What is the Nan's Mental (Mindset), Emotional and Spiritual Interpretation of this Oil? And Other Uses?
Humility essential oil helps to release the emotions of not good enough and bitterness. This will bring in positive emotions of self worth, contentment, humility and faith.
It will also help with feeling emotionally exhausted from beating oneself and being self critical. It will teach you how to love yourself and feel proud of your own accomplishments.
What Chakra is Affected? Opens the solar plexus chakra.
How Do I Use It?
Use NEAT (undiluted) then,
Apply several drops (2-4) on crown of head, over the heart, ears, wrists, neck or feet
Add several drops (2-4) to bath water
Apply to chakras

Directly inhale, or
Diffuse
Can this Oil be Used for Animals? Yes
Note About Animals: Certain oils can be very toxic to cats. Citrus products and oils in particular if not of therapeutic grade! Please consult your vet if you are not sure about applying any essential oil to your pet.
What are the Safety Precautions? No contraindications.
Want to Purchase Therapeutic Humility Essential Oil?
Go to the Oil Shop! Buy Humility Oil Here!
Tips and Testimonials from an Essential Oil User
Best placed over the heart, temples and on the neck.
Have a Great Experience to Share About this Essential Oil?
Do you have a personal story to share about this Essential Oil? Please share it here!
Return from Humility Essential Oil to Oil Blends E-H