Nan's Experience Essential Oils Membership provides Exclusive EO Training and Coaching on Transformation, Functional Wellness, Animal Topics and More!

FREE ACCESS to E-Merald Level with THREE Training Bundles!

 Click HERE to LEARN MORE and Get INSTANT ACCESS to E-merald Level Trainings!
All Natural Sunscreen
with Minerals and Essential Oils
No Chemicals-Safe for Children
Young Living Mineral Sunscreen Lotion

All natural sunscreen with minerals and essential oils is here! Essential oils have traditionally been used for thousands of years to moisturize and soothe the skin so naturally they are a wonderful addition to any product for skin support.

Naturally derived plant and mineral-based ingredients support and moisturize the skin while zinc oxide blocks UV.
Non-nano zinc oxide in particular is becoming popular as we don't want it absorbed below the skin. With some ingredients this may be beneficial. In other words a nano particle can enter the blood stream and be absorbed but a non-nano can not.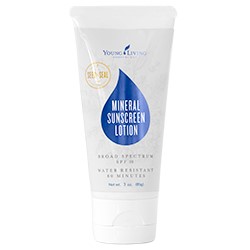 Experience All Natural Sunscreen with Essential Oils is Here!

What Products can I use for All Natural Sunscreen? Here is my favorite product!
What Essential Oils Complement this Product and will Provide Additional Skin Support by Moisturizing?
These are the oils:

Most of the skin care I use from Young Living has lavender oil in it.
Therapeutic-grade lavender is highly regarded for skin and beauty. It may be used to cleanse and soothe common skin irritations. The French scientist René Gattefossé was among the first to discover lavender's beautiful properties.
What Oils can I use as a Carrier Oil?
There are natural vegetable oils that provide great moisturizing and some limited sun protection as well. Here is a list of suggested oils:
Coconut Oil

Jojoba Oil

Sesame Oil

Avocado Oil

Wheat Germ Oil

Of course we want to use the best quality oils available because they are absorbed into your skin! Organic virgin oils are the best. V-6 is a mixture of several vegetable oils that I use to dilute my oil remedies. One can also use aloe vera gel; although personally, I tend to use this more in the after sun or sunburn remedies.
Coconut oil is my personal favorite. I gave up buying most body creams and lotions many years ago. Its not too heavy and it is good for your body of course.

Most people gasp when I tell them this because they only know the strong artificial coconut oil smell that is in the commercially made sun tan oil. But I can ensure you, the smell is very faint and actually smell quite pleasing!
If you are successful making your own, store it in a cool place out of the sun so it does not degrade. Once oils are mixed with vegetable oils they start to breakdown to some extent so my advice is to make the sunscreen in small batches as needed!
What about our Pets?
Young Living makes a great lavender lip balm that I like to put on my dog's nose before we go to the beach. The Young Living Mineral Sunscreen can also be used on animals!

What Essential Oils Should I Avoid in the Sun?
Remember to avoid essential oils that contain citrus; and this includes your blends! These oils are photosensitive and can create skin spots or discoloration of the skin. Make sure you review the information on the individual oil for important safety information such as this.
What if I get Minor Sunburn?
Young Living makes a wonderful product called Lavaderm After-Sun Spray. This is FDA approved for minor sunburn and minor cuts. No synthetics, I love the smell and absorbs into skin easily.
Want to Purchase Natural Hypoallergenic Mineral Sunscreen?
Go to the Oil Shop! Buy Natural Hypoallergenic Mineral Sunscreen Here!
Return from All Natural Sunscreen to Remedies for Sunburn