Nan's Experience Essential Oils Membership provides Exclusive EO Training and Coaching on Transformation, Functional Wellness, Animal Topics and More!

FREE ACCESS to E-Merald Level with THREE Training Bundles!

 Click HERE to LEARN MORE and Get INSTANT ACCESS to E-merald Level Trainings!
V-6 Oil is a Vegetable Oil Complex -
Perfect for Mixing your Essential Oil Blends!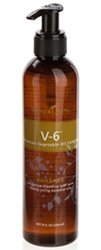 V-6 oil is a blend of seven food grade oils. It has no color or odor and is non-staining. It is excellent for diluting essential oils and making blends when carrier oil is required. I also apply it directly on the body over an essential oil if a client is experiencing any discomfort.
V-6 Enhanced Vegetable oil is nourishing to the skin and all the oils are high in antioxidants. V-6 contains edible vegetable oils and therefore can be used for cooking or salads as well!
This is an easy reference guide for V-6 Enhanced Vegetable Oil Complex. It will tell you how to use your oil and what to use it for.
Want to Purchase Therapeutic V-6 Blending Oil?
Go to the Oil Shop! Buy V-6 Blending Oil Here!
---
Experience V-6 Oil: Enhanced Vegetable Oil Complex™

V-6 Oil Refill 32 oz
What is in V-6 Oil Blend?
There are seven different vegetable oils in V-6. They are listed below along with a brief description of each oil.
Fractionated Coconut Oil (Cocos nucifera - distilled from pure coconut oil). It is easily absorbed into the skin, odorless, colorless, and easily washes out of fabrics.

Organic Sesame Seed Oil (Sesamum indicum) – high in linoleic acid it contains minerals, amino acids, vitamins, lecithin and vegetable proteins.

Grape Seed (Vitis vinifer) – rich in bioflavonoids and considered an antioxidant.

Sweet Almond Oil (Prunus amygdalus dulcis) is high in Vitamin D, and very soothing to the skin.

Wheat Germ Oil (Triticum vulgare) - is rich in Vitamin B and E, and lecithin. It is an antioxidant, and has been known to soothe skin and improve elasticity*.

Sunflower Seed Oil (Helianthus annuus) – contains natural Vitamin E and is an antioxidant.

Organic Olive Oil (Olea europaea) – olive oil contains squalene, an antioxidant, and is a great skin moisturizer*.
How Do I Use It?
Use NEAT (undiluted). May be used for
Dilution. Perfect for mixing essential oils for blends or massage oils; and

Diluting oil already applied to body when there is sensitivity.
Can this Oil be Used for Animals? Yes, use for dogs, cats and horses.
Note About Animals: Certain oils can be very toxic to cats. Citrus products and oils in particular. Please consult your vet if you are not sure about applying any essential oil to your pet.
What are the Safety Precautions? V-6 Oil does not have any known contraindications. It is safe for internal and external use.
Want to Purchase Therapeutic V-6 Blending Oil?
Go to the Oil Shop! Buy V-6 Blending Oil Here!
Have a Great Experience to Share About this Essential Oil?
Do you have a personal story to share about this Essential Oil? Please share it here!
Return from V-6 Oil to Natural First Aid Kit