Nan's Experience Essential Oils Membership provides Exclusive EO Training and Coaching on Transformation, Functional Wellness, Animal Topics and More!

FREE ACCESS to E-Merald Level with THREE Training Bundles!

 Click HERE to LEARN MORE and Get INSTANT ACCESS to E-merald Level Trainings!
Aroma Life Essential Oil
for all Matters of the Heart
Aroma Life Essential Oil is an excellent blend to support the emotions of the heart. It is very harmonizing and supportive.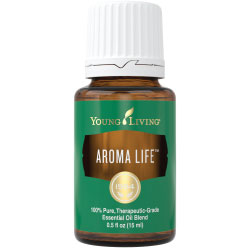 This is an easy reference guide for Aroma Life Blend. It will tell you how to use your oil blend and what to use it for. It will also provide you with some fun tips and testimonials!
As I receive new tips and testimonials they will be added to the page, so check back frequently!
Buy Aroma Life Essential Oil Here!
---
Experience Aroma Life Essential Oil™
What is in Aroma Life Essential Oil Blend?
There are four different therapeutic grade oils in this blend. They are listed below along with a brief description of each oil.
Carrier Oil: Organic Sesame Seed Oil
Want More Information About the Individual Oil? Just click on the name of the oil to find out other interesting information such as:
What Part of the Plant is Used?
What is an ORAC Value?
What is the ORAC of the Oil?
What are the Plant Properties and Uses?
Where is the Name derived from?
The Most Interesting Historical Reference?
And more!
What are the Documented Uses for Aroma Life Essential Oil? Opening the heart; grief/sadness release. Stress release.

What is the Aromatic Effect on the Mind? Calming.
What is Nan's Mental (Mindset), Emotional and Spiritual  Interpretation of this Oil?
Supports us in reducing stress and opening the heart chakra. Releases sorrow and grief and helps us embrace joy, love peace and gratitude. Helps us release the emotion of aloneness or the feeling of being alone and not supported.
What Chakra is Affected? Opens the heart chakra.
How Do I Use It?
Use NEAT (undiluted). Then,
Apply several drops (2-4) on location
Apply several drops (2-4) to bath water
Apply several drops (2-4) over heart and along spine

Apply to chakras
Dilute 1:15 for full body massage.
Can this oil be used for Animals? Yes.

Note about Animals: Certain oils can be very toxic to cats. Citrus products and oils in particular when not therapeutic grade! Please consult your vet if you are not sure about applying any essential oil to your pet.
What are the Safety Precautions? This essential oil does not have any known contraindications.
Want to Purchase Therapeutic Aroma Life Essential Oil?
Go to the Oil Shop! Buy This Oil Here!
Tips and Testimonials from an Essential Oil User
This is an oil I like to substitute in the Raindrop Technique.
Have a Great Experience to Share About this Essential Oil?
Do you have a personal story to share about this Essential Oil? Please share it here!
Return from Aroma Life to Remedies for Jet Lag and Flying