Nan's Experience Essential Oils Membership provides Exclusive EO Training and Coaching on Transformation, Functional Wellness, Animal Topics and More!

FREE ACCESS to E-Merald Level with THREE Training Bundles!

 Click HERE to LEARN MORE and Get INSTANT ACCESS to E-merald Level Trainings!
Carrot Seed Essential Oil
Supports Healthy Joints*

Carrot Seed essential oil is a historical digestive tonic that also has been traditionally used to support healthy joints in aromatherapy*.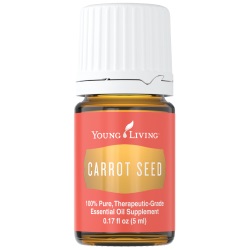 The oil is distilled from the seeds of the Wild Carrot or Queen Anne's Lace Plant, not the carrots we buy to eat and juice. We are told that this plant is a weed, but history has proved us wrong as it was brought to the US by the colonists!
My favorite products that contain Carrot Seed are Animal Scents Ointment and Rose Ointment both great for soothing and supporting skin.

As I receive new tips and testimonials for Carrot Seed Essential Oil they will be added to the page, so check back frequently!
Want to Purchase Therapeutic Carrot Seed Oil?
Go to the Oil Shop! Buy Carrot Seed Oil Here!
---
Experience Carrot Seed Essential Oil
What is the Genus Species? Daucus carota. Commonly referred to as Wild Carrot
Why is this Information Important? It's always important to know your genus species of your oil. Just the common name on the bottle doesn't really tell you exactly what you're getting.
What is the Origin of the Plant Name? Carrot comes from a derivative of the Greek word "Kare" meaning "head".
Why is this Information so Important? Its not, it's just a fun fact!
What Part of the Plant is Used? Seeds
Most Interesting Historical Reference?
Did you know that carrot seeds were at one point thought to be a contraceptive? Yes, there are multiple records in history, including Hippocrates, that the seeds were used for birth control. Cool fact but please don't try it!

What are the Plant Properties? Tonic and Cleanser.

What are the Documented Uses and Benefits of Carrot Seed Essential Oil? Supports healthy joints.*

What is the Aromatic Affect on the Mind? Its fruity, sweet and warm aroma is very calming and grounding.
What is Nan's Mental (Mindset), Emotional and Spiritual Interpretation of this Oil?
Carrot Seed helps the root and third eye chakras align which provides spiritual vision for the future.
It releases emotions of enslavement, obliteration and negative actions. When these emotions are released then we can begin to realize our fullness and totality of spirit. Carrot Seed supports us by grounding us in mother earth and teaching us appreciation so we can have a complete life.
What Chakra is Affected? Root, third eye and crown chakras.
What is the Corresponding Chakra Color? Yellow
How Do I Use It?
Use 50:50. Then,
Apply several drops (2-4) on location
Apply to chakras
Directly inhale
Diffuse

Interested in Dietary Carrot Seed Oil for Your Culinary Adventures?
Then check out Carrot Seed Vitality Essential Oil!
Can this Oil be Used for Animals? Yes Have your animals smell it directly from the bottle or place a drop or two in your palm, then smell. Or place a drop in your palm and pet head to toe.
Note About Animal Use: Certain oils can be very toxic to cats. Citrus and pine oils in particular when using non therapeutic grade oils. Please consult your vet if you are not sure about applying any essential oil to your pet.
I only recommend using Young Living Oils on animals at this time.
What are the Safety Precautions? First, only use therapeutic grade essential oils for best results!
Carrot Seed essential oil is Generally Regarded as Safe (GRAS) for internal consumption by the FDA.

If you are pregnant, nursing, taking medication, or have a medical condition, consult a health-care professional prior to use.
Essential Oil Trivia?
Did you know that the Wild Carrot produces flowers and then seeds? Yes, the seeds are very small and black. Each flower produces 2 seeds.
Did you know there are 450,000 carrot seeds in a pound? Yes and it takes about 3,000 to fill a teaspoon!
Want to Purchase Therapeutic Carrot Seed Oil?
Go to the Oil Shop! Buy Carrot Seed Oil Here!
Tips and Testimonials from an Essential Oil User
Apply carrot seed oil with a base oil such as hazelnut oil to promote a healthy suntan.

Have a Great Experience to Share About this Essential Oil?
Do you have a personal story to share about this Essential Oil? Please share it here!

Return from Carrot Seed Essential Oil to Essential Oil Singles