Nan's Experience Essential Oils Membership provides Exclusive EO Training and Coaching on Transformation, Functional Wellness, Animal Topics and More!

FREE ACCESS to E-Merald Level with THREE Training Bundles!

 Click HERE to LEARN MORE and Get INSTANT ACCESS to E-merald Level Trainings!
DNA and Genetics Books - Epigenetics, Nutrigenomics, DNA Testing
DNA and genetics books can help you understand why at home genetic testing and testing kits are key to taking a proactive role in your health and wellness. This is the cutting edge way to optimize your biochemistry and specifically your methylation cycle and pathways in your body.
Find the best self help books for health and wellness; essential oils; and emotional self awareness here.
DNA and Genetics Books - Nutrigenomics
These books discuss the field of Nutrigenomics and how quickly it is becoming the way to optimize and support the function and biochemistry of your body

Feel Good Nutrigenomics by Amy Yasko

Description: This book defines those steps needed to begin your own personal journey to optimal health and wellness through dna testing and nutrition. By understanding our "weak links" or dna mutations which we all have, we can take a more proactive role in keeping healthy human body systems healthy!

If you want to learn more about how the results of home dna testing kits and genetic coaching can help you, this may be a good book for you to start with!

To purchase Feel Good Nutrigenomics by Amy Yasko from Amazon, click here!
Dirty Genes by Dr. Ben Lynch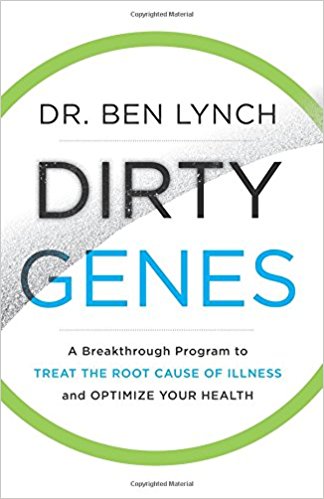 Description: Dr. Lynch's book opens the world up to genetic SNPs and their variants. It's very good information and well written and I have learned so much from him. However, do understand that just working with a handful of genes and/or figuring out what the body needs and the emotional, mindset and spiritual blocks preventing the expressions of genes to manifest (epigenetics), isn't a simple process. It's a transformative process. Genetics is just part of the "whole picture" which includes lifestyle, environmental, emotional and spiritual aspects.

To purchase Dirty Genes by Dr. Ben Lynch from Amazon, click here!
The 85% Solution by Dr. Dan Purser
Description: While I am not a fan of treating certain genetic mutations alone as that can be just as harmful as just addressing symptoms, I do like the information presented in the book particularly about the MTHFR mutation. I always have been an advocate of a "whole picture" approach whether its for your health, your business or your personal or spiritual development.

To purchase The 85% Solution by Dr. Dan Purser from Amazon, click here!
The Gene Therapy Plan by Dr. Mitchell L. Gaynor, MD

Description: This book really talks about how diet and lifestyle factors affect your genes or what is known as epigenetics. Easy to read and some excellent suggestions. If your wanting to learn about genetic coaching and how it can help you optimize your mental, emotional, spiritual and physical wellbeing, click here!

To purchase The Gene Therapy Plan by Dr. Gaynor from Amazon, click here!
The End of Alzheimer's by Dr. Dale Bredesen, MD
Description: This is a must have book if you have Alzheimer's in your family! Really! He is taking a completely different view on this disease and how to be proactive in preventing cognitive decline.
Make sure you have this in your dna and genetics books library!

If your wanting to learn about your genetics and whether you have the number one gene that puts you at high risk for Alzheimer's, then do check out my genetic coaching program!
Nan's Related Books for Genetic Coaching; and Essential Oils and Genes. DNA and Genetics Books Continued

Synergy, It's An Essential Oil Thing: Revealing the Science of Essential Oil Synergy with Cells, Genes, and Human Health by Dr. Scott A. Johnson and Dr. Joshua J. Plant

Description:This book contains the newest science of essential oils, including synergistic actions with cells, genes, and human health. Learn how essential oils influence genetic expression and their epigenetic influence.

To purchase this book from Amazon, click on the link here!
Wholistic Kinesiology by Dr. J Dunn

Description: Innovating centuries-old healing secrets, Wholistic Kinesiology: A Quick and Easy System for Optimizing Your Health by Dr. J Ann Dunn is the first professional health care manual that teaches the surprisingly effective technique of kinesiology. I love Dr. Dunn! Was trained by her to evaluate genetic mutations and can't wait to continue my journey in the genetics land. Making such a difference for myself and my clients!

To purchase this book from Amazon, click on the link here!
DNA and Genetics Books to be continued...

Interested in Home DNA Testing Kits and Ancestry DNA testing?
Then go to ancestry.com and get started today! This one time test will provide all the raw data that you will need for dna methylation analysis. The ancestory testing alone provided by other companies will NOT provide the raw data that is required to import into other dna analysis programs to evaluate dna mutations and methylation variants; and single-nucleotide polymorphisms (SNPs).

Most functional and genetic medicine doctors and wholistic practitioners find dna testing accuracy the best using ancestry.com. That is why I also recommend it. To purchase your DNA Test Kit, click on the link!
Want to Learn More about Genetic Coaching? And How you Can Learn More about YOU through Genetic Coaching?
Great! Go to Nan's Coaching Site to learn more!

I will continue to add recommendations on dna and genetics books on this page as I read them and new books are published!
Return from DNA and Genetics Books to Reference Guide for Essential Oils