Nan's Experience Essential Oils Membership provides Exclusive EO Training and Coaching on Transformation, Functional Wellness, Animal Topics and More!

FREE ACCESS to E-Merald Level with THREE Training Bundles!

 Click HERE to LEARN MORE and Get INSTANT ACCESS to E-merald Level Trainings!
Ginger Vitality Essential Oil
Supporting Healthy Digestion*

Ginger vitality essential oil  supports healthy digestion when taken internally*. The benefits of ginger include zesting up your cooking, smoothies, sauces and dressings! One drop to the perfect recipe!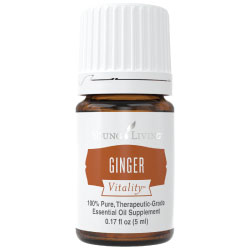 But the benefits of ginger go way further than that and we can get the benefits every day by using Ginger Vitality Essential Oil!

I designed this section so you could use it as a fun and easy reference guide. It will tell you how to use your oil and what to use it for. It will also provide you with some fun tips, testimonials and oil trivia!

As I receive new tips and testimonials they will be added to the page, so check back often!

Want to Purchase Therapeutic Ginger Vitality Oil?

Go to the Oil Shop! Buy Ginger Vitality Essential Oil Here!
---
Experience Ginger Vitality Essential Oil
What is the Genus And Species? Zingiber officinale

Why is this Information Important? There are over 1,200 species of Ginger! Many of the species are not suitable for internal use. So please remember to purchase your oil using the common name and the genus species.

Remember, even though they may share some similar chemical constituents they are not at all the same.

Where is the Name Derived From? Ginger comes from a Sanskrit word "srngaveram" meaning "horn root".

Why is this Information so Important? Its not, it's just a fun fact!

What Part of the Plant is Used? Rhizomes/root

What is the ORAC Value? 99,300 µTE/100g

What Does this Number Mean? ORAC stands for Oxygen Radical Absorbance Capacity. It tells you the antioxidant capacity of a food item.  This was developed by the USDA researchers. For instance: Oranges = 750; Clove = 1,078,700. Wow! The number for clove is NOT a typo!

Most Interesting Historical Reference?

Did you know that the West African women in Senegal weave belts of ginger to arouse sexual interest in their partners? Wow, that's interesting!

What are the Plant Properties? Energizing and warning.

What are the Documented Uses and Benefits of Ginger Vitality? Supportive of healthy digestive system and overall wellness*.

Want to Learn about Ginger's Emotional, Spiritual and Other Uses?
Then go to Benefits of Ginger Essential Oil Page!

How Do I Use It?

Use diluted - 50:50 dilution (one part essential oil: two parts of vegetable oil). Then
Dietary Supplement: place several drops in capsule with olive oil and take internally. If you prefer dilution, use 50:50 dilution-one part essential oil: one part vegetable oil.
Place in favorite sauce, soup, marinade or stuffing recipe.

Aromatic - Diffuse
Can this Oil be Used for Pets? Yes, but I prefer to use it in a blend. (see below). Always start slow. With a small dog or cat use a toothpick amount to start. (Dip toothpick in bottle to get that amount). Dilute extremely well!

Note about Animal Use: Certain oils can be very toxic to cats when not therapeutic grade. Pine and citrus products and oils in particular. Please consult your vet if you are not sure about applying any essential oil to your pet.
I only recommend using Young Living Oils on animals.

What are the Safety Precautions? First, only use therapeutic grade essential oils for best results!
Because it is improved as a Food Additive (FA) by the FDA, food grade ginger oil is readily available on the market. Please remember, these are not the same oils and are often adulterated (changed).

One of the benefits of ginger oil is that it is generally regarded as safe (GRAS).

Dilution recommended for internal use.

Keep out of reach of children. Avoid using on infants and very small children.

Although it may be used as a dietary supplement, it is advised not to use it in this manner for children under 6 years of age.
EarthKosher Certified Oil!

Essential Oil Trivia?

Did you know that Ginger has been used in Gingerbread for over 4,000 years? This is as far back as the records show in ancient Greece!

Did you know that the Romans used it in a wine for aphrodisiac powers?
Want to Purchase Therapeutic Ginger Vitality Oil?

Go to the Oil Shop! Buy Ginger Vitality Essential Oil Here!

Tips and Testimonials from an Essential Oil User

Place a drop of ginger essential oil in your favorite wok recipe if you don't have any fresh ginger available!


Return from Benefits of Ginger to Vitality Dietary Essential Oil Collection