Nan's Experience Essential Oils Membership provides Exclusive EO Training and Coaching on Transformation, Functional Wellness, Animal Topics and More!

FREE ACCESS to E-Merald Level with THREE Training Bundles!

 Click HERE to LEARN MORE and Get INSTANT ACCESS to E-merald Level Trainings!
JuvaSpice Natural Liver Cleansing Spice Mix
with Sea Salt Benefits Supports Healthy Digestion*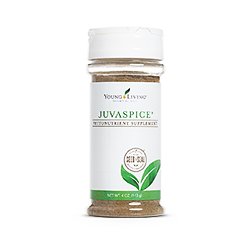 JuvaSpice natural liver cleansing spice mix with sea salt benefits is perfect for food seasoning. Simply place on your food to support healthy liver function and healthy digestion*.
Herbs, amino acids and essential oils naturally support healthy detox in the body; and can be used every day.
This spice mix is similar to JuvaPower Powder. It contains essential oils, nutrients and herbs including rice bran, spinach powder, beet root powder and l-taurine. L-taurine benefits include amino acid that supports healthy liver function; health benefits of beets have shown to be liver cleansing to healthy liver; and rice bran benefits include excellent source of Vitamin E, a vital antioxidant.
Contains two essential oils including Anise and Fennel.

This is a fun and easy reference guide for JuvaSpice Supplement. It will tell you how to use your oil blend and what to use it for. It will also provide you with some fun tips and testimonials!
As I receive new tips and testimonials they will be added to the page, so check back frequently!
Want to Purchase JuvaSpice Natural Liver Cleansing Spice Mix?
---
Experience JuvaSpice Natural Healthy Liver Cleansing Spice Mix
What is in JuvaSpice Natural Liver Cleansing Spice Mix? 

JuvaPower liver cleansing powder combines natural ingredients as well as essential oils. A brief description of each ingredient is provided below:
Rice Bran (Oryza sativa) – A great source of Vitamin E, antioxidants and minerals.
Spinach Leaf Powder (Spinacea oleracea) – Provides important minerals and nutrients.
Tomato Fruit Flakes (Lycopersicon esculentum) – Rich in antioxidants, and potassium.
Beet Root (Beta vulgaris)

Flax Seed (Linum usitatissimum) – Is a rich source of fiber and omega-3 fatty acids.

 Oat Bran (Avena sativa) – Supports the digestive system by providing a healthy source of fiber.

Broccoli floret/stalk (Brassica oleracea ssp. cymosa) – Contains Vitamin C and Vitamin K.

Cucumber Powder (Cucumis sativus) – Rich in fiber has cleansing attributes.

Redmond Real Salt – Benefits of sea salt include healthy salt source. This is the highest quality of sea salt available that is taken from mines in Redmond, Utah.
Barley Sprouted Seed (Hordeum vulgare L.)

Slippery Elm Bark (Ulmus fulva)

 L-Taurine – An essential amino acid

Psyllium Seed Powder (Plantago ovata) – Is a gentle form of fiber that expands when mixed with water.
Aloe Vera Leaf Extract (A. barbadensis)

Ginger Root Powder (Zingiber officinale)

Dill Seed  (Anethum graveolens)

Fennel Seed (Foeniculum vulgare)
Peppermint Leaf (Mentha piperita)

Essential Oils contained in this product include:
Anise (Pimpinella anisum) 

Do you want more Information about the Individual oil? Just click on the name of the oil to find out other interesting information such as:
What Part of the Plant is Used?
What is an ORAC Value?
What is the ORAC of the Oil?
What are the Plant Properties and Uses?
Where is the Name derived from?
The Most Interesting Historical Reference?
And more!
What are the Documented Uses for JuvaSpice Natural Liver Cleansing Spice Mix?  Supports healthy function of the liver including cleansing*; supports healthy digestive system*; fiber support.
How do I use JuvaSpice Natural Liver Cleansing Spice Mix?
Sprinkle over food or add to water. Love to place this on salads and potatoes, but anything goes!  May be taken daily as a home remedy for detox.
Can this oil be used for Animals?  Yes, just sprinkle a little over their food.

Note about Animals: Certain oils can be very toxic to cats especially if the quality of the oil is not pure. Citrus products and oils in particular when not therapeutic grade.  Please consult your vet if you are not sure about applying any essential oil to your pet or giving an essential oil supplement to your pet.
What are the Safety Precautions? No contraindications.  
If pregnant or under a doctor's care, consult your physician.
Want to Purchase JuvaSpice Natural Liver Cleansing Spice Mix?
To purchase JuvaSpice, go to The Oil Shop.

Return from JuvaSpice Natural Liver Cleansing Spice Mix to All Natural Detox Supplements