Nan's Experience Essential Oils Membership provides Exclusive EO Training and Coaching on Transformation, Functional Wellness, Animal Topics and More!

FREE ACCESS to E-Merald Level with THREE Training Bundles!

 Click HERE to LEARN MORE and Get INSTANT ACCESS to E-merald Level Trainings!
Kunzea Essential Oil - 
This is Core Strength in a Bottle

Kunzea Essential Oil soothes fatigued muscles and supports core strength. It supports healthy skin and reduces the appearance of blemishes*.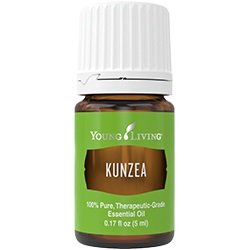 The Australian Aborigines used this oil to soothe skin and muscles.

The oil is registered with the Australian Therapeutic Goods Administration (TGA) as providing temporary relief for occasional pain. Because of it's active ingredients which include Ecualyptol and Globulol it has been traditionally used in balms for healthy muscle and joint support.

My favorite oil blends that contain is Australian Kuranya! Love this more recent addition to the YL collection!

As I receive new tips and testimonials for Kunzea Essential Oil they will be added to the page, so check back frequently!
Want to Purchase Therapeutic Grade Kunzea Essential Oil?
Go to the Oil Shop! Buy Kunzea Oil at The Oil Shop!
---
Experience Kunzea Essential Oil
What is the Genus Species? Kunzea ambigua

Why is this Information Important? It's always important to know your genus species of your oil. Just the common name on the bottle doesn't really tell you exactly what you're getting.
What is the Origin of the Plant Name? Kunzea comes from a Latin word meaning doubtful" or "uncertain".
Why is this Information so Important? Its not, it's just a fun fact!
What Part of the Plant is Used? Steam distillation of the leaves and green branchlets.
What is the ORAC Value? Unknown

What Does this Number Mean? ORAC stands for Oxygen Radical Absorbance Capacity. It tells you the antioxidant capacity of a food item. This was developed by the USDA researchers. For instance: Oranges = 750; Clove = 1,078,700. Wow! The number for clove is NOT a typo!
Most Interesting Historical Reference?
Did you know that the Australian aboriginal people used Kunzea to relieve irritated skin and muscle tightness?

What are the Plant Properties? Soothing and warming.

What are the Documented Uses and Benefits of Kunzea Essential Oil? Supports healthy skin and reduces blemishes; soothes fatigued and overworked muscles after workout or exercise; supports healthy joints and occasional aches and pains associated with aging or exercise; purifying air*.

What is the Aromatic Affect on the Mind? Its woody, spicy and lemony aroma is uplifting and cleansing.
What is Nan's Mental (Mindset), Emotional and Spiritual Interpretation of this Oil?
Kunzea will help you get to your core physical issues which always have emotional, mindset and spiritual roots, so get ready to address those if you wish. She will bring those up or should I say "push" those to the surface which means if you are experiencing old hurts when using this oil, understand the mechanism of what is happening. It will "gently force" you to go inward.

The bushy plant has an inner core strength yet also has delicate flowers. It is a reminder of the gentle strength of life and the environment that comes from our core of who we are (spirit) vs who we have become because of experiences (personality/outside appearances).

What Chakra is Affected? Solar plexus and throat chakra.
What is the Corresponding Chakra Color? Yellow-Green
How Do I Use it?
Use 50:50 dilution. Then,
Apply several drops (2-4) on location
Apply to chakras

Directly inhale
Diffuse to purify air and environment.

Can this Oil be Used for Animals? Yes. Have your animals smell it directly from the bottle or place a drop or two in your palm, then smell. Or place a drop in your palm and pet head to tail.

Note About Animal Use: Certain oils can be very toxic to cats. Citrus and pine products and oils in particular. Please consult your vet or practitioner if you are not sure about applying any essential oil to your pet.
I only recommend using Young Living Oils on animals. I have not use other brands on animals.

What are the Safety Precautions? No contraindications indicated.

If you are pregnant, nursing, taking medication, or have a medical condition, consult a health-care practitioner prior to use.
Essential Oil Trivia?
Did you know that Kunzea is also called the "Tick Bush"? Yes it also has other common names including "Poverty Bush" and "White Kunzea".
Did you know that Kunzea honours German naturalist Gustav Kunze? Yes it was given its current botanical name in 1917.

Want to Purchase Therapeutic Grade Kunzea Essential Oil?
Go to the Oil Shop! Buy Kunzea Oil at The Oil Shop!
Tips and Testimonials from an Essential Oil User
Diffuse this oil in your barn, kennel or clinic to freshen and purify the air. The horses really love this oil!

Have a Great Experience to Share About this Essential Oil?
Do you have a personal story to share about this Essential Oil? Please share it here!
Return from Blue Cypress Essential Oil to Essential Oil Singles