Nan's Experience Essential Oils Membership provides Exclusive EO Training and Coaching on Transformation, Functional Wellness, Animal Topics and More!

FREE ACCESS to E-Merald Level with THREE Training Bundles!

 Click HERE to LEARN MORE and Get INSTANT ACCESS to E-merald Level Trainings!
Natural Thyroid Remedies to
Support Healthy Thyroid Function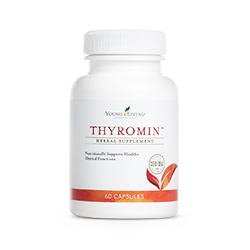 Natural thyroid remedies are designed to maximize nutritional support for healthy thyroid function. The thyroid gland regulates body metabolism, energy and body temperature.
Thyromin supplement made with essential oils, porcine glandular extracts, herbs, amino acids and minerals is a balanced formula that maximizes nutritional support for healthy thyroid function.
Why is it Important to Support Healthy Thyroid Gland Function?
The thyroid is part of the endocrine system that produces the hormones of the body. The thyroid is considered the "energy gland" of the body. It is very important and is responsible for many bodily functions including:
Regulating metabolism (T3 and T4 thyroid hormones); and

Secreting hormones for circulation, immune function, digestion, body temperature and even emotions.
Where is the Thyroid Located?
The thyroid is located below the Adams apple at the base of the neck.
How do I know if My Thyroid is Healthy?
Your doctor more than likely does testing to ensure that your thyroid is in normal range. However, there is a very simple and inexpensive at home thyroid test that MAY be indicative of a healthy thyroid. 
As always if you have any concerns,  please consult a health care professional and do not self diagnose. This should not be considered a diagnostic tool.

Experience Natural Thyroid Remedies Here!

What Essential Oils and Supplements Can You Support Healthy Thyroid?
For the thyroid we want to use oils and nutrition (Thyromin) that support the glandular system. Products that support a healthy endocrine system are:

Want to Purchase Thyromin or Supporting Essential Oils?
Then visit The Oil Shop for all your needs! Click here to purchase Thyromin!

Return from Natural Thyroid Remedies to Experience Essential Oils