Nan's Experience Essential Oils Membership provides Exclusive EO Training and Coaching on Transformation, Functional Wellness, Animal Topics and More!

FREE ACCESS to E-Merald Level with THREE Training Bundles!

 Click HERE to LEARN MORE and Get INSTANT ACCESS to E-merald Level Trainings!
OmegaGize3 Essential Oil Supplement
with Fish Oil Benefits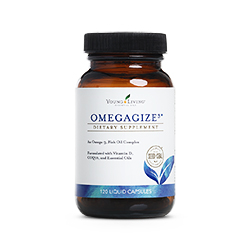 OmegaGize3 Essential Oil Supplement contains Omega-3 EPA and DHA fatty acids with three therapeutic grade essential oils.
Used daily these ingredients work together to support normal brain, eye, heart, and joint health*.
These Omega-3 capsules also contain Vitamin D3 and coenzyme Q10 supplement which I love since I used to take these supplements separately.

The fish oil in OmegaGize3 is harvested from small cold water fish such as anchovy, mackerel and sardine which have a higher amount of Omega-3's and a lower level of contaminants. These contaminants tend to concentrate in higher amounts in the larger fish

Did you know it is important to purchase an Omega-3 Supplement that is Enteric Coated?

Yes, unless you like that fishy taste! It helps minimize this taste and reduce rancidity due to oxidation since this supplement is prone to that. Personally, this is one of the only Omega-3 Supplement that does not bother my stomach since it is enteric coated.

I love that it contains essential oils and it is the only Omega-3 available that does! Clove is rich in antioxidants and supports healthy immunity*.

This is an easy reference guide for OmegaGize3 Essential Oil Supplement. It will tell you how to use it and what to use it for!
Please Note: This supplement replaces the OmegaBlue Supplement as that supplement has been discontinued.
Want to Buy OmegaGize Essential Oil Supplement?
To purchase, OmegaGize3, go to The Oil Shop!
---
Experience OmegaGize3 Essential Oil Supplement™
What is in OmegaGize3 Essential Oil Supplement?
There are several natural ingredients as well as three essential oils in OmegaGize3 essential oil supplement.

The natural ingredients include:


Fish Oil – Derived from small fish including sardine anchovy and mackerel which is the source of Omega-3 fatty acids. This product contains a balanced amount of both EPA and DHA: EPA=16%; DHA=11%

Rice Tocotrienols – Rice bran is a fantastic source of squalene that is also found in olive oil. Rice oil also contains gamma-oryzanol.
CoQ10 Kaneka – This is the highest quality CoQ10 in the world. CoQ10 is an oil soluable enzyme

Vitamin D3 (Cholacalciferol) – Is a fat soluable vitamin that is known to support the absorption of calcium and phosphorus*. The only Vitamin the body manufactures from sunlight!
Mixed Carotenoids – Are found in spinach, kale, carrots and tomatoes are a rich source of Vitamin A

Enteric Coating Solution (talapia based, silicon dioxide)
Glycerine

The essential oils that are contained in OmegaGize3 are listed below along with a brief description of the oil.

Want More Information About the Individual Oil? Just click on the name of the oil to find out other interesting information such as:

What Part of the Plant is Used?
What is an ORAC Value?
What is the ORAC of the Oil?
What are the Plant Properties and Uses?
Where is the Name derived from?
The Most Interesting Historical Reference?
And more!

What are the Documented Uses for OmegaGize3 Essential Oil Supplement? Used daily these ingredients work synergistically to support normal brain, heart, eye, and joint health*.

How Do I Use It?

Take two to four capsules per day for maintenance or up to eight per day to increase health benefits.

Can this Product be Used for Animals? Absolutely! Cats, dogs and birds! Omega-3 for dogs can provide the same supporting benefits.
Cats and small dogs one capsule per day; medium dogs 1-2 capsules per day; large dogs 2-4 per day. Usually do not use these product on horses.

Note About Animals: Certain oils can be very toxic to cats if not therapeutic grade! Citrus products and oils in particular. Please consult your vet if you are not sure about applying any essential oil to your pet.

What are the Safety Precautions? No contraindications; however it is best to keep this product in a cool and dry place. And do not expose to direct sunlight or heat.

Want to Buy OmegaGize Essential Oil Supplement?
Then go The Oil Shop to purchase!

Return from OmegaGize3 Essential Oil Supplement to Oil Supplements