Nan's Experience Essential Oils Membership provides Exclusive EO Training and Coaching on Transformation, Functional Wellness, Animal Topics and More!

FREE ACCESS to E-Merald Level with THREE Training Bundles!

 Click HERE to LEARN MORE and Get INSTANT ACCESS to E-merald Level Trainings!
Orange Vitality Essential Oil
Citrus Up Your Smoothies, Drinks and Marinades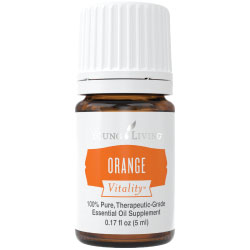 Orange Vitality Essential Oil contains the naturally occurring constituent limonene. Make your water, smoothies, drinks and recipes great! Use it in baked goods for an acidic contrast to the sweetness of desserts and baked goods.
Orange uses were first discovered by the Chinese centuries ago and since have remained as a vital part of Chinese culture. Traditionally they used orange to support healthy digestion, and bring good luck!

Did you know that Orange Essential Oil contains 85-95% limonene? It has the highest level of d-limonene next to grapefruit oil!
What is Limonene?
D-limonene is contained in the peels of citrus fruits such as grapefruit, tangerine and lemon.

The simplest way to benefit from Orange is to use Orange Essential Oil. Orange oil is always available and it is simple to use! Just add a drop to your favorite meal, drink or water.

More orange uses? There is more! Keep reading for more information on how to use it and what to use it for. This section will also provide you with some fun suggestions, safety precautions for you and your pet!
As I receive new tips and testimonials for Orange Essential Oil they will be added to the page, so check back frequently!
Want to Purchase Therapeutic Orange Vitality Essential Oil?
Buy Orange Vitality Essential Oil Here!
---
Experience Orange Vitality Essential Oil
(Sweet Orange Essential Oil)
What is the Genus Species? Citrus sinensis. Technically this is Sweet Orange. Orange is of the species Citrus aurantium.
By the way, extraction from the flowers of the orange is considered Neroli. Neroli is an absolute named such according to the extraction method, as with Jasmine!
Why is this Information Important? It's always important to know your genus species of your oil. Just the common name on the bottle doesn't really tell you exactly what you're getting, so please know both!
Where Did the Name Come From? It is thought the name is derived from Sanskrit meaning "orange tree".
Why is this Information so Important? Its not, it's just a fun fact!
What Part of the Plant is Used? Cold pressed from the rind.
What is the ORAC Value? 1,890 µTE/100g
What Does this Number Mean? ORAC stands for Oxygen Radical Absorbance Capacity. It tells you the antioxidant capacity of a food item. This was developed by the USDA researchers. For instance: Oranges = 750; Clove = 1,078,700. Wow! The number for clove is NOT a typo!
Most Interesting Historical Reference?
Did you know that the orange was brought by Portuguese explorers to Europe in 1520? They brought it as they were returning from southern China.
What are the Plant Properties? Calming and relaxing.

What are the Documented Orange Uses and Benefits?  Flavor your water or beverage.

Want to Learn about Nan's Mental (Mindset), Emotional and Spiritual Interpretation of this Oil? And Other Uses?
Then go to the Orange Essential Oil Page.

How Do I Use It?
Use undiluted, then
Dietary Supplement: place several drops in capsule with olive oil and take internally. If you prefer dilution, use 50:50 dilution-one part essential oil: one part vegetable oil.
Add a drop or two to water, juice, NingXia Red or other beverage.
Place in favorite baking or cookie recipe.

Aromatic - Diffuse
Can this Oil be Used for Pets? Yes, orange uses include our animals!

Yes. Have your animals smell it directly from the bottle or place a drop or two in your palm, then smell. See Orange Essential Oil for more tips!

Note About Animal Use: Certain oils can be very toxic to cats. Citrus and pine oils in particular which contain non therapeutic grade oil! Please consult your vet if you are not sure about applying any essential oil to your pet.
I only recommend using Young Living Oils on animals at this time.

What are the Safety Precautions? Only therapeutic grade essential oils should be used for best results. Because it is approved as a Food Additive (FA) by the FDA, Orange Oil is readily available on the market in many different qualities.
There are many orange uses because it is Generally Regarded as Safe (GRAS). Although it may be used as a dietary supplement, it is advised not to use it in this manner for children under 6 years of age.
If pregnant, nursing, taking medication, or have a medical condition, consult a healthcare professional prior to use.
Essential Oil Trivia?
Did you know that Brazil is the largest producer of orange oil with the United States in second place?
Did you know that the Chinese first discovered that the rind has the most beneficial value? The white part of the rind contains the highest amount of Vitamin C in the orange! So pare your orange and eat the white part too! 
Want to Purchase Therapeutic Orange Vitality Essential Oil?
Buy Orange Vitality Essential Oil Here!
Tips and Testimonials from an Essential Oil User
Place 1 cup of Strawberries, a banana, one shot of NingXia Red in blender with 2 drops of orange vitality and water. And Enjoy!

Return from Orange Uses to Oils for Stress