Nan's Experience Essential Oils Membership provides Exclusive EO Training and Coaching on Transformation, Functional Wellness, Animal Topics and More!

FREE ACCESS to E-Merald Level with THREE Training Bundles!

 Click HERE to LEARN MORE and Get INSTANT ACCESS to E-merald Level Trainings!
PanAway for Exercise
Cooling and Soothing Massage

PanAway is an excellent blend of essential oils that was specifically designed for minor muscle discomfort following exercise. Supports the appearance of healthy skin coloration.
It contains naturally occurring constituents methyl salicylate, gamma-curcumene, menthol, and eugenol.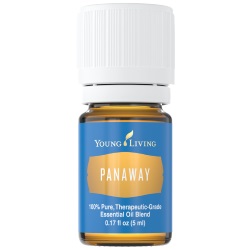 It is an ideal choice for supporting and soothing muscles after exercise. I like to use it in combination with Ortho Sport especially in conjunction with massage.
PanAway is definitely one of my favorite essential oil blends. And I don't leave home without it. I also love the refreshing smell and the cooling sensation it has on the skin.
This is an easy reference guide for PanAway Oil Blend. It will tell you how to use your oil blend and what to use it for. It will also provide you with some fun tips and testimonials!
As I receive new tips and testimonials they will be added to the page, so check back frequently!
Want to Purchase Therapeutic PanAway Essential Oil?
Go to the Oil Shop! Available in 5 and 15 ml bottle. Buy This Oil Here! 
---
Experience PanAway Essential Oil Blend™

What is in PanAway Essential Oil?
There are four different essential oils in this oil. They are listed below along with a brief description of each oil.
Want More Information About the Individual Oil? Just click on the name of the oil to find out other interesting information such as:
What Part of the Plant is Used?
What is an ORAC Value?
What is the ORAC of the Oil?
What are the Plant Properties and Uses?
Where is the Name derived from?
The Most Interesting Historical Reference?
And more!
What are the Documented Uses for Pan Away Essential Oil? Athlete, soothing muscles after exercise. Supports healthy skin. Stimulating senses.

What is the Aromatic Affect on the Mind? Invigorating and cooling. Promotes well being.
What is the Nan's Mental (Mindset), Emotional and Spiritual Interpretation of this Oil?
This oil is said to clear negative emotions and energies that need to be cooled. It is particularly uplifting when the body and mind are in an exhaustive state that will eventually lead to feelings of beat down or burned out.
It also may help those who are afraid of their own emotions or simply fear expressing them through motion (dance, exercise, gymnastics, riding, etc)

How Do I Use It?
Use diluted - 50:50 dilution (one part essential oil: one part of vegetable oil). Then,
Apply several drops (2-4) on location after exercise
Apply to chakras

Apply as compress on spine or area of discomfort after exercise

Directly inhale, or
Diffuse
Can this Oil be Used for Animals? Yes, I use it for muscle discomfort following exercise on the horses and dogs! 

Note About animals: Certain oils can be very toxic to cats. Citrus products and oils in particular that are not of therapeutic grade! Please consult your vet if you are not sure about applying any essential oil to your pet.
What are the Safety Precautions? Children under 18 months of age should not use this oil. May be an irritant to the skin membranes, therefore dilution may be necessary. Avoid eye contact.
Keep out of reach of children. If pregnant, nursing, taking medication, or have a medical condition, consult a healthcare practitioner prior to use.
Want to Purchase Therapeutic PanAway Essential Oil?
Go to the Oil Shop! Buy This Oil Here! 
Tips and Testimonials from an Essential Oil User
Use this oil in conjunction with massage or a hot compress to experience more comfort after exercise.

Have a Great Experience to Share About this Essential Oil?
Do you have a personal story to share about this Essential Oil? Please share it here!
Return from PanAway to Oils for Muscle Discomfort after Exercise