Nan's Experience Essential Oils Membership provides Exclusive EO Training and Coaching on Transformation, Functional Wellness, Animal Topics and More!

FREE ACCESS to E-Merald Level with THREE Training Bundles!

 Click HERE to LEARN MORE and Get INSTANT ACCESS to E-merald Level Trainings!
Raindrop Technique Sessions -
Align the Spine Naturally!
Raindrop Technique sessions can be life changing. Raindrop detoxes the body, aligns the spine and supports the immune system. This amazing technique balances the body and helps bring all the body systems back into equilibrium. And in a non-invasive manner.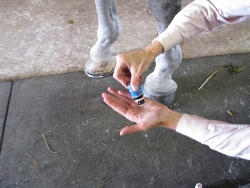 The experiences of those who have Raindrop vary depending on the person. But according to the book The Statistical Validation of the Raindrop Technique 97% of the clients receiving Raindrop felt that it was a positive experience and that they felt better afterwards!
What Certifications are Required to Do Raindrop Professionally?
I am a Certified Raindrop Technique Specialist (CRTS), educated and licensed to do Raindrop Technique through CARE (Center for Aromatherapy Research and Education, Inc.) and the Spiritual Healer Licensing Board.

Are there Different Ways to Conduct Raindrop?
Yes there are, but here I follow the CARE protocol. Many practitioners offer an abbreviated version that starts with applying the oils directly on the spine; however I find this less effective than conducting a full session.
The full Raindrop Session begins with balancing the body's energies and then working through the feet, prior to beginning the Raindrop work on the spine. This way we are directly and indirectly working on the spine; and it is of greater benefit.
Is there Any Time When A Complete Raindrop Session is not Conducted?
Yes. Once the Energy Balancing and feet are complete, I may find that a full Raindrop may be too much for the body; and therefore, I may suggest an alternative plan.
This may include additional work on the feet and/or specific energetic techniques. It may also involve some emotional release work. All of these are spiritual healing techniques that I perform and will help to accomplish your goals for the session.
In all cases, I ask your permission to do the substitute work and proceed as directed. The session time and cost will remain the same.
Experience Raindrop Technique with Applied Vitaflex
Raindrop Technique with Applied Vitaflex as taught by CARE. There is a $30 expense for the oils included in the session fee.
To pay for your Raindrop Session, go to The Oil Shop!
Click on the links to find out more about Vita Flex and Raindrop!
Raindrop Technique with Applied Vitaflex, Emotional Release and/or Energy Work
This session will combine many holistic and spiritual healing techniques that are required for one's body to energetically align, heal and balance. A longer period of time is necessary to help the body to release old patterning, negative thought patterning or emotions.
There is a $30 expense for the oils included in the above session fee.
To pay for your Raindrop Technique Sessions, go to The Oil Shop
Raindrop Technique Sessions with Applied Vitaflex for Horses
This is a Raindrop session for equines. Equine Raindrop Technique Sessions can help with: muscle soreness from training, spinal alignment, EPM, Lyme Disease in horses and more! It also facilitates deep relaxation and emotional release. Use prior to chiropractic treatment for best results.
To pay for your session, go to The Oil Shop!
There is a $50 expense for the oils included in the above session fee.
This does NOT include a trip charge of $50 to $95. If I have 2 or more horses to be done at the same location, I will waive the trip charge. If I have 3 or more sessions in the immediate area, I will waive the trip charge.
The Raindrop Technique sessions fees for horses are limited to a 25 mile radius from Hobe Sound, Florida. Additional travel or living fees may apply if beyond that radius. Please recognize that specific horses may require longer sessions and will be charged accordingly.
To learn more about Equine Raindrop Therapy click here! At request, a Raindrop session can be conducted with Emotional Release and Energy Work for your horse as well. This is at least a 90 minute session.
Want to Write About Your Own Raindrop Technique Experience?
Here I invite you to write your own Raindrop Experience! I know that many deep personal stories and testimonials will come from this page and I appreciate you sharing them with me and our readers.
Want to Learn Vitaflex and Raindrop Technique?
Then register for a class and learn it today! Click here for the Events Schedule!
Return from Raindrop Technique Sessions to Raindrop Technique