Nan's Experience Essential Oils Membership provides Exclusive EO Training and Coaching on Transformation, Functional Wellness, Animal Topics and More!

FREE ACCESS to E-Merald Level with THREE Training Bundles!

 Click HERE to LEARN MORE and Get INSTANT ACCESS to E-merald Level Trainings!
RC Essential Oil
Supports and Soothes

RC Essential Oil specifically supports and soothes especially when placed on the bottom of feet or over chest. Make a hot compress to provide more comfort in chest during the winter months.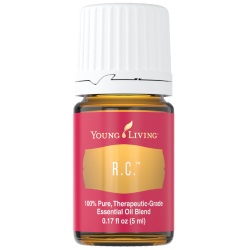 Also, see Raven Essential Oil. Together they make great companion oils. Many people alternate these oils during winter months. Other companion oils include ImmuPower and Thieves Essential Oils.
Use RC after exercise in a massage or diffuse before bedtime to support normal, clear breathing and foster restful sleep.

There are many more uses for RC that I would have never thought of! So keep reading below in the uses and benefits Section. It will tell you how to use your oil blend and what to use it for. It will also provide you with some fun tips and testimonials!
As I receive new tips and testimonials they will be added to the page, so check back frequently!
Want to Purchase Therapeutic RC Essential Oil?
Go to the Oil Shop! Buy RC Oil Here!

---
Experience RC Essential Oil Blend™
What is in RC essential oil? There are nine different essential oils in RC Blend. They are listed below along with a brief description of each oil.
Tsuga Essential Oil

(Tsuga canadensiscomes) from the Canadian Hemlock Tree. The oil is distilled from the needles and twigs of conifer trees.
In the revised formulation 2016, Tsuga has been replaced with:
Want More Information About the Individual Oil? Just click on the name of the oil to find out other interesting information such as:
What Part of the Plant is Used?
What is an ORAC Value?
What is the ORAC of the Oil?
What are the Plant Properties and Uses?
Where is the Name derived from?
The Most Interesting Historical Reference?
And more!
What are the Documented Uses for RC Essential Oil? Letting go through the breath. Cooling and opening. Supports feelings of normal and clear breathing. Fosters restful sleep and provides a relaxing aroma in a stuffy environment
What is the Aromatic Affect on the Mind? Uplifting and energizing.
What is the Nan's Mental (Mindset), Emotional and Spiritual Interpretation of this Oil?
RC essential oil opens the solar plexus and heart chakras. It helps us to express our self better in the world better by releasing stagnant energy of the lungs and chest.
Will release spiritual congestion particularly in the auric or electromagnetic field. This spiritual stuckness is created when we aren't adressing our own stuff and picking up other peoples energies. We become an energetic dumping ground for others so to speak. This can leave us tired and uninspired.

How Do I Use It?
Use diluted - 50:50 dilution (one part essential oil: one part of vegetable oil). Then,
Apply several drops (2-4) on ears, wrists, neck, forehead, temples or feet
Apply to chakras
Directly inhale, or
Diffuse.
Can this Oil be Used for Animals? Yes! Use for horses and dogs.
Note About Animals: Certain oils can be very toxic to cats. Citrus products and oils in particular that are not of therapeutic grade! Please consult your vet if you are not sure about applying any essential oil to your pet.
What are the Safety Precautions? Dilution recommended for both topical and internal use. Dilute before using on sensitive areas such as the face, neck, genital area, etc.
Keep out of reach of children. Avoid using on infants and very small children.
f pregnant or under a doctor's care, consult your physician.
Do not use near fire, flame, heat or spark.
Want to Purchase Therapeutic RC Essential Oil?
Go to the Oil Shop! Buy RC Oil Here! 
Tips and Testimonials from an Essential Oil User
Make a hot compress to soothe chest and provide more comfort during the winter.  Put 15 drops of RC in 2 cups of hot water in a bowl. Wet the towel and ring it out and put on chest with a dry towel on top!
Rub RC on your throat and place some on your pillow before sleep or diffuse RC in the bedroom!
Have a Great Experience to Share About this Essential Oil?
Do you have a personal story to share about this Essential Oil? Please share it here!
Return from RC Essential Oil to Natural Sleep Remedies