Nan's Experience Essential Oils Membership provides Exclusive EO Training and Coaching on Transformation, Functional Wellness, Animal Topics and More!

FREE ACCESS to E-Merald Level with THREE Training Bundles!

 Click HERE to LEARN MORE and Get INSTANT ACCESS to E-merald Level Trainings!
RutaVaLa Essential Oil Relieves Stress
and Nervous Tension
RutaVaLa Essential Oil promotes deep relaxation of the mind and body. Its eases tension and relieves stress; and I like to use it to unwind before bed time.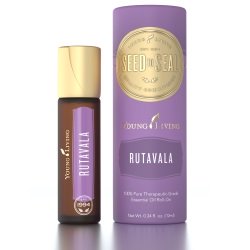 The smell is bitter with a hint of lavender. It has been my experience that you will simply love or hate the smell of this blend right from the start! I actually do like its unusually different aroma!
A few words on Ruta graveolens, Ruta oil or Rue essential oil. Personally, from what I have read and researched, I would probably only use it in a blend that was professionally made. Finding a good quality source of Rue oil is extremely difficult, and even then, I'm not sure if I would use it as a single oil.
Therefore, I was happy to find such a fantastic blend! And I like the selection of oils that were chosen to compliment the Rue oil.
Because, I find Rue essential oil so interesting, I did include as much additional information I could find on another page.
Note: RutaVaLa now comes in a Roll On Applicator where the dilution is taken care of for you! Roll it right on your neck or wrists to minimize stress and relieve cramping quickly!
This is an enjoyable and easy reference guide for RutaVaLa Essential Oil Blend. It will tell you how to use your oil blend and what to use it for. It will also provide you with some fun tips and testimonials!
As I receive new tips and testimonials they will be added to the page, so check back frequently!
Want to Purchase Therapeutic RutaVaLa Essential Oil?
Go to the Oil Shop! Buy RutaVaLa Oil Here! Available in Roll-On Only! 5-ml discontinued by Young Living

---
Experience RutaVaLa Essential Oil Blend™
What is in RutaVaLa Blend?
There are three different oils in RutaVaLa Blend.
They are listed below along with a brief description of each oil. 
Valerian Essential Oil (Valeriana officinalis) from the root has been used for centuries. During the last three decades, it has been clinically investigated for its relaxing properties. Researchers have pinpointed the sesquiterpenes, valerenic acid, and valerone as the active constituents that exert a calming and restorative effect on the central nervous system*.

Lavender Essential Oil (Lavandula angustifolia) can help you relax, wind down before bed and even ease stress. Its balancing properties create an atmosphere of relaxation and peace when diffused.

Rue Essential Oil (Ruta graveolens) Emotionally, it is relaxing and releasing.

Carrier Oil: Cocos Nucifera (Coconut oil)

Want More Information About the Individual Oil? Click on the name of the oil to find out other interesting information such as:
What Part of the Plant is Used?
What is an ORAC Value?
What is the ORAC of the Oil?
What are the Plant Properties and Uses?
Where is the Name derived from?
The Most Interesting Historical Reference?
And more!
What are the Documented Uses for RutaVaLa Essential Oil? Relaxation and unwind before bed time; sleep support, ease stress, re-balancing emotions. Supports a healthy nervous system. Soothes stressed nerves
What is the Aromatic Affect on the Mind? Relaxing and balancing.
What is the Nan's Mental (Mindset), Emotional and Spiritual Interpretation of this Oil?
This oil can rebalance the energies of the body that have been held in deep tension. Especially where the energies have become very depleted because of extreme stress, or emotional upheaval or conflict.

For those who are carrying grief, sorrow and regret, RutaVaLa can help release those emotions, balance the emotional bodies and help us become more fully present. It will also help us stress less.

Remember, we store deep grief in the body we can become blocked emotionally, mentally and spiritually, and shut down our heart which is our internal guidance system.

What Chakra is Affected? Heart chakra.
How Do I Use It?

Use NEAT (undiluted) then,
Directly inhale
Roll-on several drops (2-4) to wrists, neck and feet, or
Diffuse
Can this Oil be Used for Animals? Yes, best diffused. Use cautiously and very diluted.

Note About Animals: Certain oils can be very toxic to cats. Citrus products and oils in particular if not of therapeutic grade! Please consult your vet if you are not sure about applying any essential oil to your pet.
What are the Safety Precautions? RutaVaLa should NOT be used during pregnancy. This oil can cause severe dermatitis with direct exposure to sunlight. Therefore, avoid direct exposure for 12 hours after use. 
If you are pregnant, nursing, taking medication, or have a medical condition, consult a health professional prior to use. Do not use this product if you are pregnant, planning a pregnancy, or could possibly be pregnant.
Want to Purchase Therapeutic RutaVaLa Essential Oil?
Go to the Oil Shop! Buy RutaVaLa Oil Here! Available in Roll-On Only! 5-ml discontinued by Young Living
Tips and Testimonials from an Essential Oil User
Place RutaVaLa Essential Oil on your neck and back to ease tension and help to unwind before bed time.

Have a Great Experience to Share About this Essential Oil?
Do you have a personal story to share about this Essential Oil? Please share it here!
Return from Rutavala Essential Oil to Natural Sleep Remedies