Nan's Experience Essential Oils Membership provides Exclusive EO Training and Coaching on Transformation, Functional Wellness, Animal Topics and More!

FREE ACCESS to E-Merald Level with THREE Training Bundles!

 Click HERE to LEARN MORE and Get INSTANT ACCESS to E-merald Level Trainings!
Super B Vitamin B Supplement
Benefits of B6 and B12
Contains Methylated Bs - Activated Form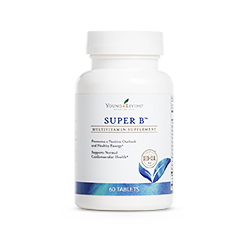 Super B Vitamin B Supplement with B1, B2, B3, B5, B6, B7, B9 and B12, supports mood and cardiovascular and cognitive function.*
Vitamin B deficiency can include symptoms of fatigue, mental exhaustion, stomach upset, nervousness, stress and more. Vitamin B is an essential nutrient to support healthy neurotransmitter function which affects mood*, and healthy immunity when used with zinc (cofactor)*

Super B contains a natural form of folate from lemon peels called Orgen-FA®. Most folic acid on the market is synthetic and therefore the body cannot break it down into a usable form which is beneficial to the body. Ultimately the body must use folate in the form of 5-MTH folate to support healthy dna repair through the methylation cycle*.

Vitamin Bs are water soluble and therefore must be replenished daily, as they are not stored in the body.
Super B assists in maintaining healthy energy levels and supports healthy cardiovascular and cognitive function.*
Want to Purchase Super B Vitamin B Supplement?

Great! Then go to The Oil Shop to purchase!

---
Experience Super B Vitamin B Supplement with Methylated Active Bs

What is in Super B?
Here is the ingredient label. The oils are listed below!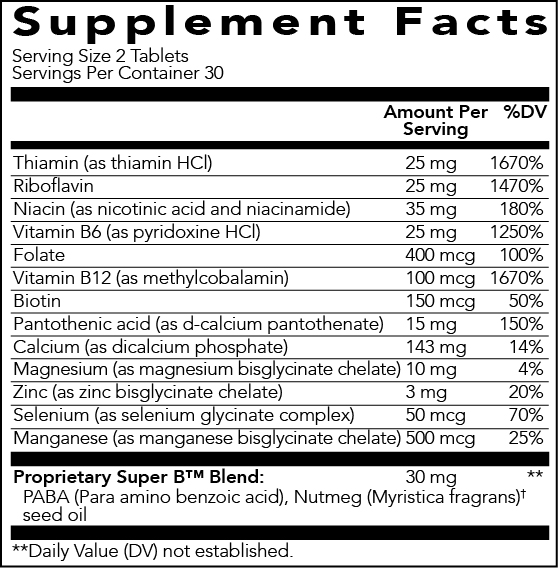 What Essential Oils are in Super B Vitamin B Supplement?
Here is a brief description of the oils in this supplement:

Nutmeg Essential Oil (Myristica fragrans) is energizing and uplifting! It also supports nervous and endocrine systems and prostaglandin balance*.
Want More Information About the Individual Oil?
Just click on the name of the oil to find out other interesting information such as:
What Part of the Plant is Used?
What is an ORAC Value?
What is the ORAC of the Oil?
What are the Plant Properties and Uses?
Where is the Name derived from?
The Most Interesting Historical Reference?
And more!
What are the Documented Uses for Vitamin B Supplements?* Aging, supports healthy brain function and cognitive health; healthy function of nervous system and neurotransmitters*. Supports Genetic SNPs of: MAO, COMT, MTHFR, MRR, PEMT, and ACAT*.

What Healthy Body Systems are Supported? Nervous, Immune and Cardiovascular*

How Do I Use Super B?
Take 2 tablets daily with food or as directed.

Can this be Given to Animals? Yes, however with caution due to nutmeg.

Note About Animals: Certain oils can be very toxic to cats especially if the quality of the oil is not pure. Citrus products and oils in particular when not therapeutic grade. Please consult your vet if you are not sure about applying any essential oil to your pet or giving an essential oil supplement to your pet.
What are the Safety Precautions?
Caution: Keep out of reach of children. If pregnant, nursing, taking medication, or have a medical condition, consult a healthcare practitioner prior to use.
If taken on an empty stomach, you may experience a temporary niacin flush/warming sensation. Best taken with food.

Want to Purchase Super B Supplement?

Great! Then go to The Oil Shop to purchase!
Return from Super B Vitamin B Supplement to Essential Oil Supplements