Nan's Experience Essential Oils Membership provides Exclusive EO Training and Coaching on Transformation, Functional Wellness, Animal Topics and More!

FREE ACCESS to E-Merald Level with THREE Training Bundles!

 Click HERE to LEARN MORE and Get INSTANT ACCESS to E-merald Level Trainings!
Super C Chewable Acerola Vitamin C Supplement
with Essential Oils, Camu Camu and Rose Hip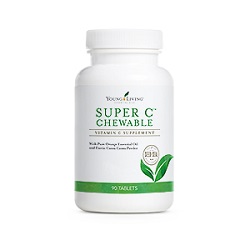 Super C Chewable Acerola Vitamin C Supplement with rose hip, camu camu and orange and lemons essential oils supports healthy immunity and provides antioxidant benefits*.
The benefits of vitamin C may include supporting healthy skin and immunity*, providing antioxidant support or minimizing the affects of free radicals in healthy cells; and supporting connective tissue and circulatory functions*.

Vitamin C cannot be created by the body and is water soluble, therefore to get the greatest benefits as well as antioxidant benefits, it is best to take it on a daily basis.

Want to Purchase Super C Chewable Acerola Vitamin C Supplement?

Great! Then go to The Oil Shop to purchase!

---
Experience Super C Chewable Acerola Vitamin C Supplement

What is in Super C Chewable?
Here is the ingredient label. The oils are listed below!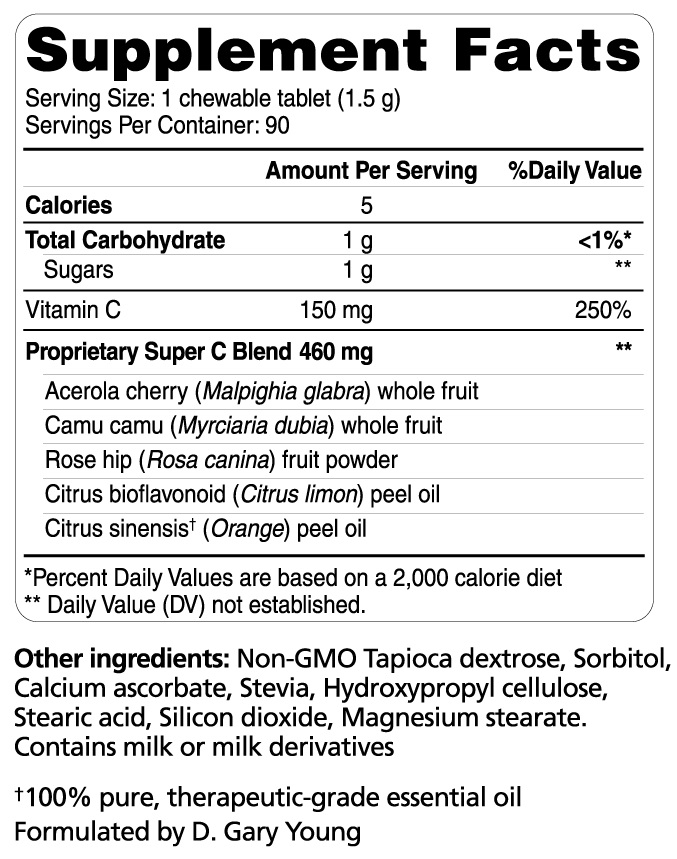 What Essential Oils are in Super C Chewable Vitamin C Supplement?
Here is a brief description of the oils in this supplement:

Lemon Essential Oil (Citrus limon) consists of 68 percent d-limonene. It has cleansing and purifying properties. It takes 75 lemons to create one 15 ml bottle of lemon therapeutic grade oil.
Orange Essential Oil (Citrus sinensis) is rich in the d-limonene and may support cellular function*. Also has calming effects and may be used for feelings of peace.
Want More Information About the Individual Oil?
Click on the name of the oil to find out other interesting information such as:
What Part of the Plant is Used?
What is an ORAC Value?
What is the ORAC of the Oil?
What are the Plant Properties and Uses?
Where is the Name derived from?
The Most Interesting Historical Reference?
And more!
What are the Documented Uses for Vitamin C Supplement? Aging, antioxidant support. Supports healthy brain function and cognitive health; healthy function of nervous system (neurotransmitters), immune system and cardiovascular system*. Promotes overall health and longevity.*

What Healthy Body Systems are Supported? Nervous, Immune and Cardiovascular*

How Do I Use Super C?
Take 1 chewable tablet 3 times daily or as needed.
Can this be Given to Animals? Yes in small amounts and when directed by your veterinarian to provide additional support. Cats, horses and dogs manufacture Vitamin C in their bodies, humans do not, thus we need to supplement with vitamin c.

Note About animals: Certain oils can be very toxic to cats especially if the quality of the oil is not pure. Citrus products and oils in particular when not therapeutic grade. Please consult your vet if you are not sure about applying any essential oil to your pet or giving an essential oil supplement to your pet.
What are the Safety Precautions?
Caution: Keep out of reach of children. If pregnant, nursing, taking medication, or have a medical condition, consult a healthcare practitioner prior to use.
Vitamin c may cause loose stools at higher dosages. Gradually increase your dosage of vitamin c as your digestive system adapts.

Want to Purchase Super C Chewable Acerola Vitamin C Supplement?

Great! Then go to The Oil Shop to purchase!
Return from Super C Chewable Acerola Vitamin C Supplement to Essential Oil Supplements