Nan's Experience Essential Oils Membership provides Exclusive EO Training and Coaching on Transformation, Functional Wellness, Animal Topics and More!

FREE ACCESS to E-Merald Level with THREE Training Bundles!

 Click HERE to LEARN MORE and Get INSTANT ACCESS to E-merald Level Trainings!
Tarragon Vitality Essential Oil
Dressing or Dietary Supplement? Or Both!

Tarragon Vitality Essential Oil and dietary supplement supports healthy lifestyle and overall wellness when taken as a dietary supplement*. May support healthy digestion* when combined with healthy diet.

 Tarragon contains naturally occurring constituent estragole.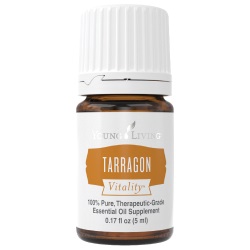 Tarragon therapeutic grade essential oil is simple and convenient to use everyday; and you can use it for cooking as well! Just in case you have run out of the herb, just place a drop in your salad dressing or sauce. It's that easy.
The oil is steam distilled from the leaves of the tarragon plant. The one I use personally is grown in Italy or France.
Tarragon essential oil is in one of my favorite professionally made blends, Di-Gize Vitality that is specifically designed to address the digestive system! It also contains ginger, peppermint, lemongrass and fennel vitality essential oils. And more!
This section is a fun and easy reference guide for the Tarragon Plant and the Essential Oil. It will tell you how to use it and what to use it for. It will also provide you with some fun suggestions, safety precautions for you and your pet!
As I receive new tips and testimonials for Tarragon they will be added to the page, so check back frequently!
Want to Purchase Therapeutic Tarragon Essential Oil?
Go to the Oil Shop! Buy Tarragon Vitality Oil Here!
---
Experience Tarragon Vitality Essential Oil
What is the Genus Species? Artemisia dracunculus
Why is this Information Important? While there are not many different species of Tarragon, it is always a good habit to purchase your essential oils by Common Name and Genus Species.
Some companies may try to substitute a species within the family and try to sell it for therapeutic use! So make sure you know your source and you are purchasing the right genus species!
Other Common Names for Tarragon include: Russian Tarragon, French Tarragon, Estragon and Dragon's-wort.
Where is the Name Derived From? The Tarragon plant comes from a Latin word "dracunculus" meaning "little dragon".
Why is this Information so Important? It's not, it's just a fun fact!
What Part of the Tarragon Plant is Used? Tarragon leaves
What is the ORAC Value? 37,900 µTE/100g
What Does this Number Mean? ORAC stands for Oxygen Radical Absorbance Capacity. It tells you the antioxidant capacity of a food item. This was developed by the USDA researchers. For instance: Blueberries = 2,400; Clove = 1,078,700. Wow! The number for clove is NOT a typo!
Most Interesting Historical Reference?
Did you know that Tarragon was used by the Ancient Greeks for toothache? Tarragon contains eugenol, which also can be found in clove essential oil and is a natural anesthetic.
What are the Tarragon Plant Properties?  Soothing yet uplifting.

What are the Documented Uses for Tarragon Vitality Essential Oil? Supports healthy digestive system; may support overall wellness when taken as a dietary supplement along with a healthy diet*.

Want to Learn about Nan's Mental (Mindset), Emotional and Spiritual Interpretation of this Oil? And Other Uses?
Then go to Tarragon Essential Oil Page!
How Do I Use It?
Dietary Supplement: place several drops in capsule with olive oil and take internally. If you prefer dilution, use 50:50 dilution-one part essential oil: one part vegetable oil.  Use for healthy digestive system support*.
Place in favorite recipe as a seasoning for soups, sauces, marinades, fish, and salad dressings.

Dilute 1 drop with 1 drop of carrier oil. Put in a capsule and take up to 3 times daily or as needed.
Aromatic - Diffuse
Can this Oil be Used for Animals? Yes, but to be honest I prefer to use in a blend such as  Di-Gize.

Note About Animal Use: Certain oils can be very toxic to cats. Pine and citrus products and oils in particular if not therapeutic grade. Please consult your vet if you are not sure about applying any essential oil to your pet.
I only use Young Living Oils on Animals.

What are the Safety Precautions? First, only use therapeutic grade essential oils! The tarragon plant and essential oil is Generally Regarded as Safe (GRAS).
Tarragon oil should not be used on children younger than 6 years of age and should be avoided during pregnancy. Additionally, it should be avoided if susceptible to epilepsy.
Essential Oil Trivia?
Did you know that the French call Tarragon the "King of Herbs"? This is because the French use it in so many sauces, salad dressings and chicken and fish dishes.
Did you know that the Tarragon genus name, Artemisia comes from the Greek God Artemis? Artemis was the goddess of the Moon!
Want to Purchase Therapeutic Tarragon Essential Oil?
Go to the Oil Shop! Buy Tarragon Vitality Oil Here!
Tips and Testimonials from an Essential Oil User
Add a drop of Tarragon oil to your favorite salad dressing to enhance the flavoring and help with digestion!
Have a Great Experience to Share About this Essential Oil?
Do you have a personal story to share about this Essential Oil? Please share it here!
Return from Tarragon Vitality Essential Oil to Single Oils S-Y