Aroma Life Essential Oil
for all Matters of the Heart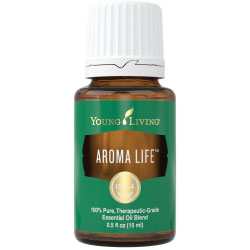 Aroma Life Essential Oil is an excellent blend for the cardiovascular, circulatory and lymphatic system. It lowers blood pressure and stress, promotes good circulation and is one of several oils that are natural remedies for migraine headaches.
In the Vitaflex technique Aroma Life is applied to chakra and Vitaflex points to help with heart conditions. In the Vita Flex class I took, we were taught a technique that is called the "heart pump". This technique has been performed during heart attacks until paramedics were able to arrive on site to take over. And they said it saved their lives.
It involves applying Aroma Life to two of the heart points in the left hand and elbow and alternating in a pump fashion between the two points. This simulates the beat of a heart! Amazing!
For a high blood pressure natural remedy massage 1-2 drops of Aroma Life and Ylang Ylang over the heart and Vita Flex points; and the heart and carotid arteries on the neck. The Vita Flex point on the hand is about one inch down from your ring finger on your palm of your left hand. The elbow point is just inside the elbow towards the hand.
This procedure done correctly will start to lower blood pressure with 5 to 20 minutes! Monitor your blood pressure and reapply as needed.
This is an easy reference guide for Aroma Life Blend. It will tell you how to use your oil blend and what to use it for. It will also provide you with some fun tips and testimonials!
As I receive new tips and testimonials they will be added to the page, so check back frequently!
Buy Aroma Life Essential Oil Here!
---
Aroma Life Essential Oil™
What is in Aroma Life Essential Oil Blend?
There are four different therapeutic grade oils in this blend. They are listed below along with a brief description of each oil.
Carrier Oil: Organic Sesame Seed Oil
Do you want more information about the individual oil? Just click on the name of the oil to find out other interesting information such as:
What Part of the Plant is Used?
What is an ORAC Value?
What is the ORAC of the Oil?
What are the Plant Properties and Uses?
Where is the Name derived from?
The Most Interesting Historical Reference?
And more!
What are the Documented Uses for Aroma Life Essential Oil? Aneurysm, angina, arterial vasodilator, arteriosclerosis, arthritis, high blood pressure (hypertension), stop bleeding, blood vessels, brain, shortness of breath, cardiovascular system, chelation (plaque and metals), circulation, high cholesterol, dizziness, edema, eye lid drop (drooping eye lids), headaches, heart (tonic and stimulant), joint stiffness/pain, large valve, palpitations (rapid and forceful contraction of the heart), hemorrhoids, hormonal system, kidneys, inflammation of kidney (nephritis), heart failure/attack, lungs, pulmonary conditions, lymphatic system decongestant and balance, memory, mental fatigue, migraine headaches, muscles (bruised), phlebitis, skin elasticity, Raynaud's Disease, sciatica, shock, skin, stress, stroke (thrombotic), tachycardia (rapid heartbeat), toxemia, varicose veins (spider veins) and vascular system.
What Body Systems are Affected? Cardiovascular System
What is the Aromatic Affect on the Mind? Calming.
What is the Spiritual Influence? Supports us in reducing stress and opening the heart chakra. Releases sorrow and grief and helps us embrace joy, love peace and gratitude. Helps us release the emotion of aloneness or the feeling of being alone and not supported.
What Chakra is Affected? Opens the heart chakra.
How do I use it?
Use NEAT (undiluted). Then,
Apply several drops (2-4) on location
Apply several drops (2-4) to bath water
Apply several drops (2-4) over heart and along spine from first to fourth thoracic vertebras. These vertebras correspond to the cardiopulmonary nerves.
Apply to chakras/vitaflex points
Dilute 1:15 for full body massage.
Good oil for the First Aid Kit? No
Can this oil be used for Animals? Yes; however I have not had a reason to use it!
Note about animals: Certain oils can be very toxic to cats. Citrus products and oils in particular when not therapeutic grade! Please consult your vet if you are not sure about applying any essential oil to your pet.
What are the Safety Precautions? This essential oil does not have any known contraindications.
Want to Purchase Therapeutic Aroma Life Essential Oil?
Go to the Oil Shop! Buy This Oil Here!
Tips and Testimonials from an Essential Oil User
To prevent high blood pressure, diffuse AromaLife for 20 minutes 3 times per day. And apply over the heart, Vita Flex points and arteries of the neck.
Have a Great Experience to Share About this Essential Oil?
Do you have a personal story to share about this Essential Oil? Please share it here!
Return from Aroma Life to Remedies for Jet Lag and Flying