Home Remedies For Dogs - 
Essential Oils for Dogs!
Home remedies for dogs should always include essential oils. Dogs respond really well to essential oils and when used safely can be used for supporting the physical wellness of your canine to the emotional well being. Oils support the WHOLE dog :)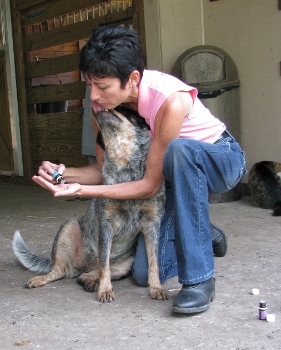 This section will answer all the questions you may have about using essential oils for dogs. Then on the bottom of the page I have a list of specific topics for dogs. Just click on that section and it will tell you what essential oils you can use for that problem!
Why should we use Home Remedies for Dogs and Specifically, Essential Oils?
I could list a million reasons why we should use essential oils for dogs, but here are my top reasons! Also review the essential oil benefits section to learn more.
Essential oils are:
Not toxic to the body – Just like the human body, toxicity is a huge problem for our animals. Lets support our dog's emotional and physical wellbeing so they can live a long healthy life.
Easy to use – Essential oils for dogs can be used exactly in the same manner as with humans. Dogs can inhale the oil directly from the bottle or from your hand. They can be placed directly on the body (see below).
Perfect home remedies for dogs – I keep an essential oil bag with twelve to fifteen oils to help with car rides, trips to the vet, trainer or pet sitter; and to help ease stress. They work quickly, are effective and extremely versatile!
Extremely beneficial for training puppies and dogs – I don't train dogs, but I train horses and getting to the emotional side is most of the work! Use essential oils for concentration, focus, stress and minor separation anxiety as you would a horse or a human. They are great training aids!
And More!
Are there any Oils we can't use as Home Remedies for our Dog?
Honestly, there are only a few oils that I wouldn't use on dogs. And that is because there are more gentle essential oil alternatives available. Or I would use them in a blend.
But for the most part, anything goes! It is really more about the quality of the oil and the dilution ratio, not whether an oil can be used or not used.
However, always read through the specific oil information on this website or a good reference book before you do decide to use it on your animal. Horses, cats and dogs love essential oils; but cats are a bit more sensitive so you have to be a bit cautious with them.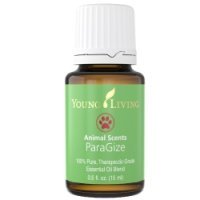 Animal Scents Paragize
Are there certain Types of Oil that We need to Use for Home Remedies for Dogs?
Good question! Make sure you use therapeutic grade essential oils for home remedies for dogs. Perfume quality or aromatherapy grade oils can cause more harm than good especially if using them topically because they are distilled using solvents or are adulterated. Pure therapeutic grade oils are steam distilled and do not contain any chemicals.
Therefore, they are expensive to produce and are rarely used in common day pet products. Look at the price of Rose Otto essential oil or Jasmine Absolute to get an idea of the price difference. And then you will know why they don't use therapeutic grade oils! But you can!!!
Are there Safety Concerns?
Most of the problems associated with essential oils whether they are for human or animal use, stem from the fact that people are using perfume grade oils for therapeutic use. Or people simply are NOT using them correctly!
Always read through the safety section of the single or blend so you know what the precautions are and how to dilute it. And read through the general safety section. Please do adhere to the safety instructions as you would a human.
And again, please get a reference book on how to use oils for animals.

How do I use Essential Oils for Dogs?
Dog aromatherapy is similar to humans so browse through the uses section to get more ideas on how to use the oils! Individual oils listed throughout this website contain safety information such as dilution as well as a pet section with some tips.
How do I know which Oils to use for Dog Home Remedies?
Using the oils may be a bit of a learning curve at first. But you can read through the links below (and the website) and then choose several oils to start working with and see how your dog reacts.
Most animals, including dogs, love the smell and they usually perk up when they like it. It they are whining, drooling, and having some other reaction then you should try a different oil. They should look interested and they will be! Then home remedies for dogs is easy and fun!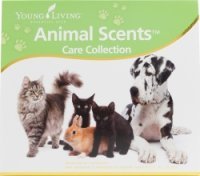 Or

The Animal Collection Kit may be a great place to start. Easy and has oils for emotional and physical wellbeing.
This kit contains all the oils you need to start; RepelAroma, PuriClean, InfectAway, Mendwell, ParaGize and T-Away.

This fabulous kit that will address emotional, physical and mental wellness for your dog. This is what I have been waiting for!
Also make sure to include Animal Scents Shampoo and Ointment!

What are the Dilution Ratios for Dogs?
The best way to think about dilution for dogs is to go by the weight of the dog. A small dog under 20 pounds you would treat as a human child or toddler. I would dilute from 30-90% of the human dose again depending on its size.
Essential oils for larger dogs can be used similarly to humans. A medium dog that is in the range of 25-50 pounds can tolerate less than a large dog that is 100 pounds!
My dog, Dezie is a whippet weighing about 35 pounds. I usually don't dilute the oils from the human dosage; however, I also just use one or two drops! But she is very clean; she eats raw food and never has a synthetic product on her body.
So keep in mind, as we do with humans, that if a dog is toxic or has not been on a natural diet then it is best to use less essential oil at first.

How do I Use Essential Oils as Home Remedies for Dogs?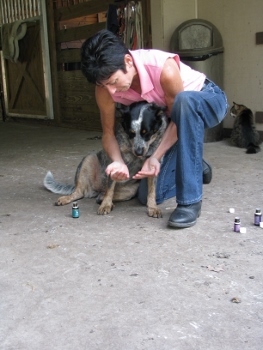 Several Ways to Apply Essential Oil to Dogs:

A

pply directly on location;

Place oil in your palm then pet head to toe;


Place oil where the skin is thin such as belly;

  or

Smell it 

right out of the bottle or from your hands!
If using as dietary supplement, please make sure that you are using oils such as Young Living that can be used internally (please see individual pages to make sure you can). Place in capsule as directed on bottle or website with vegetable oil and give to your pet in food or with food is best.

I hope you enjoyed this section on home remedy for dogs. Here are the other sections that are specifically written for dogs and essential oils. Please scroll through them as well as the human pages!
Just click on the page and it will tell you what essential oils you can use!
Have an idea or a recipe for home remedies for dogs? Please feel free to contact me contact me ; I would love to include it!

Want to Purchase Therapeutic Grade Essential Oils?
Visit the Oil Shop!
Return from Home Remedies for Dogs to Experience Essential Oils