All Natural Herbal Weight Loss
Weight Loss Management Products

All natural herbal weight loss programs along with a healthy balanced diet produce long term and safe weight loss. Essential oils are natural weight loss products that have been used for hundreds of years to suppress appetite, boost energy, detox the body and promote emotional wellbeing – all key components to losing weight!
With obesity being the Number 2 cause of preventable death in America and a 76% increase in Type II diabetes in adults 30-40 since 1990, people are looking for alternative, healthy ways to lose weight and change their lifestyle.
Essential oils can complement or offer an alternative solution to mainstream diet plans because they can address various areas of health and wellness that are often the core of the issue.
Why Should I Maintain a Healthy Weight and Life Style?
Being overweight increases the risk of health related issues. It also has a huge effect on our emotional wellbeing and often times our weight problems stem from our negative emotions or belief systems that we learned as children.
Emotions that are commonly associated with weight gain or emotional eating  include: hopelessness; sorrow; judging self; and feeling overburdened! Essential oils address the emotional and physical components; and support the body to come back into equilibrium.

Why use All Natural Herbal Weight Loss Supplements and Products?
The primary reason is that natural products help us reduce weight is that they support the body to come back into equilibrium or balance. When this happens the body is supported in returning to its original state; and therefore long term weight loss is easier to sustain.
Why use Essential Oils as Part of Weight Loss Management Program?
Weight gain is produced by imbalances of the body which can be physical, mental, emotional or spiritual; and is usually a combination of several components. One of the biggest reasons why people go off their diet plan or re-gain weight is for mental and emotional reasons.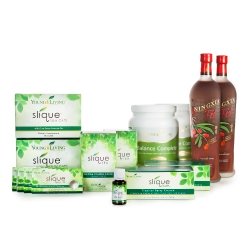 So by incorporating all natural herbal weight loss products, including essential oils and Slique Oolong Tea that contains oils into your weight loss routine we can address more than the physical. And you can get all the benefits of oolong tea and essential oils in one Kit-Slique Kit for Weight Loss.
What Creates Weight Gain?
There are many reasons for weight gain, but the top reasons I have listed below. Remember when the body is out of balance – it will not let go of the weight!
Lack of Water – The body needs about 0.5 ounces of water for every pound of body weight. Our body requires water to flush out toxins from our metabolic pathways, our food; our environment and more! Add an essential oil such as Slique Essence Essential Oil or Citrus Fresh to water to improve the taste so you will drink more; and eliminate toxins from the body.


Poor Diet - A diet lacking in vitality creates low alkalinity (high acid) and insufficient nutrients in the body which makes the body want to keep the weight; and also crave sugar and more food. Feed the body nutrient dense food, use Slique Essence Essential Oil and appetite normally decreases because the body is nutritionally full.


Lack of Nutrition – Many people supplement diet through nutrition, but the quality of the nutrition is substandard; and most people don't know what nutrition is working for them or not. At the very least, every all natural herbal weight loss program should contain whole food vitamins, probiotics and digestive enzymes. The all natural herbal weight loss Kit contains a nutritional meal replacement powder, and oolong tea.


Toxicity – Poor diet, stress, negative emotions and environmental pollution creates toxicity in the body. The body will loss weight more efficiently if the body's systems are not stressed with toxicity. A clean body like a well maintained body, functions better. Essential oils especially those rich in citrus oils such as Slique Essence Essential Oil, will help the body eliminate toxins since they have cleansing properties. Enzymes and detox supplements that contain oils also will help to cleanse and detox the body at a cellular level.


Lack of Exercise – A sedentary lifestyle creates a slow metabolism therefore the body burns less calories and less fat.


Lack of Sleep – Lack of Sleep creates lack of energy which imbalances many functions in our body including the endocrine system and immune system; and even creates slower digestion. Essential oils are natural sleep remedies!


Thyroid Imbalance – The thyroid secretes hormones for immune function and digestion; body temperature and even emotions. Essential oils are natural thyroid remedies!


Emotional Stress – Emotional upset and stress in the body creates higher estrogen which limits the ability of the thyroid and endocrine system to manage cortisol levels.


Aging – Hormone production, nutrient absorption, enzyme production and metabolism all slow with the natural aging process.

How Do I know Where to Start?
Start with some simple things - For instance:
Drink more water; and place essential oils in them for flavor.


Get a better night's sleep, start talking walks, lower your stress level and eat food with vitality and enzymes (fruits and vegetables).


Fast or try the Master Cleanse Diet (click link for book on Master Cleanse)


Start on the Slique Oolong Tea Slique Natural Weight Loss Kit that incorporates Slique tea, quality nutrition and slique essential oil in one easy kit!

Still Stuck? Need a Weight Loss Coach?
Then I recommend getting an intutive coach that can help you with all natural herbal weight loss and more! Sign up for a complimentary assessment and we can talk about a program that is right for you!
Return from All Natural Herbal Weight Loss to Experience Essential Oils