Nan's Experience Essential Oils Membership provides Exclusive EO Training and Coaching on Transformation, Functional Wellness, Animal Topics and More!

FREE ACCESS to E-Merald Level with THREE Training Bundles!

 Click HERE to LEARN MORE and Get INSTANT ACCESS to E-merald Level Trainings!
AlkaLime Alkalinity Powder-
Neutralize Acidity
Maintain Healthy pH in Body*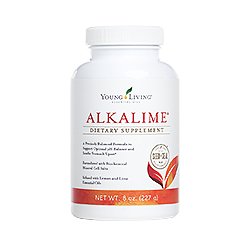 AlkaLime alkalinity powder with calcium carbonate, sodium bicarbonate and essential oils is formulated to neutralize acidity and maintain healthy pH levels in the body*. AlkaLime also features enhanced effervescence and biochemic cell salts for increased effectiveness.
The healthy state of the body is to be slightly alkaline at a pH of about 7.4. When it is not and becomes acidic (under that pH value).

What Contributes to an Acidic Condition in the Body?
Poor diet and nutrition - Food that is processed and devitalized of nutrients.
Sugar or processed flour products (bread; pasta; legumes; grains especially wheat, corn, barley, etc.)
Acidic beverages such as soda, coffee, alcoholic beverages and certain teas.
Acidic foods such as animal based proteins, and even cheese.
Lack of friendly or good bacteria or intestinal flora (see Life 9 Probiotic).
Not eating enough alkaline foods such as fruits, vegetables and whole grains such as millet. A healthy diet consists of 75- 80% alkaline foods.
Excessive stress and smoking create acidic conditions in the body.
How do I Know the Acidity or pH of my Body?
Simple, test your pH using a color coded pH indicator paper or test strips that you can purchase. Place some of your saliva in a spoon and test it using the strip. Do not eat, drink or brush your teeth up to 30 minutes prior to testing!
If your pH is over 7.0 your acid-alkaline balance is good meaning that you are alkaline. The lower the number, the more acidic your body is.

AlkaLime Sodium Bicarbonate-Calcium Carbonate Powder with essential oils can maintain the alkaline balance or healthy pH of the body.
Want to Purchase AlkaLime Alkalinity Powder?
Then go to The Oil Shop. Now in single packets AND bottle!

---
Experience AlkaLime™ Alkalinity Powder Supplement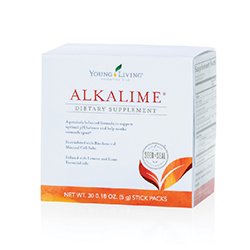 What is in AlkaLime Alkalinity Powder?
AlkaLime combines natural ingredients as well as essential oils. A brief description of each ingredient is provided below:
Sodium (as bicarbonate, phosphate and sulfate);
Calcium (as carbonate, phosphate and sulfate);
Magnesium phosphate; and
Potassium (as bicarbonate, chloride, phosphate and sulfate).
Also contains these essential oils:
Want More Information About the Individual Oil? Just click on the name of the oil to find out other interesting information such as:
What Part of the Plant is Used?
What is an ORAC Value?
What is the ORAC of the Oil?
What are the Plant Properties and Uses?
Where is the Name derived from?
The Most Interesting Historical Reference?
 And more!
What are the Documented Uses for AlkaLime Alkalinity Powder?  Formulated to provide healthy pH levels in the body*.
How do I use AlkaLime Alkalinity Powder?
Stir 1 teaspoon in 6- 8 ounces of distilled water and drink immediately. Mix only with water. Take one to three times daily, one hour before meals or retiring to bed as an aid in alkalizing.
How Do I Use AlkaLime for Best Results?
AlkaLime will maintain pH which is plays an essential role in maintaining overall health and vigor. Use along with digestive enzymes, probiotic and Slique Oolong Tea.
Can this Product be Used for Animals? It is not recommended using this product without the animal being under veterinarian care or being monitored by a veterinarian, especially with cats. 

Note About Animals: Certain oils can be very toxic to cats especially if the quality of the oil is not pure. Citrus products and oils in particular when not therapeutic grade. Please consult your vet if you are not sure about applying any essential oil to your pet or giving an essential oil supplement to your pet.
What are the Safety Precautions? No contraindications.
If pregnant or under a doctor's care, consult your physician.
Want to Purchase AlkaLime Alkalinity Powder?
Then go to The Oil Shop.
Return from AlkaLime Alkalinity Powder to All Natural Herbal Weight Loss