Nan's Experience Essential Oils Membership provides Exclusive EO Training and Coaching on Transformation, Functional Wellness, Animal Topics and More!

FREE ACCESS to E-Merald Level with THREE Training Bundles!

 Click HERE to LEARN MORE and Get INSTANT ACCESS to E-merald Level Trainings!
Lime Vitality Essential Oil -
Lime up Your Drinks, Marinades & Life!

Lime Vitality Essential Oil taste great in drinks, smoothies, marinades and dressings! Zest and kick up your cooking!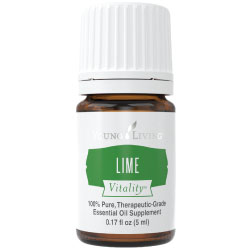 Limes contain a rich supply of vitamins and minerals and d-limonene found in citrus oils! When taken internally, lime may provide antioxidant support and aid in weight management when combined with healthy lifestyle and exercise*. Take advantage of these benefits by using it in your water or food every day!
My favorite supplement that contains lime is AlkaLime Powder which helps to maintain alkalinity (pH) in the body.
There really tons of benefits of lime.  Read below for more information on how to use it and what to use it for. This section will also provide you with some fun suggestions, safety precautions for you and your pet!
As I receive new tips for Lime Essential Oil they will be added to the page, so check back frequently!
Want to Purchase Lime Vitality Essential Oil?
To purchase Lime Vitality Oil, go to The Oil Shop!
---
Experience Lime Vitality Essential Oil

What is the Genus Species?  Citrus aurantifolia
Why is this Information Important?  It's always important to know your genus species of your oil. Just the common name on the bottle doesn't really tell you exactly what you're getting.
Where Did the Name Come From?  From the Arabic word lima.  
Why is this Information so Important?  Its not, it's just a fun fact!
What Part of the Plant is Used?  The Rind
What is the ORAC Value? 26,200 µTE/100g
What Does this Number Mean?  ORAC stands for Oxygen Radical Absorbance Capacity. It tells you the antioxidant capacity of a food item. This was developed by the USDA researchers. For instance: Oranges = 750; Clove = 1,078,700. Wow! The number for clove is NOT a typo!
Most Interesting Historical Reference?
Did you know that the British Sailors used Lemons and Limes to Maintain Health? Yes than later it was learned that lemons had more Vitamin C than limes so that lemons.
What are the Plant Properties? Relaxing and centering.

What are the Documented Uses and Benefits of Lime? Supports healthy immune system*; and natural weight loss when used in conjunction with a weight management program and/or exercise program* and taken internally.

Want to Learn about Nan's Mental (Mindset), Emotional and Spiritual Interpretation of this Oil? And Other Uses?

Then go to Lime Essential Oil Page!
How Do I Use It?
Use NEAT (undiluted) then,
Dietary Supplement: place several drops in capsule with olive oil and take internally. (50:50 dilution-one part essential oil: one part  vegetable oil).
Add a drop or two to water, juice, NingXia Red or other beverage.
Place in favorite drink or baking recipe.

Aromatic - Diffuse
Can this Oil be Used for Animals?  Yes. Always start slow. With a small dog or cat use a toothpick amount to start. (Dip toothpick in bottle to get that amount).
Note About Animal Use: Certain oils can be very toxic to cats particulary those that are not therapeutic grade. Please consult your vet if you are not sure about applying any essential oil to your pet.
I only recommend using Young Living Oils on animals at this time.

What are the Safety Precautions? Only therapeutic grade essential oils should be used for best results.
Because it is approved as a Food Additive (FA) and Flavoring Agent (FL) by the FDA, Lime Oil is readily available on the market in many different qualities.

If pregnant or under a doctor's care, consult your physician.
Want to Purchase Lime Vitality Essential Oil?
To purchase Lime Vitality Oil, go to The Oil Shop!