Nan's Experience Essential Oils Membership provides Exclusive EO Training and Coaching on Transformation, Functional Wellness, Animal Topics and More!

FREE ACCESS to E-Merald Level with THREE Training Bundles!

 Click HERE to LEARN MORE and Get INSTANT ACCESS to E-merald Level Trainings!
Life 9 Time Released Probiotic Supplement
with Bifidiobacterium & Acidophilus
Nine Active Strains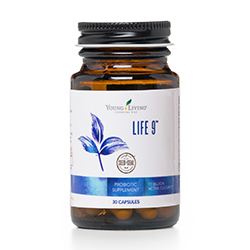 Life 9 Time Released Probiotic Supplement promotes healthy digestion, supports gut health, and helps maintain normal intestinal function for overall support of a healthy immune system.* Life 9 contains 9 strains and 17 billion live cultures!

What is a Probiotic?
Probiotics are healthy bacteria or intestinal flora that are beneficial for the a healthy digestive system. They have been used to culture sauerkraut, yogurt and other fermented foods since ancient times.

What is Acidophilus?
It is a particular strain of bacteria that is known to be beneficial the intestinal tract. There are other strains as well and any beneficial probiotic will have a combination of bacterial strains in the product not just acidophilus.
What are the Benefits of Probiotics?
The intestinal tract contains billions of bacteria some very beneficial for the body, some not. The benefits of taking a probiotic include:
Sustains energy when used daily*

Healthy Immune System Support*. Studies have shown that improved the immune response up to 66%!

Support digestive health and friendly bacteria populations assist to maintain normal intestinal function*.
Restores bacterial balance. Life 9 contains 17 billion active cultures and improves colonization up to 10 times.
Is safe and promotes wellness* for everyone including our children and animals.
How Does Life 9 Compare to Other Probiotics?
Life 9 probiotic supplement not only has different strains of bacteria and is designed with targeted-release capsules to withstand the digestive tract.

Want to Purchase Life 9?
Then go to The Oil Shop.
---
Experience Life 9™ Time Released Probiotic Supplement
What is in Life 9 Time Released Probiotic Supplement?
Here is the list:
Calcium (as calcium carbonate) 63.9 mg
Bifidobacterium support those with negative variants in the FUT2 gene. People with FUT2 require additional bifidobacterium support as "non-secretors". Researchers have found that the FUT2 gene also has an impact on your ability to absorb vitamin B12 from food*.
What are the Documented Uses for Life 9 Probiotic Supplement? Supports healthy digestive and immune systems*. Sustain healthy energy levels*. Supports healthy digestive function*.

How do I Use Life 9 Time Released Probiotic Supplement?
Take one capsule a day at least following a light meal. Best to take Inner Defense several hours before or after Life 9.
Probiotics should be stored in the refrigerator to maintain the cultures; and away from heat. Keep this in mind when ordering probiotic supplements during the summer and upgrade your shipping accordingly.
How Do I Use Life 9 Probiotic Supplement for Weight Loss?
Life 9 will maximize the efficiency of your digestive track and the assimilation of nutrients in the digestive tract which is essential for weight loss. For maximum weight loss use along with digestive enzymes, meal replacement shake and Slique Oolong Tea.
Can this be Used for Animals? Yes, absolutely!
Place it in their food everyday-there is no taste. You may also place in a little bit of water or baby food and put it in their mouth.
For Cats/Small Dogs: 1/4 to 1/2 capsule daily for maintenance.
For Medium/Large Dogs: ½ to 1 capsules daily for maintenance. (large dogs) per day.
For Horses: 1-3 capsules per day for maintenance.
Note About Animals: Certain oils can be very toxic to cats especially if the quality of the oil is not pure. Citrus products and oils in particular when not therapeutic grade. Please consult your vet if you are not sure about applying any essential oil to your pet or giving an essential oil supplement to your pet.
What are the Safety Precautions of Life 9 Time Released Probiotic Supplement? No contraindications.
If pregnant, nursing, taking medication or have a medical condition, consult with a healthcare practitioner prior to use.
Want to Purchase Life 9 Time Released Probiotic Supplement?
Then go to The Oil Shop.
Return from Life 9 Time Released Probiotic Supplement to All Natural Herbal Weight Loss