Nan's Experience Essential Oils Membership provides Exclusive EO Training and Coaching on Transformation, Functional Wellness, Animal Topics and More!

FREE ACCESS to E-Merald Level with THREE Training Bundles!

 Click HERE to LEARN MORE and Get INSTANT ACCESS to E-merald Level Trainings!
Inner Defense Supplement Daily
Supporting Healthy Respiratory System*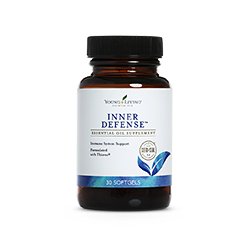 Inner Defense Supplement supports the body's natural defenses and contains the famous Thieves Oil. Supports healthy respiratory system*; and is rich in thymol, carvacrol, and eugenol.
Did you know that this product contains the same oils used in the famous Thieves Oil?

Yes, it contains Thieves™ Vitality Oil Blend which was developed based on the ingredients found in the "Four Thieves Vinegar" or "Marseilles Vinegar". The vinegar was first prepared by thieves who robbed graves in the 15th century.

This is an easy reference guide for Inner Defense Supplement. It will tell you how to use it and what to use it for!
Want to Purchase Inner Defense Supplement?
Then go to the Oil Shop! Buy Inner Defense here!
---
Experience Inner Defense Supplement™ with Essential Oils

What is in Inner Defense?
The following oils are in Inner Defense Supplement:

Clove Vitality Essential Oil (Syzygium aromaticum) An important ingredient in Young Living's Thieves vitality blend, its principal constituent is eugenol.
Lemon Vitality Essential Oil (Citrus limon) Lemon consists of 68 percent d-limonene. Jean Valnet MD estimated that it takes 3,000 lemons to produce one kilo of oil!
Softgel capsule has been reformulated with fish gelatin to remove the need for carrageenan and bees wax used in the porcine gelatin based softgel.
Want More Information About the Individual Oil?
Click on the name of the oil to find out other interesting information such as:
What Part of the Plant is Used?
What is an ORAC Value?
What is the ORAC of the Oil?
What are the Plant Properties and Uses?
Where is the Name derived from?
The Most Interesting Historical Reference?
And more!
What are the Documented Uses for Inner Defense Supplement? Reinforces systemic defenses*; supports healthy respiratory system*.

How Do I Use Inner Defense Supplement?
Take one capsule per day or as required. For better results, take in the morning and take any probiotic supplement 8 hours later.

Can this Product be Used for Animals? Yes. Cats will not like the taste of this and the capsule is too much to feed so will have to open the cap and use a very small amount in a syringe to feed orally.
Small dogs usually tolerate one capsule; 1-2 for medium; and 2-3 for large. Split them up.

You can feed these to horses..the problem is most won't eat them out of the grain, so it can be tough.
Feed in between any probiotic.
Note About animals: Certain oils can be very toxic to cats. Citrus products and oils in particular. Please consult your vet if you are not sure about applying any essential oil to your pet.
What are the Safety Precautions? Pregnant women (or animals) should not take this supplement without a physicians consult. Contains fish (tilapia, carp) and tree nuts (coconut).
Best taken separate from Probiotic supplement.

Want to Purchase Inner Defense Supplement?
Then go to the Oil Shop! Buy Inner Defense here!
Return from Inner Defense Supplement to Thieves Essential Oil