Nan's Experience Essential Oils Membership provides Exclusive EO Training and Coaching on Transformation, Functional Wellness, Animal Topics and More!

FREE ACCESS to E-Merald Level with THREE Training Bundles!

 Click HERE to LEARN MORE and Get INSTANT ACCESS to E-merald Level Trainings!
Thieves Vitality Essential Oil
Supports Healthy Immune System*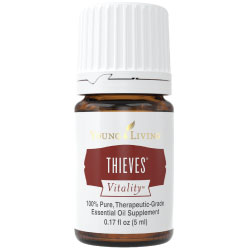 Thieves Vitality Essential Oil maybe used as a dietary supplement to support healthy immune system* and overall wellness goals* when used internally.

Just add 1–2 drops to a vegetarian gel capsule and take daily or as needed as a dietary supplement! Or add to your favorite beverage! I love adding to Chai Tea Latte!

Did you know that Thieves oil was developed based on the ingredients found in the "Four Thieves Vinegar" or "Marseilles Vinegar"? 
The vinegar was first prepared by thieves that worked in the spice industry and robbed graves to generate income in the 15th century.

Thieves Vitality essential oil is definitely one of my favorite essential oil blends and I will not leave home without it! A day doesn't go by that I don't use Thieves Vitality or Thieves Oil for something!
The key ingredients listed below combine perfectly to offer a key benefit of Thieves Vitality oil: support of a healthy immune system and overall wellness!  Eucalyptus Radiata Vitality may also help support a healthy respiratory system when taken internally*.
This is an easy reference guide for Thieves Vitality Essential Oil Blend. It will tell you how to use your oil blend and what to use it for. It will also provide you with some fun tips and testimonials!
As I receive new tips and testimonials they will be added to the page, so check back frequently!
Want to Purchase Therapeutic Thieves Vitality Essential Oil?
Go to the Oil Shop! Buy Thieves Vitality Oil Here!
---
Experience Thieves Vitality Essential Oil Blend™
What is in Thieves Vitality Essential Oil?
There are five different essential oils in Thieves Vitality. They are listed below along with a brief description of each oil.
Want More Information About the Individual Oil? Just click on the name of the oil to find out other interesting information such as:
What Part of the Plant is Used?
What is an ORAC Value?
What is the ORAC of the Oil?
What are the Plant Properties and Uses?
Where is the Name derived from?
The Most Interesting Historical Reference?
And more!
What are the Documented Uses for Thieves Vitality Essential Oil? Healthy immune system and overall wellness*.

Want to Learn about Nan's Mental (Mindset), Emotional and Spiritual Interpretation of this Oil? And Other Uses?
Then go to the Thieves Oil page!
How Do I Use It?
Use directly or diluted - 20:80 dilution (one part essential oil: four part of vegetable oil). Then,
Dietary Supplement: place several drops in capsule with olive oil and take internally. (20:80 dilution-one part essential oil: one part  vegetable oil).
Add a drop or two to water, juice, NingXia Red or other beverage.
Place in favorite baking or sauce recipe.

Aromatic - Diffuse
Place 1 drop on tongue and put against the top of the mouth. Apply to gums.
A supplement called Inner Defense contains Thieves plus Oregano and Thyme Essential Oils. The oils are loaded with antioxidants. I take one every day to help support my immune system.
Or check out Thieves Essential Oil Natural Cough Drops for sore throats and cough!
Can this Oil be Used for Animals? Yes. Always start slow. With a small dog or cat use a toothpick amount to start. (Dip toothpick in bottle to get that amount). Horses and ponies can tolerate more because of weight.

Note About Animals: Certain oils can be very toxic to cats. Citrus products and oils in particular that are not of therapeutic grade! Please consult your vet if you are not sure about applying any essential oil to your pet.
I only use Young Living Oils for Animals.

What are the Safety Precautions? Children under 18 months of age should not use this oil.

Women who are pregnant should use caution. If pregnant or under a doctor's care, consult your physician.
Want to Purchase Therapeutic Thieves Vitality Essential Oil?
Go to the Oil Shop! Buy Thieves Vitality Oil Here!
Tips and Testimonials from an Essential Oil User
Add a drop to granola, oatmeal or other breakfast cereal to start your day with a spicy zing!
Return from Thieves Vitality Essential Oil to Vitality Dietary Essential Oil Collection