Nan's Experience Essential Oils Membership provides Exclusive EO Training and Coaching on Transformation, Functional Wellness, Animal Topics and More!

FREE ACCESS to E-Merald Level with THREE Training Bundles!

 Click HERE to LEARN MORE and Get INSTANT ACCESS to E-merald Level Trainings!
Thieves Essential Oil Natural Cough Drops
Natural Cough Suppressant
Thieves Essential Oil Natural Cough Drops natural cough suppressant and oral anesthetic are the perfect sore throat and cough remedy made with essential oils! They offer unique comfort for relieving coughs, soothing sore throats and cooling nasal passages.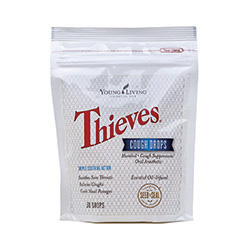 These wonderful soothing lozenges are made with the therapeutic grade essential oil of the very popular Thieves blend which supports a healthy immune system.

The Thieves Vitality Essential Oil was developed based on the ingredients found in the "Four Thieves Vinegar" or "Marseilles Vinegar". The vinegar was first prepared by thieves that worked in the spice industry to ward off what plagued them.

Whether you need sore throat home remedies, cool and clear nasal passages or looking to soothe laryngitis, these are for you.
The cool and sweet yet spicy flavored drops are made without dyes, sugar,  artificial flavors, and preservatives; and are very long lasting. Love these!

This is an easy reference guide for Thieves Essential Oil Natural Cough Drops. It will tell you how to use them and what to use it for. It will also provide you with some fun tips and testimonials!
Want to Purchase Thieves Essential Oil Natural Cough Drops?
Then go to The Oil Shop! Buy Thieves Cough Drops Here!
---
Experience Thieves Essential Oil Natural Cough Drops™
What is in Thieves Essential Oil Natural Cough Drops?
There are several natural ingredients as well as six essential oils in Thieves Essential Oil Cough Drops.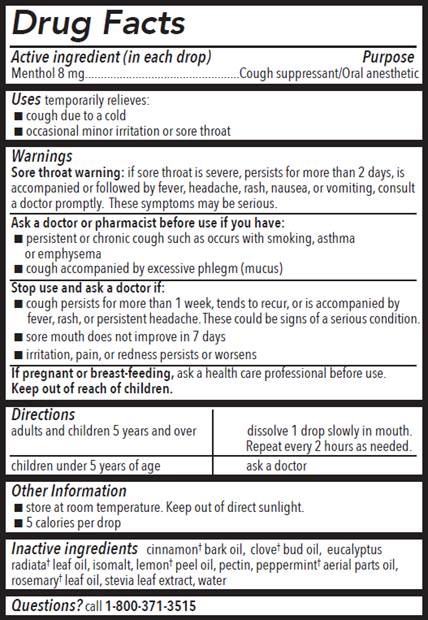 The Natural Ingredients include:
Deionized Water

Pectin
Isomalt

Stevia Extract (Natural Sweetener)
Natural Menthol

The Essential Oils are Listed Below:
Want More Information about the Individual Oil? Just click on the name of the oil to find out other interesting information such as:
What Part of the Plant is Used?

What is an ORAC Value?

What is the ORAC of the Oil?

What are the Plant Properties and Uses?

Where is the Name derived from?

The Most Interesting Historical Reference?

And more!
What are the Documented Uses for Thieves Essential Oil Natural Cough Drops? Bad breathe, freshening breath, relieve sore throats, cough suppressant, oral anesthetic; post nasal drip cough; post nasal drip throat clearing and sore throat, runny eyes, cough; home remedy sore throat and cough.

How Do I Use Them?
Adults and Children 5 Years and OVER: Dissolve 1 drop slowly in your mouth. Repeat every 2 hours as needed.
Children UNDER 5 years of Age: Please consult your health care provider or doctor.

Can this Product be Used for Animals? Yes but would be difficult but the horses will eat them right up! However, if one fell on the floor and they ate it, I would not be concerned since we use Thieves Vitality Oil for our animals.

Note About animals: Certain oils can be very toxic to cats. Citrus products and oils in particular. Please consult your vet if you are not sure about applying any essential oil to your pet.
What are the Safety Precautions? FDA Approved. Over the Counter (OTC) product.

If pregnant or breastfeeding, ask a health care professional before use.
Keep out of reach of children. Follow directions above for children.

If sore throat is severe, persists for more than 2 days, is accompanied or followed by fever, headache, rash, nausea, or vomiting, consult a doctor promptly. These symptoms may be serious.
Ask a doctor or pharmacist before use if you have:
Persistent or chronic cough such as occurs with smoking, asthma, or emphysema.
Cough accompanied by excessive phlegm (mucus).
Stop use and ask a doctor if:
Cough persists for more than 1 week, tends to recur, or is accompanied by fever, rash, or persistent headache. These could be signs of a serious condition.
Sore throat does not improve in 7 days.
Irritation, pain, or redness persists or worsens.
Are there Companion Products?
There is a whole line of Thieves products that are awesome! I use them all -Thieves Essential Oil, Thieves Spray and Thieves toothpaste are all great! And now, Thieves Laundry Soap and Thieves Fruit and Vegetable Rinse and Wash!
Want to Purchase Thieves Essential Oil Natural Cough Drops?
Then go to The Oil Shop! Buy Thieves Cough Drops Here!
Return from Thieves Essential Oil Natural Cough Drops to Thieves Essential Oil